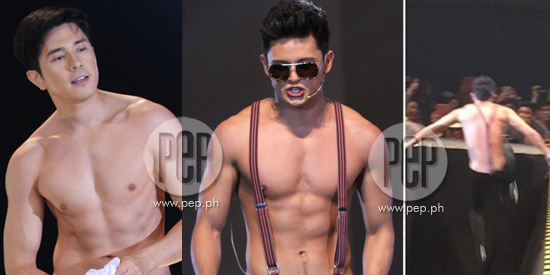 ---
Going to work has never been sexier.
The hunks of Tower 69 certainly lived up to this promise last night, September 24, during the 2014 Cosmo Bachelor Bash at the World Trade Center.


(To watch highlights of Cosmo Bachelor Bash 2014, CLICK HERE)
At 9:45 p.m., a video was played showing muscular hunks working at the hottest office in the country.
Radio DJ Scarlet opened the event by telling the crowd that the hunks "want to work long and hard for you."
She also issued a cheeky warning: "It can get pretty hot inside this office."
The first segment of the Cosmo Bachelor Bash featured good-looking Guess models.
Before the guys left the stage, Scarlet cried out: "You're hired!"
This served as the signal for the hardworking hunks to strip down to their underwear! With officemates like these, who wouldn't want to work at Tower 69?
Victor Basa was the first celebrity to tease the crowd at the World Trade Center.
Among the celebrities who showed off their well-developed muscles were Rafael Rosell, Vince Ferraren, Sam Adjani, Miko Raval, and John Spainhour.
The all-male group Juan Direction entertained the crowd when they did pushups on stage.
The G-Force Stallions made their mark by singing Nicki Minaj's "Anaconda" while bringing their sexy vibe onstage.
One segment of the show featured "security guards" doing a well-choreographed dance number involving flashlights and plenty of crotch grabbing. They brought lucky girls up on stage to dance with them.
To wrap up their production number, the buff guards removed their pants to reveal black underwear beneath.
Mr. International Philippines 2014 Neil Perez was dressed as a police officer but pretty soon, he took off his uniform to reveal his black briefs while retaining his handcuffs and police baton (known locally as batuta).
Brothers Aljur and Vin Abrenica joined forces in teasing the crowd that night.
ADVERTISEMENT - CONTINUE READING BELOW
Aljur wore a blue sleeveless hoodie as he poured water on his brother Vin Abrenica. They ended their segment by giving each other a bear hug.
One of the celebrities who received the loudest screams was Daniel Matsunaga, winner of Pinoy Big Brother All In.
Markki Stroem teased the crowd by putting the end of his cryo gun inside his pants. He also put it underneath his crotch area as steam gushed out of his gun.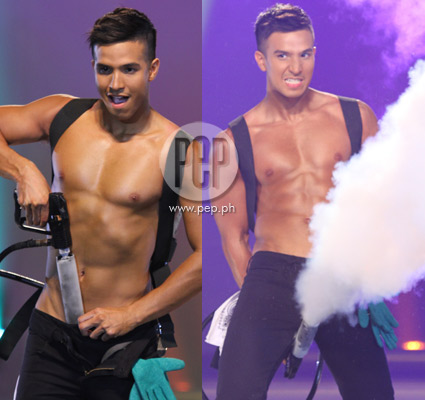 It seems that Tower 69 is undergoing renovations as another segment of the show featured brawny construction workers who caused a stir with their athletic bodies.
Two workers grabbed everyone's attention when they rappelled up the front wall of the stage. Suddenly, fireworks were ignited from their packs.
MEET THE EXECUTIVE BOARD MEMBERS. The celebrity centerfolds were introduced that night as the Executive Board members of Tower 69.
To add mystery to the event, an office chair was placed in the middle of the stage. The celebrity was seated on the chair and he would swivel the chair around to finally reveal his identity.
Geoff Eigenmann was the first centerfold to walk the ramp that night.
The GMA-7 actor strutted onstage and immediately tore off his pants to reveal his black underwear.
He swayed his hips and asked for a canister filled with whipped cream. He assisted a lucky lady to go up the stage before proceeding to spray whipped cream across his chest.
She used her finger to taste some of the whipped cream and she got a kiss on the cheeks for her efforts.
Brazilian model Diego Furoni brought along a party popper but he failed to launch it so he just left it on stage. He lowered his shorts to tease the crowd and eventually he threw away his shorts to reveal his black-and-white shorts.
ADVERTISEMENT - CONTINUE READING BELOW
Diego was the only centerfold to strip down to his undies since all the other centerfolds went topless but opted to wear either pants or shorts.
Pancho Magno, the Kapuso star who was dubbed as the "Director of Engineering," reached into his pants to pull out confetti that he threw towards the audience with a flourish.
Medical student Daniel Velasco took out a handkerchief and put it inside his pants before throwing it towards the audience. He also pulled out a chocolate bar from inside his pants.
JAMES REID FALLS DOWN. One of the most surprising events of the night was when celebrity centerfold James Reid suddenly fell from the elevated platform that served as the ramp.
The former Pinoy Big Brother Teen Edition winner initially wore a black sleeveless vest when he came out onstage wearing shades.
He was singing the Chris Brown song "Take You Down" live as he walked down the ramp. He then took off his vest to reveal his well-defined abs.
The Viva contract star did sexy moves onstage and turned his back from the audience. As he did so, he took a step backwards and he ended up falling into the middle portion of the elevated platform.
The actor quickly pulled himself out, fixed his red suspenders and continued singing.
He entertained the crowd even more when he did a breakdance move on the floor.




MORE SURPRISES. It seems that pants are a convenient hiding place for sexy items.
Gerard Garcia reached inside his pants to pull out a red rose that he threw towards the crowd. The hunky TV5 reporter surprised audiences when he reached down to again to pull two more roses from his crotch area.
Benjamin Alves had a necktie around his neck as he walked topless. He danced while Justin Timberlake's "Sexy Back" was playing in the background.
ADVERTISEMENT - CONTINUE READING BELOW
He took a smartphone from an audience member and aimed it at his crotch area. The Kapuso actor even blindfolded himself then pulled down his pants very low to tease the crowd.
ABS-CBN actor Joseph Marco removed his coat and black long-sleeved polo to reveal his sculpted abs.
He jumped over the hole of the elevated platform and he pulled out a black bra with his name written on it. He held it up triumphantly before finally handing it to a lucky girl whom he kissed on the cheek.
Cosmo Tower 69 CEO Paulo Avelino was the last centerfold to walk the ramp.
Wearing a black suit, white long-sleeved polo and a necktie, the Kapamilya actor motioned that his suit was getting too hot for comfort.
He signaled for the crowd to shout louder before he ripped off his button-down polo. He elicited shrieks when he took off his belt in front of the crowd.
In the end, the centerfolds (including James Reid) lined up as they walked down the ramp again.
For the finale, all of the other bachelors came out onstage and paraded their well-toned bodies.
Confetti rained down onstage as the 2014 Cosmo Bachelor Bash came to a close.

To view photos of the celebrity centerfolds, CLICK HERE.