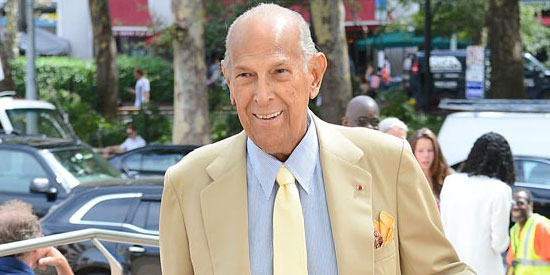 ---
Fashion designer Oscar de la Renta has died aged 82.
The designer to the stars—who created Amal Clooney's wedding dress for her and George Clooney's nuptials on September 27—passed away at his Connecticut home on Monday, October 20.
While the cause of death is yet to be released, he was diagnosed with cancer in 2006.
The designer rose to prominence in the 1960s when then-First Lady Jackie Kennedy wore his garments and he went on to launch his own fashion label.
Former First Lady Hilary Clinton also used to regularly wear his designs, as did Laura Bush and Nancy Reagan.
Earlier this month, Michelle Obama, US President Barack Obama's wife, wore one of his garments to an event.
The Dominican Republic-born designer dressed several stars throughout a highly successful career, including Cameron Diaz, Nicole Kidman, Penelope Cruz, and Audrey Hepburn.
Just last month, one of his latest commissions was Amal's wedding dress and he appeared in the pages of Vogue magazine with her as she posed for pictures trying on the beautiful custom-made French lace gown.
Lawyer Amal later praised Oscar for creating the outfit for her big day.
She said: "George and I wanted a wedding that was romantic and elegant, and I can't imagine anyone more able than Oscar to capture this mood in a dress.
"Meeting him made the design process all the more magical, as he is so warm and such a gentleman."
Oscar also admitted he was fully aware of the importance of the garment and hoped he had created exactly what Amal wanted.
He said: "It's the most important dress in the life of a woman.
"Any girl from any walk of life dreams of that special dress, and I try to make that dream a reality for her.
"Amal and I looked at a lot of evening dresses and wedding dresses together, and we discussed what she liked. That gave me the idea of what she wanted."
ADVERTISEMENT - CONTINUE READING BELOW
Oscar is survived by his wife Annette and adopted son Moises.
STARS' TRIBUTE. Taylor Swift has led tributes to Oscar de la Renta.
The 24-year-old singer took to Instagram to post a picture of herself wearing a gown the legendary fashion designer had created for the Costume Institute Gala in New York in May, and she added a heartfelt message praising him.
She wrote: "My all-time favorite designer has passed away. Oscar, it was an honor to wear your creations and to know you. In loving memory"
At the event in May, she said: "Oscar de la Renta is the designer I've idolized since I was a little girl.
"Having an opportunity to wear a one-of-kind gown designed by him is a daydream realized."
Taylor's good friend Karlie Kloss also paid tribute to the designer on her Instagram account, praising him for inspiring her in life and helping her to become who she is today.
In a message attached to a picture of the designer, she wrote: "The world lost one of the most extraordinary people that I have ever met. Thank you for helping me become the woman I am today and for always inspiring me to be better. There simply is no one else like you."
Several other stars have also paid tribute to Oscar, including supermodel Naomi Campbell, who described him as a "gentleman of fashion".
She wrote: "The Gentleman of Fashion you will always be !!! R I P@oscarprgirl @OscarPRGirl #Oscar de la Renta"
Actress Jamie Lee Curtis wrote: "I've worn Oscar de la Renta's signature fragrance my whole adult life. It is like his designs & life. Classic, soft, feminine & elegant. RIP"
Singer Gloria Estefan tweeted: "RIP iconic designer Oscar De La Renta,who was a big part of 3 of my life's biggest moments.Much love & peace2 his family& all who loved him!"
ADVERTISEMENT - CONTINUE READING BELOW