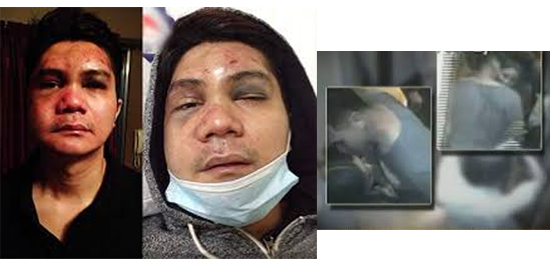 ---
This year's most controversial man in showbiz is Vhong Navarro.
His visit to Deniece Cornejo's condo unit in Fort Bonifacio, Taguig, on that fateful day of January 22, led to a mauling incident, rape and serious illegal detention cases, and jail time for the model and her friends Cedric Lee and Zimmer Raz.
It also brought in two more rape complaints—one of which was filed by another model Roxanne Cabañero—against the It's Showtime host.
The entire hullabaloo lasted for almost eight months, and 33 of the articles put out on PEP.ph (Philippine Entertainment Portal) became part of 100 Most-Read Stories of 2014.
Landing the top spot was Vhong Navarro identifies alleged masterminds behind mauling incident, which generated 1,102,383 unique page views (defined as by Support.Google.com as "the number of sessions during which that page was viewed one or more times.")
A unique visitor is an individual user who has accessed your site. It is determined by the IP address of the computer or device that the user is browsing from, combined with a cookie on the browser they are using - See more at: http://blog.agilitycms.com/content-managers/what-s-more-important-page-views-or-unique-visitors#sthash.klSE7VBD.dpuf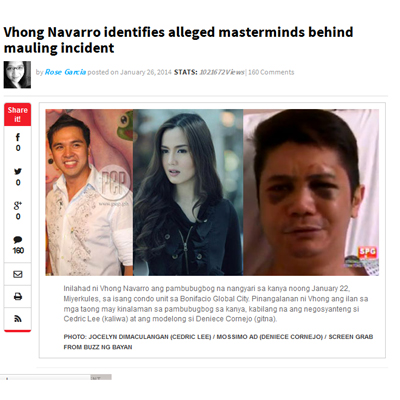 ADVERTISEMENT - CONTINUE READING BELOW
Next to the Vhong controversy were the hook-ups, engagements, and weddings.
Fans cheered when Sarah Geronimo and Matteo Guidicelli admitted their relationship on June 19.
Millions of viewers tuned in to the proposal of Dingdong Dantes to Marian Rivera on TV last August 9.
And Drew Arellano and Iya Villania caught the public by surprise when their wedding photos circulated on the social media last January 31.
Their story, 6 Reasons why Iya Villania and Drew Arellano's wedding is the coolest, captured 1,011,652 unique page views.
PEPsters, we present the 100 articles that elicited "whoa, wow, grrrr!, grabe, and over" reactions from Pinoys. Data were extracted from Google Analytics, and covered January 1 to December 15.
3. Vhong Navarro reveals alleged sexual encounter with Deniece Cornejo; Deniece claims she was raped 511,119
4. Sheryn Regis allegedly had an affair with another woman 474,826
5. Wardrobe Malfunctions At FHM 100 Sexiest Women Victory Party 2014 471,802
6. Divine Lee's 11 most memorable moments from Karylle and Yael Yuzon's wedding 409,802
7. Cedric Lee accuses ABS-CBN of one-sided reporting 400,729
8. Heart Evangelista admits to being frustrated by her Startalk interview with Deniece Cornejo 396,193
9. Mark Herras admits fathering baby girl 388,632
10. Anne Curtis to Sam Concepcion: You're not classy... 356,876
11. Kat Alano admits being raped by a public figure 338,730
12. Kris Aquino in a relationship with Mayor Herbert 317,559
13. Nadia Montenegro reacts to Mark Herras's revelation 316,047
14. Vhong Navarro tied, blindfolded, and beaten by six unknown men 314,535
15. Angel Locsin admits Luis Manzano has said "I love you" since they got together 309,998
16. Wally Bayola breaks his silence on sex-video scandal 305,462
17. Roxanne Cabañero denies being a prostitute, GRO 297,901
ADVERTISEMENT - CONTINUE READING BELOW
18. Deniece Cornejo's message to Vhong Navarro: "Kung meron man ditong binaboy, hindi ikaw, kundi ako'ng binaboy mo." 297,901
19. Deniece Cornejo says she filed rape case against Vhong Navarro to teach him a lesson 296,388
20. Annabelle Rama tells Esther Lahbati to shut up 284,291
21. Deniece Cornejo stands by attempted rape allegation against Vhong Navarro; bent on filing case against him 282,777
22. Two Women dragged into Paolo Bediones sex-video scandal speak up 268,773
23. Who is Deniece Cornejo? 267,657
24. Gotcha! Sarah Geronimo And Matteo Guidicelli Together 266,145
26. Roxanne Cabañero on Vhong Navarro: "Binaboy niya ako!" 266,145
27. Alleged Instagram Posts Of Jinggoy Estrada's Son Jolo Goes Viral 264,633
28. New CCTV footage shows Cedric Lee and Deniece Cornejo kissing in the elevator after filing blotter report against Vhong Navarro 261,608
29. (UPDATED) Bea Rose Santiago's father slams Miss International 2013 for her "web of lies"; wants public apology from daughter 258,584
30. Lawyer: Vhong raped Roxanne between April 24-27, 2010 254,047
31. Bianca Gonzalez no regrets about Bong Revilla comments 254,047
32. Cherie Gil reveals reason behind sudden exit from Ikaw Lamang 252,535
33. Deniece Cornejo denies using rape issue to be famous 251,023
34. Vice Ganda admits tampuhan with Karylle 249,511
35. Matteo reveals details of courtship with Sarah 243,386
36. Vhong Navarro Deniece Cornejo Cedric Lee Parodies And Memes Flood The Net 235,901
37. Carla Abellana admits breakup with Geoff Eigenmann 234,389
38. Roxanne Cabañero attends preliminary hearing of her rape case vs. Vhong Navarro 232,877
39. SPD Director admits lapses in handling blotter report against Vhong Navarro 231,264
40. Vhong Navarro now being accused of attempted rape by 22-year-old student, says blotter report 228,340
41. Anne confronted Sam to protect Jasmine? 225,316
42. Cedric reiterates Deniece is not his girlfriend 223,803
ADVERTISEMENT - CONTINUE READING BELOW
43. Angel Locsin slams bashers spreading lies about her 222,291
44. Court slaps Claudine Barretto with robbery raps 220,779
45. Roxanne Cabañero camp: We have a case 219,267
46. Maricar surprised by Don's decision to separate 216,849
47. Raymart camp: Claudine lying about being "battered wife" 212,618
48. Guji Lorenzana confirms breakup with Kaye Abad 216,243
49. Angel Locsin admits Luis Manzano has said "I love you" since they got together 212,225
50. Vhong Navarro: "Hindi po ako rapist." 210,194
51. David Bunevacz issues official statement regarding past mauling incident with Cedric Lee 208,602
52. Roxanne Cabañero's allegations conflict with testimonials 204,145
53. Claudine, Gretchen exchange tirades anew 199,609
54. The Legal Wife Trailer Spawns Viral Memes 199,609
55. PEP EXCLUSIVE. Cedric Lee claims it was Vhong Navarro who begged Deniece Cornejo not to file attempted rape complaint: "Ayaw niyang masira yung career niya." 193,759
56. Aljur Abrenica complaints vs GMA Artist Center revealed! 193,535
57. Vic turns 60 via surprise party prepared by Pauleen 190,560
58. Antoinette Taus quashes persistent rumors about love child with ex-boyfriend Dingdong Dantes 190,535
59. Marian Rivera wows ABS-CBN stars in second FHM cover 189,023
60. Claudine reveals fake marriage, murder attempts 184,487
61. #TheJourneyContinues: Amy Perez Ties The Knot With Longtime Partner Carlo Castillo 184,487
62. Five Photos Derek Ramsay Will Not Be Jolly To See 182,974
63. Heart Evangelista deeply hurt by mom's public rebuff in Greenbelt before Christmas Day 182,974
64. Luis Manzano on Angel Locsin's revelation: "There's smile on my face with that tears in her eyes." 181,462
65. Dingdong Dantes and Marian Rivera are engaged! 174,632
66. Angel Locsin admits she still has feelings for ex-boyfriend Luis Manzano 173,901
67. PEP EXCLUSIVE. Raymart Santiago facing visitation problems, according to source 173,901
68. Richard Gutierrez finally admits: "Yes, I'm a proud father." 173,791
ADVERTISEMENT - CONTINUE READING BELOW
69. Vhong Navarro faces third rape complaint 172,389
70. Calvento reveals assassination plot against Vhong 172,389
71. DJ Kat Alano's Facebook and Twitter posts about rape create buzz 172,389
72. Vhong Navarro's camp to file legal action against Cedric Lee and other suspects 170,877
73. Helena Belmonte, gone too soon 170,877
74. Deniece says kissing video with Cedric has no malice 169,36
75. Vhong Navarro's lawyer on threat of Cedric Lee and Deniece Cornejo to file charges against actor: "Do it. Just do it." 169,365
76. Heart on Marian: We are not friends nor enemies 167,853
77. Rita cries foul over John's alleged verbal and sexual harassment 166,340
78. Richard Gutierrez reacts to his mom's suggestion about marriage 163,316
79. Vhong Navarro denies viral photo of abused sex organ is his 161,804
80. James Yap keeps mum about rumored Kris-Herbert romance 161,804
81. Mark Herras complains about James Reid's attitude 161,804
82. Ellen Adarna calls JC Intal "pinakamalabong boyfriend ever." 160,292
83. Meet Ali Khatibi: The Father Of Cristine Reyes's Baby 161,542
84. Was Kim's tweet a reaction to Maja's feeler? 158,780
85. Lawyer: Cedric, Deniece can't escape crime against Vhong 157,267
86. Daniel Padilla admits authenticity of audio-video recording; Jasmine Curtis Smith admits exchanging text messages with Daniel 156,181
87. Ali Sotto touched by Angel Locsin's thoughtfulness 155,755
88. Rodrigo Cornejo on granddaughter Deniece Cornejo's rape charge against Vhong Navarro: "It's either I'll believe her or not—I chose to believe her." 155,755
89. Glaiza de Castro reveals some ABS-CBN stars ask for her help to move to GMA 152,731
90. Danica Sotto comments on Vic-Pauleen relationship 149,706
91. Claudine Barretto shows deep wounds, scars in photo shoot; ready to resume court battle against Raymart Santiago 149,356
ADVERTISEMENT - CONTINUE READING BELOW
92. Vice Ganda speaks up about Terrence Romeo's denial 148,194
93. Bianca Gonzalez And JC Intal Get Married In Palawan 144,365
94. Accused suspect in Vhong Navarro mauling reportedly wants to surrender and turn state witness, says Tony Calvento 139,865
95. Billy Crawford admits courting Coleen Garcia; insists, "We're not a couple yet." 137,317
96. Sarah Lahbati's mom cries foul over unfair treatment 136,09
97. Derek, Angelica face concubinage charges 133,527

98. Kim Chiu to media on real score with Xian Lim: "We don't owe you any of our personal lives." 130,508

99. Derek Ramsay sued by former partner 128,998
100. Gretchen denies calling Claudine "baboy, lechon, laos" 126,656