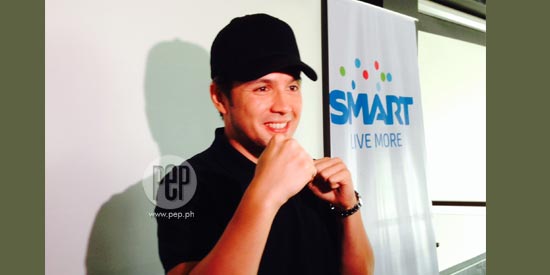 ---
Paul Soriano and Toni Gonzaga are going to tie the knot this coming June.
Earlier reports actually mentioned it's on June 12, which is about two months from now.
The Kapamilya host/actress/singer had already picked Vera Wang to do her bridal gown.
But the groom has not really had the time to "sit down" and help with the wedding preparations because of his showbiz commitments.
Aside from directing Manny Pacquiao's biopic Kid Kulafu, Paul also did Pacman's latest TV commercial and the videos of his pre-fight outtakes for Smart Communications.
The latter was launched to a small group of media earlier today, April 6, at Tipsy Pig Gastropub in Capitol Commons, Pasig City.
Back to the wedding, Paul told PEP.ph (Philippine Entertainment Portal) and TV5's MJ Marfori, "We're really both focusing on our careers right now, and especially, she just came up with a film.
"I'm gonna be coming up with one next week so we're finishing up all our biz commitments.
"We're the type of people who wanna give 100 percent to our work."
At present, Toni's the one who's more hands-on.
Paul continued, "Honestly, I'll just follow whatever she wants.
"She's the boss, 'di ba. Gano'n na lang.
"I think, for me, it's really more… much more important for her, you know."
And the most important thing to him is: "I want to make sure that she has the dream wedding... It will only happen once in a lifetime."
ADVERTISEMENT - CONTINUE READING BELOW
WHAT THE WEDDING WILL BE LIKE. No matter how busy they have been these past few days, postponing it is not an option.
"Not necessarily," Paul said.
He went on giving a bit more details.
"From our talks, we want something that's really small, private, and intimate, maybe nothing too extravagant, it won't be too hard to plan.
"It will definitely happen this year.
"Just that now, I think, after I get back from the fight, to kinda sit down and kinda, you know, talagang mark down a day to figure it out."
LOVE NOTES. PEP asked Paul about his sweet and short messages for Toni that went viral recently after she posted them on her Instagram account (@celestinegonzaga).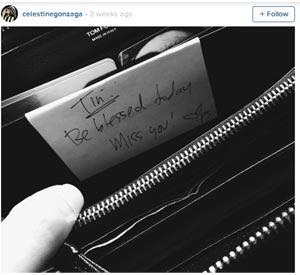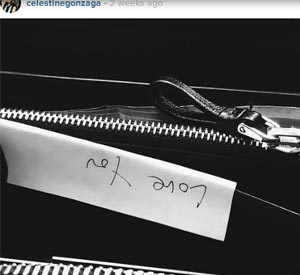 ADVERTISEMENT - CONTINUE READING BELOW
Paul looked quite embarrassed, but he was smiling.
"Actually, I told Tin, I said, 'You know, we should keep those things private…
"Those are the things I do because we don't get to see each other often.
"So, you know, I get random spur-of-the-moment thing that maybe she can remember me by.
"And, you know, that's just us.
"She does the same thing but I don't post it like that."
THE BB. PILIPINAS ISSUE. The topic shifted to the brouhaha on Toni's hosting stint for Binibining Pilipinas pageant.
How did he help his fianceé cope with such controversy?
Paul said, "You know, I mean, it's nothing new to her, nothing new to us.
"How we deal with stuff like that is we just ignore it.
"We both know the truth. We know that she works hard at what she does.
"In this world, in this industry, you can't please everybody.
"No matter who you are, no matter how big you are, you can't please everybody.
"So, what's important is that we stick to our values, and we did our best.
"And, at the end of the day, that's all we can really do.
"And people will like it, people will hate it, and we just, you know, move forward."
PEP told him that the brighter side of it was that it showed how hilarious Toni could get. Is that how she is as a girlfriend?
"I mean, Toni's got a gift.
ADVERTISEMENT - CONTINUE READING BELOW
"She's got the gift of spontaneity. She's got the gift of talk. She's got the gift of comedy.
"She's really blessed to be able to succeed in everything she loves.
"I think that sort [can be] attributed to her faith in God as well."
Lastly, Paul revealed why he's so in love with Toni.
"But what's nice about her also is when we're behind the camera, we're in our private homes, in our private life, is that, you know, we can really just be each other.
"What you see on camera is so lovable, but I think what you see behind the camera is even more lovable.
"I think that's why we get along really well."