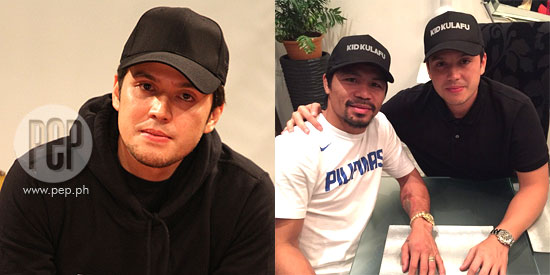 ---
Fresh from his trip to Los Angeles, film director Paul Soriano said that Manny Pacquiao is determined to defeat Floyd Mayweather Jr. on their much-awaited bout on May 2 (May 3 in the Philippines).
Having directed the movie Kid Kulafu, Paul said that the project blazed the trail of the first 15 years of Manny's life and it definitely motivated the latter to be at his best form.
"This film reminds him of where he came from. He came from nothing.
"He mentioned that in his press conference with Floyd [last March 12 in Las Vegas].
"This movie brought him back to those days where he was Emmanuel, Quiao, Manuel, Wel—that was his name before.
"Every time he would talk, especially in the early part—Floyd was there also—you could see that he gets emotional when he talks about his mother [Dionisia Pacquiao]," said Paul at the press conference of Kid Kulafu held at ABS-CBN's Dolphy Theather, Monday night, April 6.
In one of their personal conversations, Paul related that he was struck by Manny's revelation that he is way more affected by the challenges that he went through as a child than facing difficult battles in the boxing ring.
"He said something to me that really hit me.
"Not verbatim, but something like, 'Oh, you know, yung boxing nakikita mo ngayon sa TV na-knockout ako, nagte-training, lahat 'yan hindi 'yan sakit para sa akin.
"'Yung sakit, yung walang bahay, walang pagkain, walang pamilya. 'Yan ang masakit.
"'Yung sa boxing, 'pag mana-knockout pa ako, at least may pera [at] may pamilya ako.
"'Pero nung bata ako, wala akong bahay,'" said Direk Paul, whose family is also close to Manny.
The 33-year-old director also said that this never-before-seen side of Manny will be shown in Kid Kulafu.
To which Paul added, "He's [Manny] really proud of the film and he's hoping that this can also inspire all the Filipinos to rally behind him as he gets into that ring and hopefully knocks out Mayweather."
ADVERTISEMENT - CONTINUE READING BELOW
Asked if Manny hinted about plans to cap off his renowned boxing career with his fight with Floyd, Paul reminded the press about the Pinoy boxing champ's record-breaking world titles in eight different weight divisions.
"With or without Mayweather, Manny Pacquiao is gonna go down as one of the best boxers in boxing history.
"He's gonna be in the Hall of Fame.
"You cannot take away the ten world titles in eight weight divisions. It's unprecedented.
"Mayweather does not define Manny," Paul firmly stated.
Personally speaking, the director was wowed by Manny's ability to unite the nation every time the boxing champ enters the ring.
"Where can a hundred million people come together for an hour and still be at peace? He's able to unite big networks.
"I felt that wow!
"This young boy who grew up in Sarangani, in Bukidnon, in the mountains is able to influence not just the Philippines but the world.
"And on May 3, the world will stop and watch our [modern-day] hero Manny Pacquiao.
"Win or lose, he's got my support, and I think every Filipino can say that too."
When PEP.ph (Philippine Entertainment Portal) asked if he's planning to watch Pacquiao-Mayweather fight with his fiancée Toni Gonzaga, Paul replied that he's flying solo for that trip in Las Vegas.
"As of now, I'm going alone.
"I know Toni has got a lot of stuff on her plate. I think she has a lot of shows coming up.
"Definely I'll be there in Vegas just for a quick week.
"Whether or not I get to watch the fight doesn't matter. What's important is that I show my support for our champion.
"By being there, I think that's good enough."
At the end of the Q&A, Paul mentioned that he along with other Pinoy fans are having a hard time getting tickets for the historic fight of Pacquiao and Mayweather at the MGM Grand Arena.
ADVERTISEMENT - CONTINUE READING BELOW
"I don't think anybody's sure… Actually, I was just in Los Angeles [where Manny is currently based for his training].
"Even Manny himself doesn't know when the tickets are coming out.
"Mayweather is controlling everything.
"That's why the only difference is Mayweather is controlling all now, but on May 3, Manny will knock him out," he beamed.