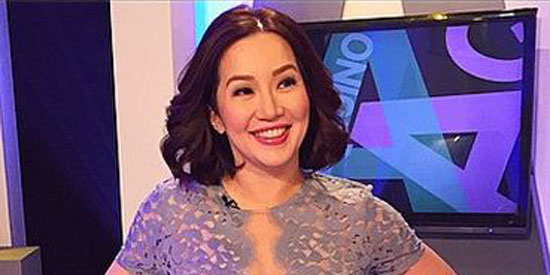 ---
Kris Aquino took to Instagram account (@withlovekrisaquino) to express her sentiments about being friends with an unidentified ex-boyfriend.
But even without naming names, her Instagram followers were quick to comment that she's probably referring to her most recent ex-flame, Quezon City Mayor Herbert Bautista.
As seen on her Instagram post last Friday, April 10, Kris shared a cartoonish drawing showing an ex-couple giving each other a high five with a caption saying: "60% of exes lose contact after a breakup: Is it ever worth it to repurpose your romance into a friendship?"
In her own caption, Kris mused that she and her ex-boyfriend are lucky to be part of the remaining 40% who remained friends long after their breakup.
"[I] realized we've grown up a lot, moved on enough, learned to give mutual respect, and yes, laughing together again to finally make it to being part of the 40%...
"Grateful to be where we are...
"[Smiley emoticon] HAPPY WEEKEND IG Friends. GOOD NIGHT. #positivity #inagoodplace"
It will be recalled that Kris revealed that Herbert proposed to her on the "first Friday of April" last year, and then broke up with her after she spoke about their budding romance on Aquino and Abunda Tonight.
Read: Kris Aquino reveals Mayor Herbert Bautista proposed but broke up with her a few days later



But the two decided to remain friends, especially after Herbert's surprise visit during a thanksgiving mass held at Kris's home on the latter part of December 2014.
Read: Kris Aquino gets a surprise visit from Mayor Herbert Bautista