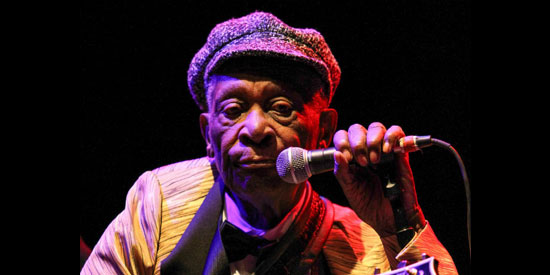 ---
BB King has died aged 89.
The guitarist and singer, who was known as "The King of the Blues" by his fans, passed away in his sleep in Las Vegas on Thursday, May 14, his lawyer has confirmed.
The musician was known for his hits including "Lucille", "Sweet Black Angel", and "Rock Me Baby".
King was once ranked as the third greatest guitarist of all time by Rolling Stone magazine.
However, the icon—whose real name was Riley B. King—had become ill in recent years as a result of a diabetes-related illness and announced he had entered a Las Vegas hospice earlier this month.
The final message on his website read: "I am in home hospice care at my residence in Las Vegas. Thanks to all for your well wishes and prayers."
Beginning his career in the 1940s, the former farmhand inspired musicians around the world with his fusion of blues and jazz music, and shot to fame once again in 1988 when he collaborated with U2 on "When Love Comes To Town".
The music veteran—who regularly performed at least 100 concerts a year until recently—won 15 Grammy awards during his life, with his most recent being in 2009 for his 42nd and final album, One Kind Favor.
BB King was inducted into the Blues Hall of Fame in 1980, and into the Rock and Roll Hall of Fame in 1987.
Other notable pieces of work include his 2000 collaborative album with Eric Clapton, Riding With the King, which achieved major success for the pair.