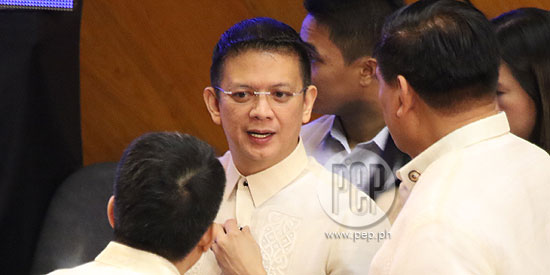 ---
Citing his intention to run for higher office in 2016, Senator Chiz Escudero officially resigned as the Chairman of the Senate Committee on Finance and co-chairman of the Joint Congressional Oversight Committee on Public Expenditures today, July 28.
In spite of his critical role in the said two powerful finance committees, Senator Chiz reiterated that his decision was made out of delicadeza and in the best interest of the people.
Senator Chiz, in his resignation letter addressed to Senate President Franklin Drilon, further explained that he didn't want the deliberations on budget allocation and use of public funds to be "tainted by suspicions or perceptions of partisan politics."
Nevertheless, the senator vowed to continue playing an "active role" in placing "strong and categorical safeguards" in the two finance committee's appropriation of public funds
Here is the full transcript of Senator Chiz's resignation letter tendered to Senate Franklin Drilon earlier today:
"I write to tender my irrevocable resignation as Chairman of the Senate Committee on Finance and as co-chairman of the Joint Congressional Oversight Committee on Public Expenditures, effective immediately.
"I thank the honorable Senate President for entrusting the undersigned with the critical responsibility of managing the Senate's role in fulfilling Congress' duty to oversee the Executive Department's use of public funds and to ensure that the allocation of the same is guided by what is in the best interests of our people.
"However, given my public pronouncements regarding a possible candidacy for higher office in 2016, I believe that it behooves me to step down at this juncture to ensure that deliberations on the General Appropriations Bill (GAB)—considered the most important piece of legislation passed by Congress each year—are untainted by suspicions or perceptions of partisan politics.
ADVERTISEMENT - CONTINUE READING BELOW
"It is, Mr. President, what propriety requires; it is, I believe, what our people expect from us all: delicadeza.
"I nonetheless reiterate my commitment, as a member of the majority bloc in the Senate, to exert efforts to ensure the timely passage of the GAB.
"I likewise pledge to play an active role in initiatives to put in place strong and categorical safeguards in the GAB to guarantee that it complies with the decisions of the Supreme Court (i.e. Belgica v. Ochoa and Araullo v. Aquino. And that it will not be used as a tool for partisan politics.
"Maraming salamat po. Dios mabalos!"
July 28, 2015
POE-CHIZ TANDEM IN 2016, A DONE DEAL? Although he's yet to declare the particular position he intends to run for, Senator Chiz previously confirmed talks of him and Senator Grace Poe running for higher office in the May 2016 elections.
It will be recalled that the two even met with PNoy and DILG Secretary Mar Roxas last July 15 to discuss "permutations for 2016."
Senator Grace, for her part, engaged in a separate five-hour long meeting with PNoy last July 20, saying that she felt that the President is in a "difficult position" with regards to the choice of the administration's standard bearer for the 2016 elections.
Senator Grace further described the outcome of her meeting with PNoy, based on GMA News Online's July 21 report: "We both agreed that we both have the best interest of our country in mind in whatever decisions we will make in the coming days."
ADVERTISEMENT - CONTINUE READING BELOW
Meanwhile, both Senator Grace and Senator Chiz have yet to announce their respective bids in 2016, but many speculate that the Poe-Escudero tandem is supposedly a done deal.
Most recently, the two were spotted meeting with former President Fidel Ramos at the latter's Makati headquarters.
Visited Former President Ramos at his RPDEV office early this evening w/ @sengracepoe It was a fun & enriching... :) pic.twitter.com/39d8n7vKSp

— Chiz Escudero (@SayChiz) July 24, 2015
Senator Chiz and Senator Grace both ran as an independent during the 2010 elections.
Currently, Senator Chiz is believed to be eyeing a vice-presidential bid, while Senator Grace remains to be the top contender for presidential bets in the 2016 elections.