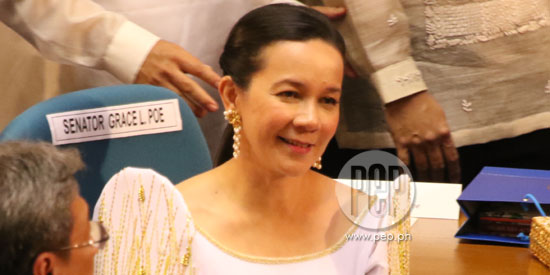 ---
For the first time, Senator Grace Poe gave details about her series of meetings with President Benigno "Noynoy" Aquino III recently.
Reading between the lines, Senator Grace said that PNoy wanted her to be the running mate of DILG Secretary Mar Roxas, who's widely believed to be the standard bearer of Liberal Party in the May 2016 presidential elections.
"I think it's pretty clear that Secretary Mar wants to run for the presidency and so the talks that we've had [were] perhaps to be a part of that, if I decide to join the team, would probably be as his vice president," Senator Grace said in an interview with ANC at the sidelines of PNoy's State of The Nation Address (SONA) in Batasang Pambansa Complex, Monday, July 27.
It will be recalled that PNoy had a meeting with Senator Grace sometime in May, and twice again this month of July to discuss 2016 elections alliances and candidacies.
The lady senator maintained, however, that who's running for which particular position was not discussed during those meetings.
The July 15 meeting at PNoy's official residence in Malacañang was attended by Interior Secretary Mar Roxas and Senator Chiz Escudero.
Senator Grace added: "But there's been no definite statement from the president to say that I should be the vice president."
While PNoy is believed to be rooting for Roxas-Poe tandem in the 2016 elections, there have been speculations that Senator Grace is expected to run for president with Senator Chiz as her vice president.
ADVERTISEMENT - CONTINUE READING BELOW
Senator Chiz, for his part, recently gave up his chairmanship in two powerful finance committees due to his "public pronouncements regarding a possible candidacy for higher office in 2016."
Read: Senator Chiz Escudero resigns as Senate finance head out of delicadeza; reiterates possible bid for 2016
As for Senator Grace's 2016 plans, she said that she hasn't made any final decision yet on the matter.
"Right now, I'm still in the period of discernment.
"There are a lot of things to consider.
"As I said, the decision I will make will not only affect a few people but the country.
"So, I just pray for the courage to be able to accept what I feel would be best for the country."