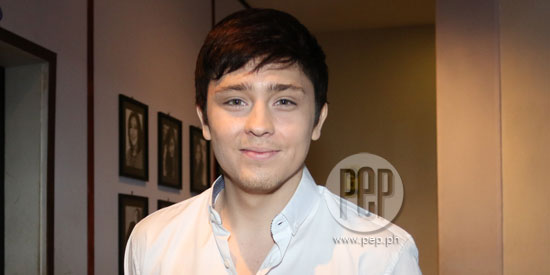 ---
Bret Jackson refuted speculations that his best friend James Reid is a snob and a playboy.
Although he didn't go into details, it seems that Bret is aware of the feedback that James has been getting from bashers of late.
Bret said, "Yung first thing, James is a snob or something? It's totally untrue kasi he's just really a shy person talaga.
"You see him on TV, he's performing, he's acting and everything.
"Pero the true James, he's shy.
"He doesn't really talk to anyone at all.
"If you go up to him and talk to him, he's gonna talk to you back.
"He's not a snob at all."
PEP.ph (Philippine Entertainment Portal) and another reporter were able to interview Bret after the presscon proper of the movie Angela Markado last Tuesday, November 24.
This was a day before word got out that James allegedly turned down a fan's photo-op request at a bistro pub in Taguig City.
It was also in the same bistro pub where James was allegedly spotted "kissing and flirting" with fellow Kapamilya star Julia Barretto.
Read: James Reid allegedly seen romancing Julia Barretto in a restaurant; fan gets wildly bashed
JUST FRIENDS? Bret, for his part, didn't mention anything about the said bistro pub incident involving James.
But for the record, the Angela Markado star also reacted to rumors romantically linking James to Julia.
Asked if James and Julia are an item, Bret explained, "You know, Julia's friends with Sam Concepcion, one of our best friends also.
ADVERTISEMENT - CONTINUE READING BELOW
"And we're all barkada.
"And if there's any link to that, that's just because we're all friends."
Bret also expressed his dismay over the fact that some people jump into conclusions easily.
"I mean, I don't know why it's not allowed for us to be friends with other people, di ba?
"Are you kidding me? We're all in showbiz and we're all around the same age.
"Siyempre we make friends with the people that are friendly to us," he added.
At one point during the interview, Bret reiterated that James wants to prioritize his career rather than love life.
"Yung people are always trying to link him to different girls or something like that.
"I just want to say to everyone that he already said that he's focused sa work niya."
ON JAMES AND NADINE. On a different note, Bret weighed in on the issue about whether or not James and his loveteam partner Nadine Lustre should become a couple in real life.
He said, "Him and Nadine are the best of friends.
"No one's saying na someday something might happen.We don't know.
"But right now, I think both of them are focused on their career.
"And yung mga anything na linked with James, I just wanna say na he's 21, 22. Ako, I'm 24.
"That's the age wherein what do you expect from the two of us?"
As a friend, Bret further said that he doesn't urge James to court Nadine just to meet other people's expectations.
The 24-year-old Viva talent said, "No, I will never put that on James.
ADVERTISEMENT - CONTINUE READING BELOW
"Work and relationship, if you mix the two, it's a deadly combination.
"Especially in showbiz, it's a really hard thing.
"Just imagine, say the fans really want them to get together. Okay, say they get together.
"Then, you now how hard it's gonna be for them to work every day together tapos be together pa.
"Let's be realistic."