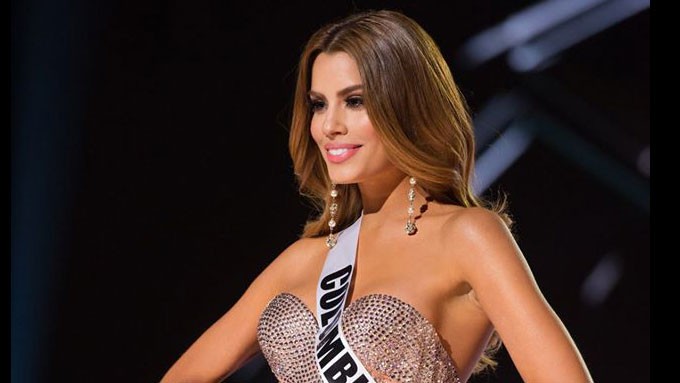 ---
Miss Universe first runner-up and Miss Colombia Ariadna Gutierrez has been offered to star in Vivid Entertainment's celebrity sex tape for a fee amounting to "up to $1 million."
In a letter published on TMZ yesterday, December 23, Vivid Entertainment founder and co-chairman Steve Hirsch has presented Miss Colombia a way to benefit financially and increase her fame "way past that of the new Miss Universe."
He wrote, "Here's my idea.
"I will pay you up to $1-million to both make movies for and represent Vivid Entertainment.
"You will pick your partners, the type of sex you want to have and how many movies you ultimately appear in."
Hirsch even vowed to commission the making of the first Vivid Girl crown for Miss Colombia, adding that it will be "grander than anything that Miss Philippines will ever wear."
As it was, Hirsch found it an "unfortunate debacle" that Miss Colombia got wrongfully announced as Miss Universe 2015 instead of Miss Universe first runner-up during the coronation night last Monday, December 21 (Manila time).
ADVERTISEMENT - CONTINUE READING BELOW
Read: Miss Colombia congratulates the Philippines for Miss Universe win
FAMOUS VIVID GIRLS. Hirsch even mentioned some of the famous Vivid girls, "Celebrity sex tapes we have distributed have enhanced the careers of stars such as Kim Kardashian, Kendra Wilkinson, Pamela Anderson, and many others."
Hirsch also shared how Vanessa Williams–the first African-American woman to win the title Miss America in 1984–was catapulted to stardom following the unauthorized publication of her nude photos in Penthouse magazine.
"Try to think about the names of former Miss Universe or Miss America titleholders.
"The only name that most people remember is Vanessa Williams.
"The main reason is that her nude photos appeared in Penthouse Magazine and as a result her Miss America title was withdrawn from her.
"Today Vanessa is an accomplished actress, singer and author. She has even admitted that the incident with Penthouse helped rather than hurt her career."