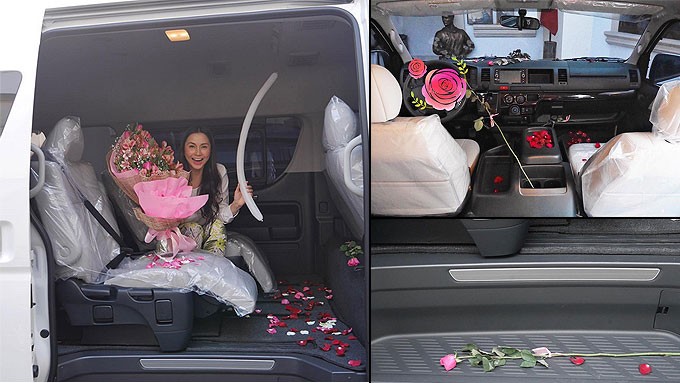 ---
In a rare grand gesture, Robin Padilla took his wife Mariel Rodriguez by surprise as he bought her a brand-new white van.
Mariel took to Instagram to share how her husband made an effort to fill the van with rose petals with matching bouquet of flowers.
The 31-year-old TV host happily wrote in her series of posts today, March 7: "I thought my husband bought himself a new car... when I saw the roses I knew the new car was MINE!!!"
Apparently, Mariel just got home from her hosting stint in It's Showtime when she saw Robin's luxurious gift for her.
They weren't really celebrating any special occasion since it's way past Valentine's Day, and Mariel's birthday is still five months away.
She added, "I was rushing home after work so I can watch Game ng Bayan at home.
"When I arrived, there was a brand new van parked in our courtyard when I opened it... the car was filled with roses... the biggest surprise!!!"
Mariel further thanked Robin for being a good provider and for treating her with such a big surprise.
"Thank you babe!!!! Thank you thank you thank you!!!! I'm the lucky one!
"I promise to continue being faithful to you, to honor you at all times, to support you, to believe in you, to pray for you, respect you and love you forever!
"I know you work hard. Thank you for being a good provider for us.
"I still can't believe it!!! What a surprise!!!!"