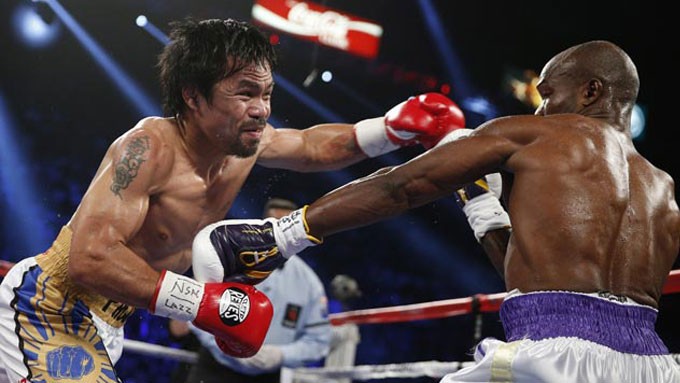 ---
LAS VEGAS - Manny Pacquiao scored two knockdowns on the way to a decisive victory over American rival Timothy Bradley on Saturday night (Sunday, Manila time) in what the Filipino ring hero said was the final fight of his legendary career.
Pacquiao started slowly but picked up the pace in the final half of the 12-round bout, knocking down Bradley late in the seventh round and again in the ninth before a wildly cheering crowd at the MGM Grand here.
"Every round I was looking for a KO," said Pacquiao, who remained without a knockout win in seven years but nonetheless put on a performance more impressive than in his last bout against Floyd Mayweather, Jr.
All three judges scored it, 116-110, in favor of Pacquiao.
The vintage performance soon turned the conversation to Pacquiao's pronouncement that this will be his final fight, and his statements after the Bradley fight didn't help clear up the guessing game.
"As of now, I'm retired," said the beloved boxing hero.
"I want to go home to my family and serve the people," added Pacquiao, whose next order of business is his campaign for a Senate seat in the May national elections back home.
Pacquiao knocked Bradley down in the seventh round, though Bradley seemed to have slipped. He left no doubt in the ninth round with a big left hand that sent Bradley sprawling.
To read more stories about this, visit SPIN.ph