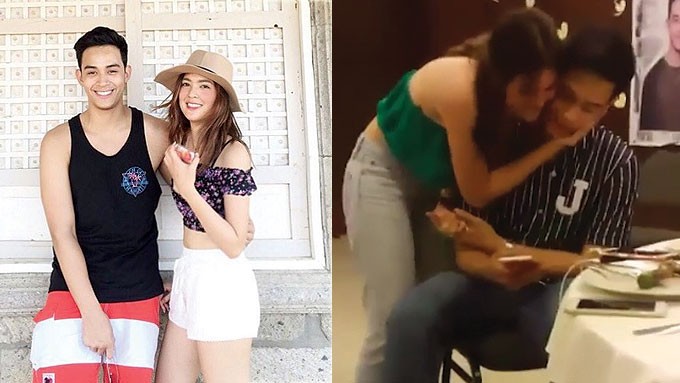 ---
Looks like Diego Loyzaga and Sofia Andres are slowly coming out in the open about the real status of their relationship.
While there is no direct admission yet if they are already a couple, their sweetness in photos and messages on social media, and public displays of affection (PDA), which are caught on-cam, are enough to validate that what they have now is more than friendship.
Just this Sunday, April 10, #Sofiego (Sofia and Diego loveteam) had their first get-together with their supporters.
Fans at the event posted snippets of videos of the two, which showed them being touchy, affectionate.
The video also showed them constantly holding each other's hands.
Between the two, Diego seems to be more comfortable posting about their relationship.
He posted photos of him and Sofia wearing identical baseball jerseys.
Three weeks ago, when Diego was still recuperating from his injured hand after figuring in a controversial commotion at a bar in Taguig City, the young actor posted a photo of him with Sofia on his Instagram account.
He wrote on the caption: "Not a problem in the world when I'm with you."
A week ago, they were also in a beach resort in Bataan. Diego posted photos of him and Sofia, with equally flattering captions.
Sofia, on the other hand, seems to be more conservative, but also posted a few photos of her with Diego on Instagram, mainly from their trip together in Bataan recently.