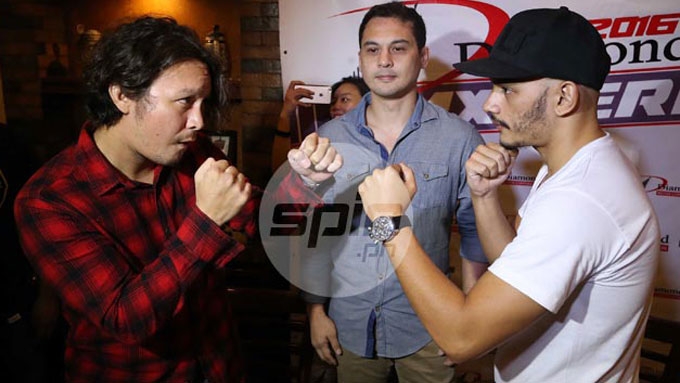 ---
BARON Geisler and Kiko Matos once again traded barbs just days before they exchange blows in their much-anticipated exhibition match in the URCC Fight Night on Saturday at the Valkyrie Night Club in Taguig City.
Fortunately, their face off in Tuesday's Sportswriters Association (PSA) Forum to promote their face-off, part of a nine-fight URCC card, featured only an entertaining exchange of insults and name-calling, with no cheap shots or stolen kisses this time around.
"Ayaw mo bang ladies' first?" Geisler started off, when a reporter asked both men about their fighting background.
Geisler believes he is the better, smarter fighter than Matos, but the indie actor had a quick counter.
"He is a monkey. I'm a human being. I think I'm smarter," said Geisler, to which Matos responded: "Sobrang baho ng hininga niya. Amoy putok."
Geisler, who stole a kiss from his rival during the face-off following their contract-singing for the fight, later told Matos: "Mahal kita pero bibigwasan kita."
Geisler and Matos agreed to settle their differences in the URCC after their bar brawl was caught on cam and has since become viral online.
This prompted URCC founder Alvin Aguilar to step in, saying the fight was made so that the two combatants will be able to settle their differences the right way.
"You guys have seen on social media the fights that are being glamorized but at the end, walang resolution. Instead of sa bar nag-aaway na nahahassle 'yung mga tao, why not turn it into something good, expose them to mixed martial arts, and have a peaceful resolution," Aguilar said.
Aguilar added a portion of the proceeds of the fight will be given to charities chosen by Geisler, Matos, and URCC.
To read full story, visit SPIN.ph