Following Arnell Ignacio's announcement on Facebook that he has been appointed as the AVP for Community Relations and Service Department of Philippine Amusement and Gaming Corporation (PAGCOR), musician Jimmy Bondoc also took to Facebook last Saturday, July 9, to announce that he has officially been appointed as the AVP for Entertainment for PAGCOR by President Rodrigo Duterte.
The musician said, "I may or may not be the best man for this job. But it's a done deal."
In his lengthy Facebook post, Jimmy took the opportunity to assure people that he is fully capable in his newly-appointed position.
As a student from the Ateneo de Manila University from prep to college, his passion had always been the arts.
Despite earning honors during his first year in Business Management, Jimmy eventually shifted to AB Communications.
He wrote, "That choice defined who I am today. I am, and will always be, an Entertainer."
Jimmy understood that there will be naysayers among the public, but the musician remained optimistic.
"I don't mind people questioning the credentials of some of us appointees. I know thats part of life.
"However, I would also like to say that Entertainment is God's gift to me. I know it back and forth, but I am also willing to learn much more those coming years.
"Natanggap na ako sa pagcor. Sana, matanggap niyo rin ako sa bago kong susubukan."
Among the celebrities who reached out to give their congratulations to Jimmy were Moy Ortiz, Faith Cuneta, talent manager Girlie Rodis and comedian James Obeso Macasero of Moymoy Palaboy duo.
PROMISES His experiences as musician/artist properly kept Jimmy focused on his true purpose for his AVP position.
He wrote: "Money has never blinded me, ask my friends.
"What will it profit my life if I earn from kickback and such, and die in 40 years? How I look God in the eye, and tell Him what I did with my life?"
ADVERTISEMENT - CONTINUE READING BELOW ↓
Jimmy wrote three promises with his new work:
"I am here to serve. This industry has served me. I want to serve the next generation, hoping I can make conditions better for them;
"I am an honest man. If I ever take money or kickbacks and the like, come to my house and cut off my hands;
"I will still make music."
But his performances would only be done for free.
Jimmy ended his post with a newspaper clipping of Arnell Ignacio and a clarification on the false headline.
Read his full post below: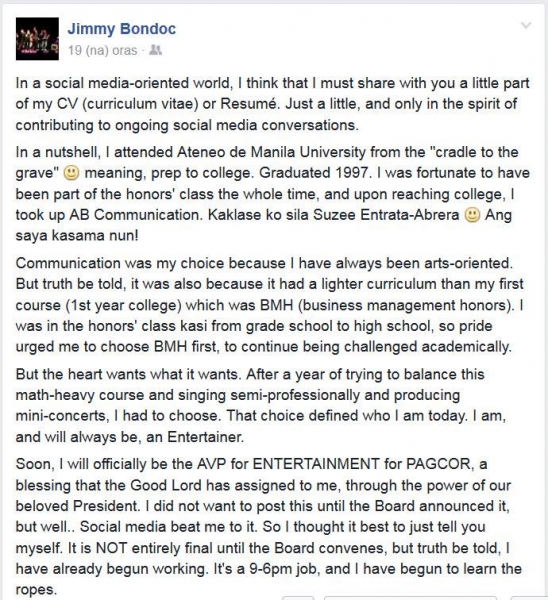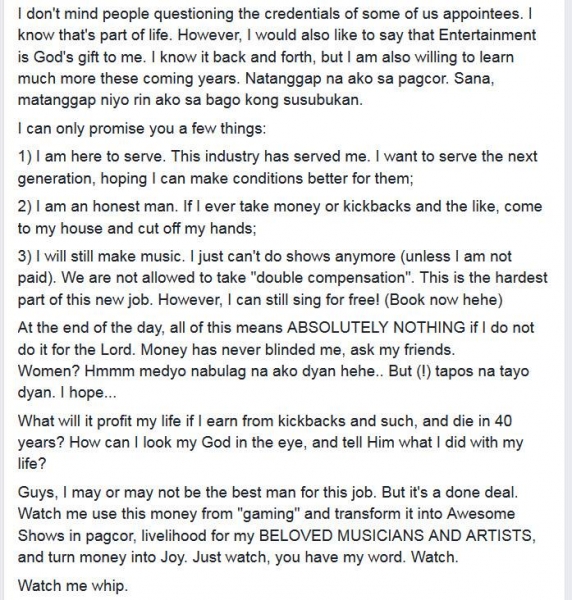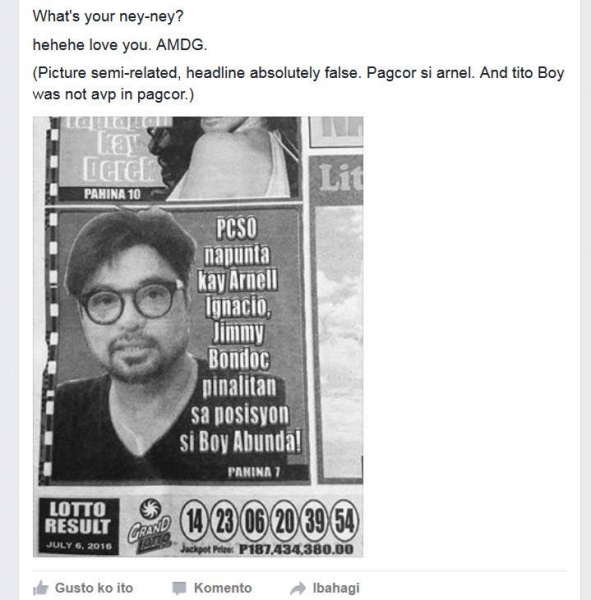 Screengrab from Jimmy Bondoc on Facebook