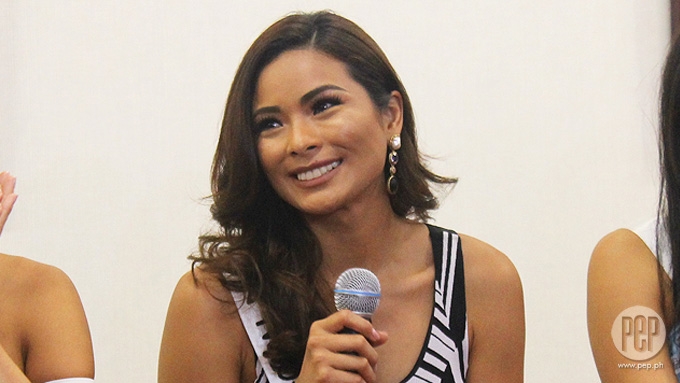 IMAGE FM Ganal
---
Following the confirmation that Miss Universe 2016 will be held in Manila, Miss Universe-Philippines 2016 Maxine Medina expressed her excitement for the international event at the Binibining Pilpinas Winners press conference held on August 3 at the Gateway Gallery, at Gateway Mall, Cubao, Quezon City.
Maxine would become the third Miss Universe-Philippines to stand as the host candidate; following Guadalupe Sanchez in 1974 and Charlene Gonzalez in 1994.
"I feel excited because I know lahat naman tayo will be cheering on Philippines.
"And I will expect for your support and prayers and, for sure, on the pageant itself, I will be 100 percent ready," she told the press.
As the host delegate, Maxine has some plans in mind for her fellow candidates.
"It'll be great to tour them around Philippines because there's a lot of beautiful places here.
"And I would want to share those places, like Palawan, Cebu, Davao, and it's so good to be there."
Given her added responsibility in the pageant, Maxine is grateful that her experience with Binibining Pilipinas is helping her with her journey.
"I am still in the process of learning things about the pageant.
"I've been doing a series a lot of training, I'm still in training.
"I'm doing my own research every day and I'm also reading a lot of newspaper, a lot of articles, and we've been talking about these issues.
"I keep asking them, 'What is your opinion?' And especially with my parents, my family, what are their opinions. What can I say in front of the camera.
ADVERTISEMENT - CONTINUE READING BELOW
"I don't want to hurt anybody. 'How will I deliver it to you?'"
Her gameplan for Miss Universe 2016?
"Siguro lalabas na lang talaga siya on the day itself and I will surprise everyone," Maxine replied.
ON SUCCEEDING PIA. Since the beginning of her journey to Miss Universe 2016, people had already voiced out concerns if Maxine has what it takes to follow Miss Universe 2015 Pia Wurtzbach's footsteps.
Despite the tension, Maxine remains optimistic.
She said, "I think I should be the next Miss Universe maybe because I am very much ready.
"I am so excited to be the next and I am praying for that.
"All these criticisms, I am turning it into motivation.
"And that is the best thing that I can do for now because I am still in the process."
With Miss Universe being her first pageant experience, the Miss Universe hopeful would want her story to become a source of inspiration to the youth.
"I have worked generally hard for my people, for my country, as well as with the youth, and I wanted to share my life with them.
"I wanted to inspire them with my own experience.
"I really want to be the voice of my country and raising some awareness to the youth.
"I am actually enjoying everything and eventually, I think, I can do a lot better."