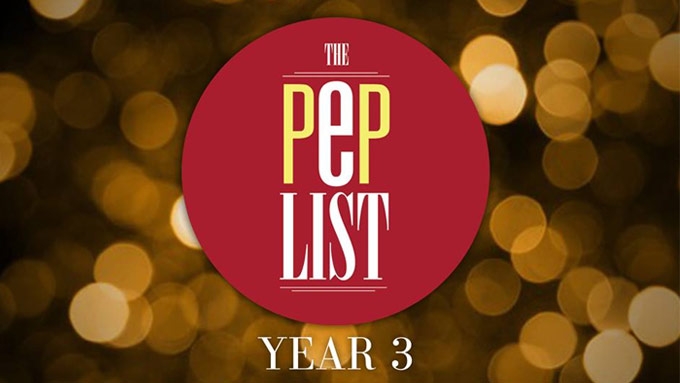 ---
We, the editors of the Philippine Entertainment Portal, wish to clarify certain issues that have come up about this year's THE PEP LIST AWARDS.
BACKGROUND. PEP.ph is a nine-year-old website covering the local entertainment scene, with an average monthly page views of 50 million and an average monthly unique users of 4 million. (These are figures from Google Analytics.)
Half of this traffic comes from the Philippines, with the other half divided among, in this ascending volume: Hong Kong, Japan, United Kingdom, Saudi Arabia, Australia, Singapore, United Arab Emirates, Canada, and the United States.
In 2014, PEP.ph began THE PEP LIST AWARDS. The now three-year-old contest is made up of two CATEGORIES: The Editors' Choice and The PEPsters' Choice. As their names indicate, the first is made up of winners chosen by PEP editors; the second is made up of winners chosen by PEPsters—the name we call PEP readers—through online voting.
For both CATEGORIES, we have an independent auditing firm, the PUNONGBAYAN & ARAULLO, to do final tabulation and validation of votes cast.
This makes us the only group in the local entertainment scene today that employs an independent auditing firm to determine its list of awardees.
ISSUES. On August 10, 2016, the PEP editors received the tabulation of Punongbayan & Araullo for The PEPsters' Choice awards.
This is when we first discovered that there were significant discrepancies between The PEPsters Choice results reported in real time on our microsite and The PEPsters Choice results that were audited.
CATEGORIES WITH DIFFERENT SET OF WINNERS

Newsmaker of the Year
Alden Richards & Maine Mendoza
Dingdong Dantes & Marian Rivera
Difference of Votes
Website Numbers
7,487,183
8,556,906
1,069,723
Audited Votes
4,272,444
1,071,138
3,201,306
Invalid Votes
3,214,739
7,485,768
Celebrity Pair of the Year
Alden Richards & Maine Mendoza
Daniel Padilla & Kathryn Bernardo
Difference of Votes
Website Numbers
35,165,943
41,283,847
6,117,904
Audited Votes
18,687,663
14,039,972
4,647,691
Invalid Votes
16,478,280
27,243,875
Teen Star of the Year (Male)
Darren Espanto
Nash Aguas
Difference of Votes
Website Numbers
3,120,871
3,282,085
161,214
Audited Votes
3,041,783
1,666,647
1,375, 136
Invalid Votes
79,088
1,615,438
Child Star of the Year
Sebastian Benedict "Baeby Bae"
Jana Agoncillo "Ningning"
Difference of Votes
Website Numbers
263,731
368,231
104,500
Audited Votes
259,536
24,590
234,946
Invalid Votes
4,195
343,641
CATEGORIES WITH SAME SET OF WINNERS
Movie Star of the Year (Female)
Kathryn Bernardo
Nadine Lustre
Difference of Votes
Website Numbers
6,261,985
3,149,906
3,112,079
Audited Votes
3,207,829
2,695,215
512,614
Invalid Votes
3,054,156
454,691
Movie Star of the Year (Male)
Daniel Padilla
James Reid
Difference of Votes
Website Numbers
2,901,948
1,451,952
1,449,996
Audited Votes
1,711,792
1,101,650
610,142
Invalid Votes
1,190,156
350,302
Wedding of the Year
Dingdong Dantes & Marian Rivera
Paul Soriano & Toni Gonzaga
Difference of Votes
Website Numbers
829,712
609,145
220,567
Audited Votes
749,802
606,873
149,929
Invalid Votes
79,910
2,272
Teen Star of the Year (Female)
Kathryn Bernardo
Liza Soberano
Difference of Votes
Website Numbers
5,157,335
1,121,337
4,035,998
Audited Votes
841,106
626,653
214,453
Invalid Votes
4,316,229
494,684
Punongbayan & Araullo had invalidated millions of votes.
ADVERTISEMENT - CONTINUE READING BELOW
Their validation process showed that there were users who had managed to access our codes directly, despite existing security measures that had protected THE PEP LIST voting process through its first two years, 2014 and 2015.
In effect, hackers managed to override the system.
For instance, the voting rules allowed a user, with a valid Internet Protocol (IP) address, to vote 100 times/day at the maximum. The auditors uncovered users who voted 10,000 times/day, in as yet unspecified dates from May 25, when online voting began, to July 8, when online voting officially ended.
The auditing firm also discovered instances when votes were cast by those with invalid user IDs, or cast outside the voting period.
The winners of The PEPsters' Choice which we announced on AUGUST 12, 2016, through an article posted in PEP.ph on that date, is the OFFICIAL LIST of winners handed to us by our auditing firm.
READ PEP List Year 3: KathNiel, AlDub, DongYan are PEPsters' Choice winners!
APOLOGIES. The editors of PEP.ph find it unfortunate that we were not able to recognize and address this breach of our system until after the official tabulation and validation by our auditing firm.
We sincerely apologize to the fans, the celebrities, and the managers affected by this problem.
We recognize and appreciate the herculean effort and enthusiasm of fans who voted for their favorite stars, and we are saddened that the actions of a few have overshadowed the honest work of the many.
We recognize that stricter measures should be implemented to avoid a repeat of this breach. PEP is continuing its investigation of this incident and will take the proper measures for future projects that involve voting by the fans.
ADVERTISEMENT - CONTINUE READING BELOW