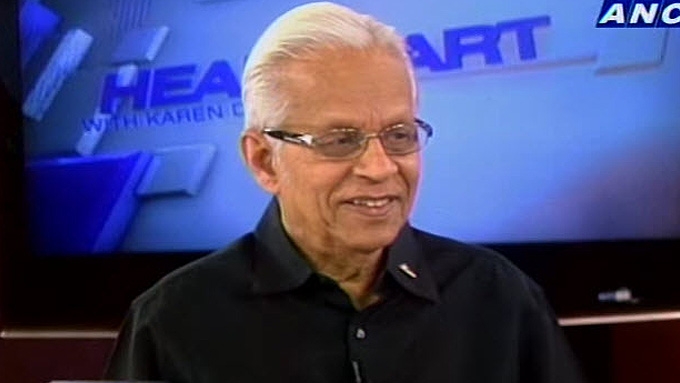 IMAGE Screengrab from Youtube
---
Veteran sports analysts and sportswriter Ronnie Nathanielsz passed away at 81 after suffering a cardiac arrest on November 3.
According to ABS-CBN News, the respected sports media personality was rushed to a hospital in Burlingame, San Mateo County, and was in the intensive care unit.
He was kept on life support until early Friday morning (November 12, Manila time) when his family decided to pull him off life support.
ABS-CBN sportscaster TJ Manotoc expressed his remorse over the loss of one of the most recognizable names among local sports, "He'll be a big loss.
"He's loved and respected by majority of sports fans because of his contributions in boxing journalism, although I do understand that there are significant people who don't like him because of his history with the Marcoses,"
In 1973, then President Ferdinand Marcos gave Ronnie, who was born in Sri-Lanka, his Filipino citizenship.
Later in 1975, he acted as liaison officer between government and organizers of the epic Thrilla in Manila which gave Filipinos a front row seat to witness the late boxing legend Muhammad Ali's fight against Joe Frazier.
ADVERTISEMENT - CONTINUE READING BELOW
That was his break into fame.
Ronnie was one of the first media people to dub boxing champ Manny Pacquiao as "a national treasure" and this began his close association to the Filipino champion.
He was expected to be among the commentary panel during the Pacquiao-Vargas fight on November 5.
The well-known sportswriter also had a sports column in Manila Standard-Today and the Philippine Daily Inquirer.
According to ABS-CBN sportscaster Dyan Castillejo's Instagram post, Ronnie's family will hold a funeral in San Francisco before flying his remains to Manila.
She also expressed her grief in two Instagram posts.
In her recent post, Dyan wrote, "Ronnie was always fun and full of passion in all our coverages.
"His credibility, integrity, and drive to get good accurate details of the news first even at the age of 80 always inspired me."