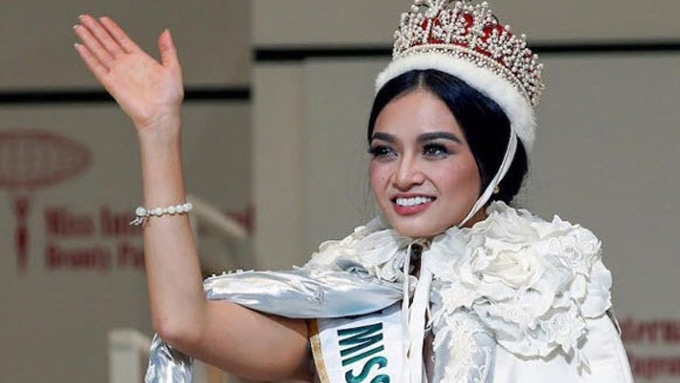 IMAGE @kylieverzosa on Instagram
---
Miss International 2016 Kylie Verzosa is back in Manila after winning the title in Tokyo, Japan, on October 26.
The beauty queen was emotional when she was reunited with her parents at the Ninoy Aquino International Airport.
In the report by 24 Oras, Kylie's mother Genma Racquel Fausto talked about her happiness for her daughter's achievement.
She said, "It's actually just starting to sink in that Kylie has brought pride to the country. It's no longer for the family and for Baguio, it's now for the Philippines.
"We are so proud."
For Kylie, her family has been her rock since the beginning.
The Miss International titleholder expressed her gratitude, "They know how much I've been through and how much we've been through.
"All the hard work, all the struggles, they know all my secrets.
"I want to thank them for everything that they've been doing for me."
LOOKING BACK. In an Instagram post she posted today, November 12, Kylie reflected on her year.
ADVERTISEMENT - CONTINUE READING BELOW
Each moment was a deliberate effort on her part to become the best candidate for the Miss International title.
"I had to sacrifice my time, going out with friends, i stayed in on weekends, spent time in the gym everyday; I watched my diet, planned my wardrobe, planned each day daily.
"I made sure to read as much as I can, gathered the people I needed for help.
"I would go to the studio and train by myself, I would bug and beg my mentors to keep on training, because to me it was never enough.
"I would go to my designers and make sure my dresses would fit to the very last inch.
"I strove for everything to be a 10/10."
This was why Kylie was still high with emotions about her win.
"I thought of nothing but Miss International. Maybe, I was crazy.
"And that's why, I couldn't hold back my tears as my country's name was called."
ADVERTISEMENT - CONTINUE READING BELOW
Read her full post here: