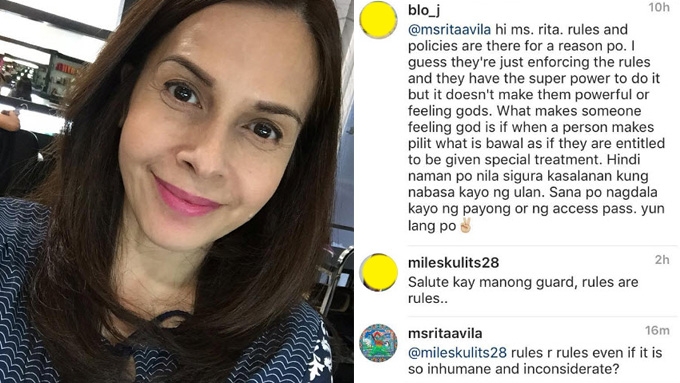 IMAGE @msritaavila on Instagram
---
Rita Avila clashed with two netizens on her Instagram account after calling out ABS-CBN security for refusing to grant the actress access to the network building despite heavy rains. 
In her Instagram post last December 1, Rita related her dismay with the network's security force.
It read, "Sobrang higpit naman ang security sa ABS CBN. Kukuha lang ng sweldo, e, ayaw magpadaan sa loob dahil wala daw access.
"So, sa labas ako pinapadaan, e, umuulan.
"Yung parang basang sisiw ba ang peg makuha lang ang perang pinaghirapan?"
Rita called out the security guard's rudeness in her caption: "Security guards feeling gods. Whew! You are so powerful mga tsong! Kayo na!
"Kayo na ang may POSISION.
"Hindi na dahil artista ako. TAO ako na kukuha ng pinagpaguran ko.
"TAO, hindi niya mabigyan ng dignindad?"
Followers echoed Rita' s frustrations in the comments section, but two Instagram users @bio_j and @mileskulits28 defended the network's security policies and rules.
@bio_j wrote a lengthy reply to Rita's post.
It read, "Hi Ms. Rita. Rules and policies are there for a reason po. I guess they're just enforcing the rules and they have the super power to do it, but it doesn't make them powerful or feeling gods.
"What makes someone feeling god is when a person makes pilit what is bawal as if they are entitled to be given special treatment.
"Hindi naman po nila siguro kasalanan kung nabasa kayo ng ulan. Sana po nagdala kayo ng payong or ng access pass. Yun lang po."
On the other hand, @mileskulits28 simply replied, "Salute kay manong guard, rules are rules."
NETIZENS FIGHT BACK. Standing pat on her earlier statement, the Magpahanggang Wakas actress didn't brush off these comments and said the two netizens were unmindful of the bigger picture.
Rita told @mileskulits28, "Rules are rules even if it is so inhumane and inconsiderate?"
ADVERTISEMENT - CONTINUE READING BELOW
While she responded to @bio_j, "Great advice from you , who knows little of what is happening."
This response didn't silence Instagram user @bio_j.
He retorted, "I wasn't there and my opinion is based on your the facts you posted 1) you don't have access, 2) they didn't let you in.
"I guess people with common sense understand these rules. No exception.
"In some schools for example, even kids wearing their uniform but without ID are not allowed to go inside. And it's not inhumane nor inconsiderate. It's the student's fault if they forgot their ID.
"Inhumane is when you show them your access card and they still left you drenched in the rain. But regardless, I hope hindi naman kayo masyadong nabasa, may kotse naman siguro kayo.
"I salute the guards for doing their job well and giving no special treatment.
"Pero sana kapag kumatok ako sa gate ng bahay niyo habang bumabagyo, papasukin nyo ko para sumilong because you know, that would be very inhumane and inconsiderate, unless of course, may rule kayo na no access no entry.
"Kung meron man, no worries. Hindi nakakababa ng dignidad for me and I won't think you or the guards are feeling god. Just following rules. All fine by me."
RITA RESPONDS. Rita stood firm on her claim that the situation had been "inhumane and inconsiderate."
The actress also underlined that ABS-CBN management had already apologized for the incident and had admitted their fault in the situation.
This suggested that the two Instagram users were ignorant about her ordeal.
She reiterated the facts of her story once more to @bio_j in her reply, " PARA D KA IGNORANTE.... ANG MARSHALL ANG WALANG ACCESS PARA PADAANIN AKO SA LOOB KAYA SA LABAS AKO PINA PA DAAN.
"SINABI KO PAANO UN UMUULAN. DUN PA DIN DAW AKO SA LABAS DUMAAN. KUNG NAG OFFER NG PAYONG - D BA MAS HUMANE?
ADVERTISEMENT - CONTINUE READING BELOW
"FOR YOUR INFORMATION D KASYA ANG SASAKYAN SA LIKOD PAPUNTA SA CASHIERS OFC.
"AND AGAIN, THE ABSCBN HAVE SEEN THE MISTAKE DONE AND THEY APOLOGIZED. SO KUNG DI MO PA DIN MAKITA, IKAW NA YAN.
"MAG MAGALING KA. MAGMARUNONG KA. FEEL GREAT AND KNOWLEDGEABLE.
"Wala na akong magagawa sa isang katulad mo"
RITA FORGIVES NETIZENS This Sunday, December 4, Rita tagged @bio_j and @mileskulits28 in her recent Instagram posts.
She posted screencaps of their exchange of words on her feed and told them that she had forgiven them.
The actress wrote, " @blo_j @mileskulits28 your opinions differ because you do not know the whole picture. I forgive you for that.
"Of course I understand rules hindi ako tanga. Hindi rin ako power tripper na tao. I won't force you to understand my situation because you have different brains and hearts.
"People with good brains & hearts have seen the inconsideration.
"For you to know, even the ABS CBN management have seen it.
"GOOD BRAINS. GOOD HEARTS."
In her subsequent Instagram posts, Rita continued her message in her caption: "May tao talagang kung makapag marunong, e, akala mo siya ang nasa sitwasyon. Magpakasaya ka sa akala mong tama. Pasalamat ka ayaw kong pabayaan kang ignorante.
"MAY PEOPLE LIKE YOU BE LOVED, SECURED & VALUED SO YOU WON'T NEED TO HURT ANOTHER SOUL.
"Ikaw na din ang may sabi @blo_j na papasukin ka kapag kumatok ka dahil umuulan kasi iyon ang humane.
"I think you have answered your very own issue against me."
@bio_j and @mileskulits28 didn't post any reply on the comment sections of Rita's recent posts, but Rita revealed in one of the comments that @bio_j was still bugging the actress about the issue.
"SUMAGOT SAGOT PA ULIT SI @blo_j AT TINATANONG KUNG ANO ANG PINAG APOLOGIZE NG ABS CBN.
ADVERTISEMENT - CONTINUE READING BELOW
"NAKUPO, WALA NA PO AKONG MAGAGAWA PA SA ISANG SMALL BRAIN, SMALL HEART. PATAWARIN NA LANG KITA.
"Account name pa lang nya tells much about this man. Blo_j. May you outgrow that name."