As the 2016 Metro Manila Film Festival draws closer to its December 25 opening date, another cause for concern has needled producers with official entries.
Will the Magic 8—so called because the coveted festival slots number just eight—have the backing of theaters, without which these films will fail at the box-office?
Yesterday, December 5, the MMFF held the all-important raffle of participating theaters. This is when producers get to know which theaters will carry their films.
Present for the event, set for 10 a.m. in the Metro Manila Development Authority building's conference room, were MMFF officials and producers of participating films.
At least 35 theaters per entry were raffled in the meeting.
This number is fewer than last year's 45 theaters per entry at least.
There will be a second raffle, the MMFF Execom assured producers, but it did not give a date for this.
The question is: Which and where are the missing theaters?
The answer is: In the provinces.
Yesterday's meeting only raffled off Metro Manila theaters.
PROVINCIAL CIRCUIT. An industry source clarifies that the December festival—being a Metro Manila film event—cannot compel provincial theaters to show only Filipino films during the festival's locked-in period of December 25-January 15.
But the source also says that every year since 2009, the MMFF has always enjoyed the support of the provincial theater circuit.
These include movie houses in such cities as Cebu; Ilo-ilo; Davao; Bacoor, Cavite; Imus, Cavite; and San Fernando, Pampanga.
For this year's festival, Ed Tejerero, the powerful SM Lifestyle Entertainment president and member of the powerful 2016 MMFF Execom, is known to have committed the support of all cinemas of SM, which is the biggest theater chain in the country today.
Moreover, members of MMFF's Sales and Playdate Monitoring Committee were supposed to have already talked to theaters outside the SM circuit to also join up.
Insider reports now say that SM's provincial theaters pulled out from their customary support of the annual MMFF.
Ed Tejerero is said to have informed a select few that SM "higher management" did not want its provincial chain included in this year's festival.
That was days back. But, as of yesterday afternoon, Tejerero is said to have changed his tune.
He has made the last-minute decision to show the Magic 8 in SM provincial theaters, except for SM's Cebu and Ilo-ilo theaters.
Meantime, theaters outside the SM chain, including those in Cebu and Ilo-ilo, were said to be ready to maintain the same cooperative arrangement they've had with MMFF through the past years.
But with SM Cebu and SM Ilo-ilo backing out, other non-SM theaters have begun asking: "Why will we join if the SM chain is not joining?
"Can it be that this festival will not make money, which is why SM's provincial theaters are pulling out?"
MMFF 2016 EXECOM HAS ITS HANDS FULL. These questions from theater owners, of course, pose a challenge for Sales and Playdate Monitoring Committee Chairman Robert Rivera.
Rivera is a former chief-of-staff of Press Secretary Ignacio Bunye during President Gloria Macapagal-Arroyo's term.
It was Rivera who represented MMFF 2016 Execom member Jesse Ejercito during the April 14 press conference of the film festival.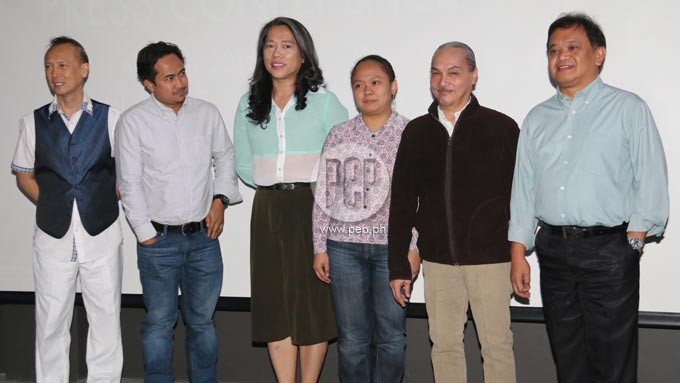 At MMFF 2016's April 14 presscon, the members of the new Executive Committee were presented: (L-R) Robert Rivera who represented producer Jesse Ejercito, Bryan Ian Montances who represented Senator Sonny Angara, producer Moira Lang, Precious Maiquez who represented Congressman Alfred Vargas, academe representative Ed Cabagnot, and MMFF chairman Atty. Emerson Carlos. (MMDA and MMFF 2016 Chairman Tim Orbos took office on August 19, 2016) .
In a brief exchange of text messages with this writer last Sunday, December 4, this year's MMFF Execom member and spokesperson Boots Anson-Rodrigo said they were doing everything to boost the Magic 8 at the tills.
"The MMFF playdate, booking, and monitoring committee is working doubly [hard] at the bookings of all eight entries.
"Members include the Execom members who are experts in...working with theaters and exhibitors."
Still, new questions have arisen: Will the MMFF 2016 Execom be able to raffle off more theaters come festival time?
If the provincial theater circuits don't show the Magic 8, what will they show?
Will we see them carrying Vice Ganda and Coco Martin's The Super Parental Guardians from Star Cinema or Vic Sotto's Enteng Kabisote 10 and the Abangers from M-ZET?
For more MMFF 2016 updates, read: PEP PROBES:The mystery of the 4 indies-4 mainstream formula and the real ranking of the Magic 8
READ: MMFF exec Wilson Tieng to distribute three festival entries
READ: PEP FORUM: Will MMFF 2016 still generate big box-office returns?