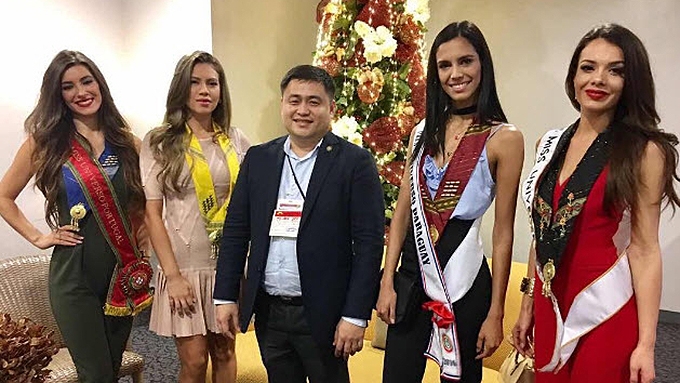 IMAGE Courtesy of @katdecastro on Instagram
---
More Miss Universe 2016 candidates have arrived this Friday, January 13.
Read: MISS UNIVERSE 2016 UPDATE: 46 candidates have arrived in Manila
Miss Philippines Maxine Medina drew a huge crowd when she arrived at the Conrad Hotel in Pasay City for the registration and fittings.
Miss Iceland Hildur María Leifsdóttir and Miss Honduras Sirey Moran at the arrival area of the Ninoy Aquino International Airport (NAIA).
Miss Angola Luisa Baptista and Miss Haiti Raquel Pelissier posing for photos.
Miss Venezuela Mariam Habach still looking fresh and gorgeous when she arrived in the country around 3:30 A.M.
Miss Switzerland Dijana Cvijeti and Miss Barbados Shannon Harris were welcomed by DOT Undersecretary Bong Bengzon.
DOT Undersecretary Ace Millar was lucky to have a photo with Miss Germany Johanna Acs and Miss Norway Christina Waage.
DOT Assistant Secretary Daniel Mercado with Miss Portugal Flávia Brito, Miss Romania Teodora Dan, Miss Paraguay Andrea Melgajero, and Miss Hungary Veronika Bodizs.
Miss Slovenia Lucija Potocnik waved a flag for a few photos upon her arrival at NAIA.
Miss Italy Sophia Sergio brought her A-game for the Miss Universe pageant.
Miss Austria Djana Dzinic remains energetic upon meeting members of the press during her arrival at NAIA.
Miss Ukraine Alena Spodynyuk arrived last Wednesday, January 11.
Miss Belgium Stephanie Geldhof snapped a selfie with Miss Ecuador Connie Jimenez and Miss Bahamas Cherell Williamson at the registration.
Miss Jamaica Isabel Dalley gets giddy on her way to Conrad Hotel in Pasay City.
European beauty queens Miss Georgia Nuka Karalashvili and Miss Croatia Barbara Filipovi are more than ready for the Miss Universe pageant.
On Instagram, Miss Aruba expressed her excitement to meet her roommate. She wrote: "Mabuhay! I am beyond excited to be here! #MissUniverse#MissUniverso #MissAruba My roomie is Miss Barbados!"
Miss Netherlands Zoey Ivory expressed her gratitude on Instagram for the warm reception she received. She wrote, "Thank you Manila for making me feel welcome. Never felt so much love before."
Miss Panama Keity Drennan expressed her excitement on visiting the Philippines' tourist attractions.
She told the press, "I'm so excited! I've always wanted to come and having the opportunity to be here for the Miss Universe is just wonderful because I also know all of you guys here the biggest fans... I can't wait to start the journey."
Miss Kosovo Camila Barraza, Miss Israel Yam Kaspers Anshel, Miss Sweden Ida Ovmar, Miss Denmark Christina Mikkelsen, Miss Spain Noelia Freire, Miss Bulgaria Violina Ancheva, and Miss Bolivia Antonella Moscatelli took groufies while waiting for the shuttle that will take them to their hotel.