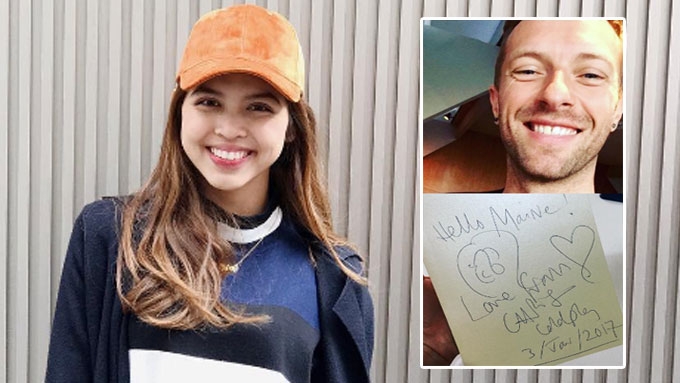 IMAGE Instagram photo of Maine Mendoza
---
Maine Mendoza just achieved that ultimate "fangirling" moment: getting a handwritten message, a love button, and a video message from Chris Martin!
Chris just happens to be the frontman of her favorite world-popular British rock band Coldplay.
The Eat Bulaga! host posted her "precious gifts" from Chris on her Instagram account Wednesday, January 18.
Maine excitedly shared her feelings to her millions of followers:
"Okay, this has got to be one of the most PRECIOUS gifts I have ever received in my entire life.
"Uhm no biggie, just a fan message and a love button from Chris Martin.
"OH MY GOOOOOOD!!!!!"
According to Maine, she got the handwritten message and the love button from Chris through her friend Mel, who happened to be in the same Etihad flight as the English singer-songwriter.
"She asked Chris if he could write a simple message to one of his biggest Filipino fans– me!
"He willingly granted the request; he immediately grabbed the airline's dining menu and wrote his short message in it (fun fact: he sat in the same seat as me when I flew to Morocco).
"I was also told that Chris voluntarily gave the love button– that he wears all the time– to the flight attendant (Ms. Mel's friend) and asked her to hand it to ME."
The die-hard Coldplay fan also said, "Grabe, hindi ko keri, I have never felt this special. Lol!
"Chris Martin might not know me at all but daaamn this is definitely #fangirlinggoals."
But Maine stopped short of sharing the video greeting from Chris, saying, "Ito na lang ang ishshare ko. Tee hee!
"Anyway, I am so so so so soooo happy!"
Maine also posted this message on Twitter showing how happy she is about her gifts:
Last August 2016, Maine fulfilled her wish to watch a Coldplay concert in Los Angeles, California, courtesy of Mr. T., aka Antonio Tuviera, who handles her career.
ADVERTISEMENT - CONTINUE READING BELOW
A video showing her crying during the concert became viral on the Internet.
Read: Maine Mendoza sees Adele up close; sheds tears while watching Coldplay perform in Los Angeles
Coldplay will have its A Head Full of Dreams World Tour concert in the Philippines on April 4.
Will Maine watch them perform again?
Read: Coldplay frontman invites Pinoys to watch Manila concert in April 2017