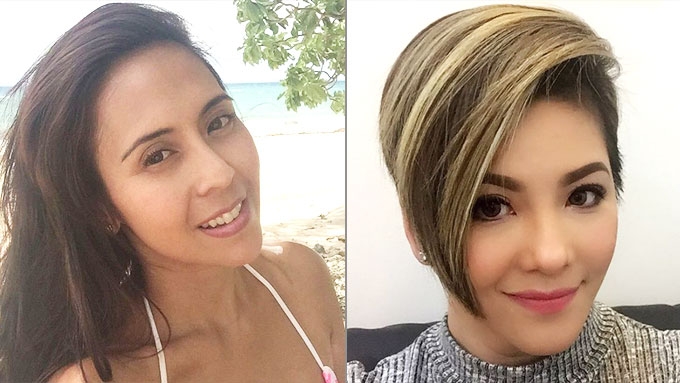 IMAGE @racheljalejandro / @reginevalcasid Instagram
---
Rachel Alejandro owned up to her past mistake of calling Asia's Songbird Regine Velasquez an "overrated" singer.
The 42-year-old singer-actress gave the statement after Regine reposted on Instagram a publicity poster of Rachel's upcoming Valentine concert.
In the comments thread of Regine's Instagram, a netizen called out Rachel for making a negative remark against Regine way back in 2006.
Read: Geneva and Rachel play Forbidden Questions with DJ Mo
The netizen with the handle name #minalucia143 wrote: "@rachelalejandro see how nice regine is... and you would say that she is the most overrated singer in the phil???"
Rachel's response partly read: "@minalucia143 You are absolutely right. She is truly the nicest lady and one of the greatest singers of this country.
"And you know what's the best part about her? She forgave me for that mistake."
Rachel admitted that she must have called Regine "overrated" because she was "envious" of her fellow singer.
"I'm quite sure she heard about it from the papers but she never once mentioned it or treated me badly because of it even if she had every reason to.
"I must have been out of my mind when I said those things.
"Maybe I was envious of her.
"I dont know because those days I used to go out and party a lot. I think wala akong tulog when I did that interview.
"It was not my proudest day."
Rachel reiterated, however, that she is now a big fan of the Asia's Songbird.
She said, "I've never personally apologized to Ms. Regine although I made a public apology on Ricky's column to all those I hurt during that incident.
"I can see you are a fan of hers and I want u to know that I am now a big fan, too.
ADVERTISEMENT - CONTINUE READING BELOW
"She is all class - a good person through and through."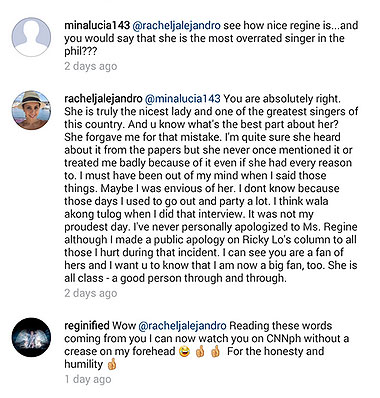 The 42-year-old singer told another netizen: "I am owning up to the wrongdoing and hope her other fans will forgive me as well."