Sebastian "Baste" Duterte's non-showbiz girlfriend, Kate Necesario, has hit back at Ellen Adarna, who reportedly called her "losyang."
The two ladies seemed to have taken swipes at each other via their respective Facebook accounts Thursday night, February 2.
This was after Baste's confirmation that he broke up with Ellen in December last year, and his revelation that he's still in a relationship with Kate.
READ: Baste Duterte confirms breakup with Ellen Adarna; still in a relationship with non-showbiz GF
Kate's Facebook post read: "HAHAHAHAHHA LOSHANG MY ASS. #BILOGANGMUNDO #NHEDCHIN"

Kate also published screen shots of Ellen's "loshang" remark, which the sexy star wrote in her Facebook conversation with a fan.
Kate's short caption read: "Come again?"
Based on the screen shots, Facebook user Nhedz Chin wrote to Ellen: "Bahalaaag mag cgeg padungog ang pikas campo nimo elleeeeeen. You're still my foreves idoooool and no one can beeeaaaat that!!!!"
(Hayaan mong magparinig yung kabilang campo sa 'yo, Ellen. You're still my favorite idol and no one can beat that. Milo energy gap. I love you, dai, worth 1 million)
Ellen wrote back to the netizen: "Sagdi. Self worth importante. Pag move on na. Ay nag pa losyang. Ahhaha. Sigi pa diay?? Hahahahha xoxo nalang nila. Princessa ko diko sundalo ahahha"
(Hayaan mo na. Self worth importante. Pag move on na. Huwag ka na pa losyang...)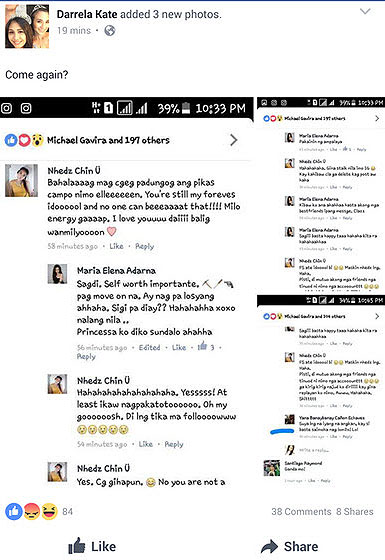 It was not clear if Ellen directly called Kate "loshang" in any of the sexy star's comments to other netizens.
Kate, however, appeared to be fed up by Ellen's continuous display of her closeness with Baste on her social media accounts.
As it is, Baste's admission of his romantic liaisons drew mixed reactions from his avid Facebook followers, rooting for either Ellen or Kate as the right girl for the presidential son.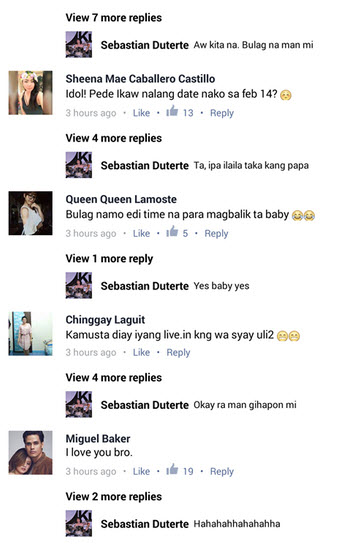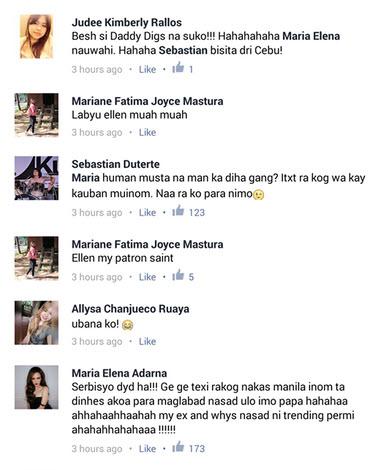 PEP.ph (Philippine Entertainment Portal) tried to reach Kate for comment via Instagram direct messaging, asking about her reaction to Baste's statement that they are still in a relationship.
But Kate has not given any response or official statement.
At press time, she already deleted her Facebook post with screen shots of Ellen's "loshang" remark.