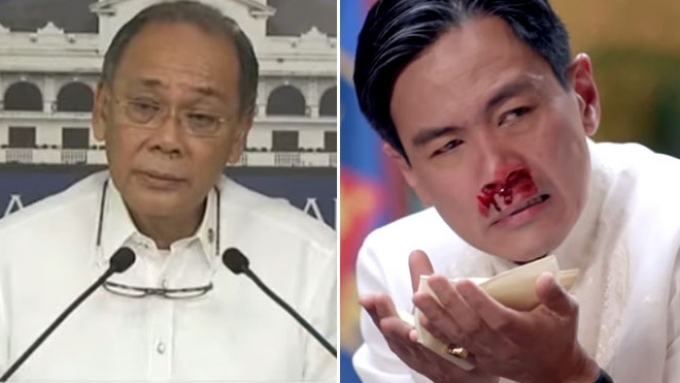 IMAGE Screengrab from PTV4 / CBS
---
The Malacañang Palace slammed the portrayal of a fictional Philippine President in an upcoming episode of the CBS's hit drama series Madam Secretary titled "Break In Diplomacy."
The episode, which will air on March 12, will feature the Philippines' "unconventional new President" Datu Andrada, who got punched and was left with bloodied face by the show's lead character, US Secretary of State Elizabeth McCord, after exhibiting an inappropriate behavior.
President Datu Andrada is played by Fil-Am actor Jose de la Fuente, while McCord is being portrayed by American actress Tea Leoni.
The fictional Philippine President is said to be reflective of the country's current leader, President Rodrigo Duterte, who has been criticized for his inappropriate remarks against women in the past, including his comment about Vice President Leni Robredo's knees and catcalling a female reporter.
"I think they are confusing their images. I think they are projecting something that they really would like to say about their own situation. Really, I think they should use a fictional US President," said Presidential Spokesperson Ernesto Abella, alluding to US President Donald Trump, in a press briefing held at Malacanang earlier today, March 7,
Meanwhile, the Philippine Embassy in Washington D.C. also released a statement on March 6 (U.S. time) noting the impact of the show's "highly negative portrayal" of a Philippine president on its viewers. 
Part of the statement reads, "While Madam Secretary is a work of fiction, it tracks and mirrors current events.
"It is, therefore, inevitable that its depiction of world leaders will have an impact on how its audience views the real personages and the countries they represent.
"This highly negative portrayal of our Head of State not only casts doubt on the respectability of the Office of the Philippine President but also denigrates that way our nation navigates foreign affairs."
ADVERTISEMENT - CONTINUE READING BELOW
The Embassy of the Philippines in the US also noted, "It also tarnishes the Philippines' longstanding advocacy for women's rights and gender equality.
"In view of the injurious effects that this program will have on the interests of the Philippines and the Filipino people, the Philippine Embassy urgently calls on CBS to take the necessary corrective actions."
CBS is yet to release a statement after receiving the ire of Filipino netizens and the local government.