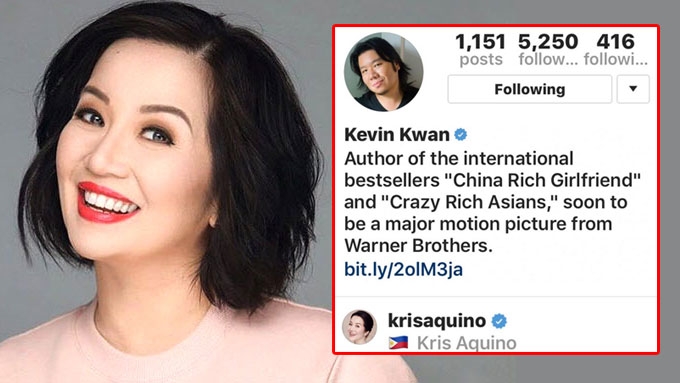 IMAGE Instagram @krisaquino
---
Last April 12, Kris Aquino took to Instagram to share her excitement after Crazy Rich Asians author Kevin Kwan followed her on IG.
This was two days after the Queen of All Media posted on Instagram that she has been reading Kwan's trilogy novels Crazy Rich Asians, China Rich Girlfriend, and Rich People Problems during the Holy Week break.
Kris's caption read: "#Fangirl mode- sorry just had to post because I WAS SO THRILLED! 1 of my favorite authors @kevinkwanbooks is now following me."
Kevin is reportedly one of the executive producers of Warner Bros.' upcoming movie adaptation of his book Crazy Rich Asians, the first installment out of the trilogy novels.
As it happened, Kris getting an Instagram follow-back from Kevin stirred a buzz among her avid Instagram followers, who have been speculating on her participation in a yet-to-be-named Hollywood film.
This was in relation to the Queen of All Media's good news last April 7, where she first spoke about having auditioned for an "international project."
ADVERTISEMENT - CONTINUE READING BELOW
---
Stories We Are Tracking
---
Yesterday, April 16, the Queen of All Media posted another Instagram update, saying that she has been offered a "participation" in a "big Hollywood studio movie."
Kris, however, has refrained from revealing the title of the Hollywood film.
Her caption partly read: "Tonight I fly to Los Angeles to meet Chris Lee, my agent to sign my contract. I passed 5 levels of intense scrutiny and was offered a role.
"It is surreal to be reading the script from a major Hollywood studio watermarked on every page with my name.
"I signed a non disclosure agreement so until they reveal my participation I can't share any details about the movie & my role."
---
Stories We Are Tracking
---
CRAZY RICH ASIANS MOVIE? At this writing, netizens are asking Kris: Does her acting stint have something to do with the movie adaptation of Crazy Rich Asians?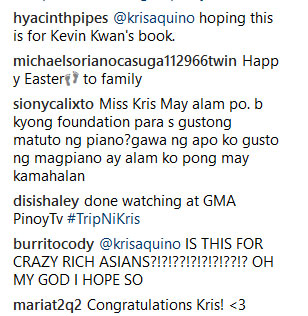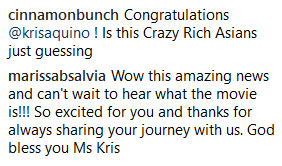 ADVERTISEMENT - CONTINUE READING BELOW
Crazy Rich Asians tells the story of New Yorker Rachel Yu, who gets the surprise of her life when she discovers that her boyfriend Nicholas Young turns out to be an heir to a very wealthy and prominent family in Singapore.
The couple's adventure begins when Nicholas invites Rachel to spend their summer vacation in Singapore and attend his best friend Colin Khoo's wedding to Araminta Lee, which is dubbed among their elite circle as "the social event of the year."
KRIS NOW IN LA. As for Kris's much-speculated international project, the Queen of All Media has remained tight-lipped and has so far only posted on Instagram that she has already landed in Los Angeles.