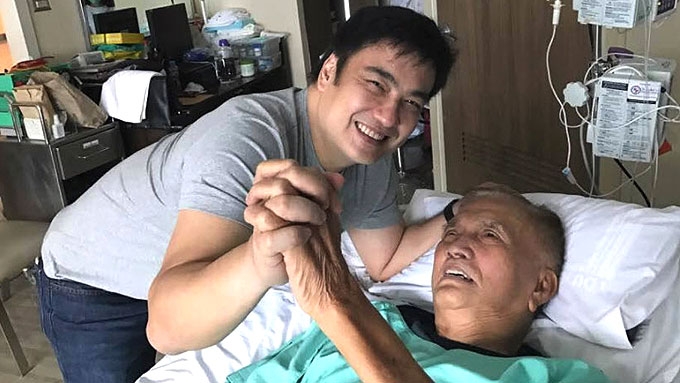 IMAGE Bong Revilla's Facebook
---
Detained ex-Senator Ramon "Bong" Revilla Jr. was able to visit his ailing 90-year-old father Ramon Revilla Sr., who's set to undergo a medical procedure for his heart ailment.
Photos of Bong's visit with his father at the hospital were uploaded on the former senator's official Facebook account last night, June 18.
Bong's caption read: "Lord God, please watch over Daddy tomorrow as he once again undergoes a medical procedure.
"Panginoon, bantayan niyo po, hindi lamang po siya kundi pati ang kanyang mga doktor at mga nurse na siyang magsisikap na pabutihin ang kanyang kalagayan.
"Lord, give Daddy strength not only of the body but also of the mind to endure what is to come. Make his doctors confident and steady.
"We trust that through them, Daddy will be blessed with your power of healing. Amen."
Charged with plunder, Bong has been detained at the Philippine National Police (PNP) Custodial Center since June 20, 2014.
This was in relation to his alleged transactions with pork-barrel mastermind Janet Lim Napoles.
The former senator recently filed an urgent motion for furlough, which would allow him to temporarily leave PNP Custodial Center for the following dates: June 19, from 9 a.m. to 12 noon, and on June 20, from 2 p.m. to 8 p.m.
GRANTED FURLOUGH. Today, June 19, Bong announced via Facebook that he immediately returned to the PNP Custodial Center after seeing his father. 
Explaining his granted motion for furlough, Bong wrote, "My dad's operation is ongoing.
"I, along with my siblings, saw him before he entered the operating room and we all witnessed his high spirits and apparent strength and confidence that he can get through all these.
"Despite my fervent wish to be with my father at this time, I am now going back to the Custodial Center considering that I am only given 4 hours by the court today.
ADVERTISEMENT - CONTINUE READING BELOW
"Please continue to pray for my father's successful operation and fast recovery. Thank you very much for all your support.
"See you again tomorrow Daddy." 
Below are the photos of the detained former senator, as seen on his Facebook earlier today: 
In a separate post, Bong's wife and Bacoor Mayor Lani Mercado mentioned that the elder Revilla is undergoing "mitral valve clipping procedure" today.
She also asked for prayers for the speedy recovery of her father-in-law.