The women who are linked to A-list star John Lloyd Cruz has always fanned headlines.
Maybe more so because he is stern about detaching his private life from an image he has cultivated over 20 years.
Consistently, the matinee idol has remained guarded even when confirming a much-publicized relationship, or breakup, and has become good at dodging detailed inquiries.
But his reticence has only intensified curiosity about his private life.
He is 34 years old, hugely successful in his career—so what does it take to win the heart of this elusive bachelor?
Maybe his rumored current girlfriend Ellen Adarna has the answer because, suddenly, John Lloyd appears to be letting his guard down.
For a long time, the actor has kept a private Instagram account with a different handle name, which has been seen only by select followers.
Now, he's all over social media and being seen cavorting with Ellen by nearly everybody.
As neither John Lloyd nor Ellen has confirmed the status of their relationship, speculations have run rife that they are an item.
Their Bantayan Island vacation in Cebu also became controversial when videos showing John Lloyd acting out of character caused some consternation even among his followers, and trended in social media.
And no sooner than his I'm-sorry-but-I'm-not-sorry post was uploaded, the star went on to post photos of a carefree weekend, again with Ellen, this time of them surrounded by trees, open waters, and blue sky.
It appears that John Lloyd is letting it all hang out and damning what he calls "manipulated bullshit."
Which got us curious: is Ellen the key that has pried open this side of John Lloyd?
John Lloyd, of course, has had a string of relationships, and although he minds being asked details about these, he has been gentlemanly enough to acknowledge the woman in his life at each given time.
He seems attracted to career-oriented and strong-willed women.
But he also seems to tame these independent women into keeping their relationship private.
Below is a list that PEP.ph (Philippine Entertainment Portal) has gathered of all the women John Lloyd had loved before—from puppy loves to fleeting romances to long-term-yet-controversial amours.
KAYE ABAD. It was teenage love for John Lloyd and Kaye Abad, who became boyfriend-girlfriend when he was 15 years old and she was 14.
That was around the time they were paired with each other in the coming-of-age films Nagbibinata (1998) and Oo na… Mahal Na Kung Mahal (1999), which were followed by the now defunct ABS-CBN weekly teen series Tabing Ilog (1999-2003).
Recalling their relationship in an October 2012 media interview, John Lloyd said, "Ito po kasi ang aking early years of being in love.
"Yung akala mo yun na talaga, yun na ang lahat, at yun na ang katapusan.
"In that sense po ay talagang hindi ko po makakalimutan na I was once in love, very much in love with Kaye Abad."
In her own 2014 guest appearance in ABS-CBN's News and Current Affairs show Ka Tunying, Kaye confirmed that her relationship with John Lloyd lasted for only "nine months" because they were too young at the time.
But the two have remained on good terms even after the end of their long-running show Tabing Ilog.
Kaye is now happily married to ex-Pinoy Big Brother: Double Up housemate Paul Jake Castillo.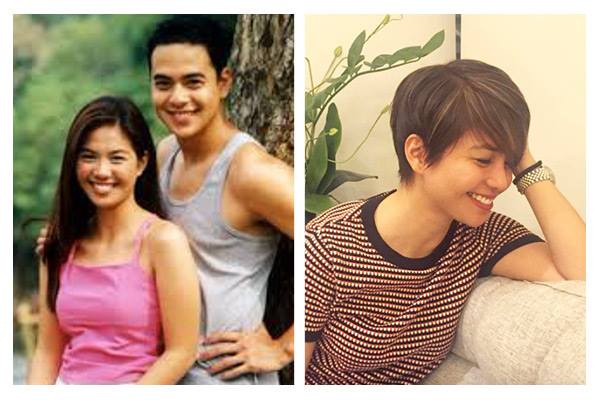 KRISTA RANILLO. In a 2008 interview, John Lloyd opened up about another short-lived romance, this time with Krista Ranillo.
He revealed that his relationship with Krista lasted "seven months" and that her parents approved of him because of his "good boy" image.
But, to go by Krista's recall, they became a couple for only "three months."
She said she met John Lloyd when he did a one-time guest appearance in GMA Love Stories opposite Roxanne Barcelo.
In Krista's August 2008 interview with PEP.ph, she said her brief romance with John Lloyd happened "after Tabing Ilog days."
She continued, "Siguro, mga four months niya akong niligawan.
"Tapos naging kami for three months. Tapos pumunta ako ng Amerika.
"Kaya kami nagkahiwalay kasi pumunta ako sa States noon."
Krista said she and John Lloyd stopped communicating with each other when she was abroad.
She recalled watching his guest appearance on the now-defunct ABS-CBN talk show The Buzz, where John Lloyd said that he still missed her.
When she returned to the Philippines, however, "Nalaman ko iba na ang girlfriend niya. Si Ciara na. Pero okey lang."
Krista was referring to Ciara Sotto, daughter of Senator Tito Sotto and Helen Gamboa, said to be John Lloyd's first "serious" girlfriend.
Krista is now married to supermarket CEO, Jefferson Niño Lim; they have four kids.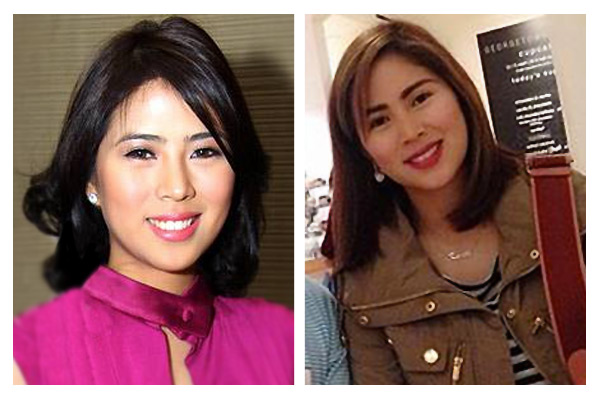 CIARA SOTTO. John Lloyd had a huge crush on Ciara Sotto.
He was so smitten that he persisted in courting Ciara until they finally became a couple.
The two reportedly kept their relationship under wraps, as that was the time John Lloyd was firming up his on-screen partnership with then newbie star Bea Alonzo.
In mid-2003, the couple got caught up in a controversy: talk had it that Ciara tried to commit suicide following a temporary breakup with John Lloyd.
The Philippine Star's Ricky Lo quashed the talk in his July 2003 column.
The veteran entertainment editor wrote that it was just a "bad case of taking one sleeping pill too much to put herself to sleep after an overnight taping for her ABS-CBN show Buttercup."
The editor also reported that John Lloyd was at Ciara's birthday party, where she was seen wearing the ruby ring that he had given her as a gift.
Ciara is said to have finally called it quits in 2005, giving John Lloyd's "misbehaviors" as the reason she got "tired" of the relationship.
These "misbehaviors" were subsequently revealed to be the actor's supposed problem with excessive and uncontrollable drinking.
The on-and-off relationship of John Lloyd and Ciara lasted two years.
Despite their bitter breakup, John Lloyd never spoke ill of his ex-girlfriend in media interviews.
Years later, on August 9, 2016, John Lloyd and Ciara crossed paths when she guested in ABS-CBN's weekly sitcom, Home Sweetie Home, topbilled by the actor opposite Toni Gonzaga.
The two even gamely posed for a photo, which Ciara uploaded on her Instagram.
Ciara now is a proud mom of her two-year-old son with estranged husband Joe Oconer. She announced their separation in January 2016.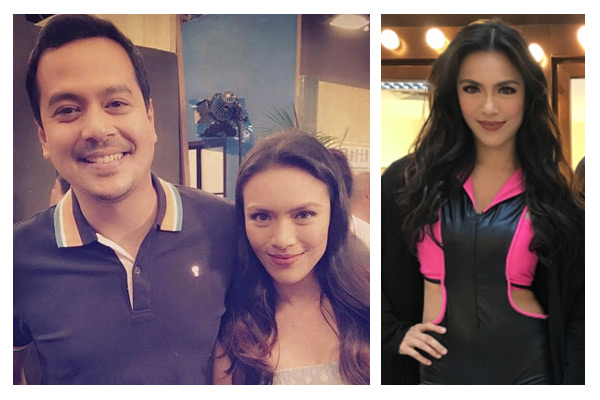 HEART EVANGELISTA. A romance, nipped in the bud, was that of John Lloyd and Heart Evangelista in 2005.
According to John Lloyd, he and Heart stopped dating after a few "months" because at the time he "was not ready to get into a relationship."
He also said that he had nothing but "respect" and "good wishes" for Heart.
John Lloyd's recall appeared in the July 2010 issue of YES! Magazine, where the Kapamilya actor was featured in his home.
In that interview, he revealed, "We dated for… I can't remember anymore… before she dated Echo."
Echo is Jericho Rosales, who started dating Heart in late 2005, and whose love story also appeared in a separate issue of YES! Magazine.
The 32-year-old Kapuso actress married Senator Francis "Chiz" Escudero on February 15, 2015.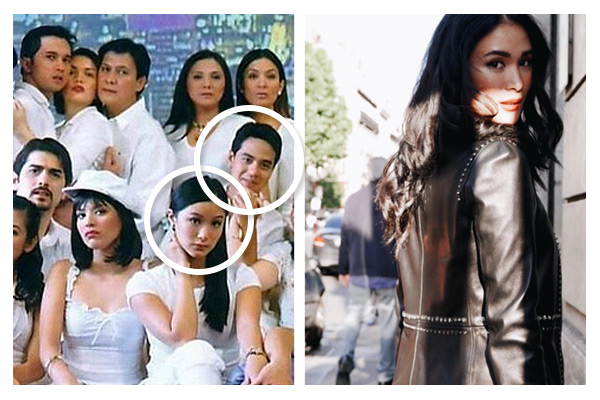 LIZ UY. John Lloyd once said that meeting Liz Uy was a "magical" experience for him.
She was his "magnetic Michiko." Liz was a svelte morena with chinky eyes who caught his attention when he saw her for the first time at the Hong Kong International Airport.
The Kapamilya actor saw her again at a posh club in Taguig, before they were formally introduced.
In the same YES! Magazine cover story, John Lloyd said it was sometime in late 2006 when he started dating the stylist and then associate fashion editor of Preview.
Their relationship lasted three-and-a-half years.
"I'll die saying nice things about her," said John Lloyd, adding that of all his exes—at the time of the interview, in any case—Liz had the most influence on him.
For her part, Liz also said that the Kapamilya actor will always be special to her.
"John Lloyd was the great love of my life, and I will always love him, but we had issues, because we were so young," she told Cosmopolitan Magazine in its November 2011 cover story on her.
Like John Lloyd, Liz is still single.
She was last reported to be dating the English-Korean shipping line operations manager, Richard Griffiths.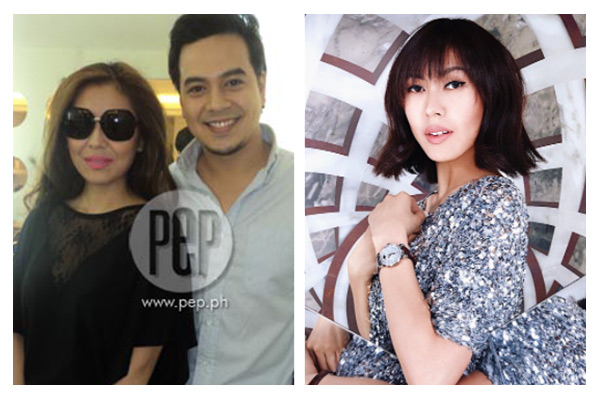 SARAH GERONIMO. John Lloyd revealed that "timing" was the reason he never courted Sarah Geronimo.
On July 14, 2017, at the presscon of their recent movie, Finally Found Someone, John Lloyd spoke of their special connection, which he said began during the filming of their first movie, A Very Special Love (2008), and went on during the filming of its sequel, You Changed My Life (2009).
He remarked, "Hindi, we had this little story about timing... Laging timing is not our friend really, 'no?
"Simula sa A Very Special Love, tapos You Changed My Life... Yeah, timing is an issue."
In a separate digital conference, Sarah admitted that she had a huge crush on John Lloyd even earlier, when they did a one-time appearance in Maalaala Mo Kaya in 2006.
She also confirmed that her attraction to him was still there when they shot A Very Special Love.
At that time, John Lloyd was already in a relationship with Liz.
But sometime between 2008 and 2009, John Lloyd gifted Sarah with a ring.
John Lloyd dug up that part of his past with Sarah during their guesting in Gandang Gabi Vice on July 23 to promote Finally Found Someone.
From out of the blue, John Lloyd teased Sarah about why she returned his ring.
He also asked her, "E, nasa akin pa rin, puwede ko na bang i-dispose?"
Amused, Sarah said it was huge and looked expensive, so she just had to return it.
"Bilang advice sa akin ng mga kinauukulan... Sumasabit tuloy ako...
"Hindi, yun ang sabi sa akin, 'Isoli mo 'yan kasi baka may maka-misinterpret.' So, isinoli ko."
The two have remained good friends.
Sarah is now with boyfriend Matteo Guidicelli, in a relationship that has been going strong for four years, despite the coolness of Sarah's parents toward Matteo.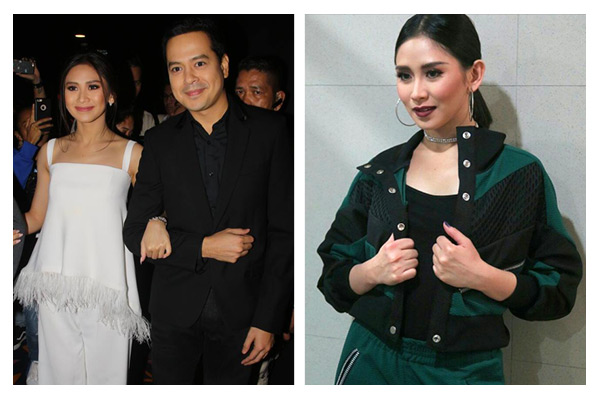 RUFFA GUTIERREZ. For the record, John Lloyd's secret romance with Ruffa Gutierrez started in "March 2009" and ended in "February 2010."
This is according to Ruffa, who gave a tell-all interview in the November 6, 2011 episode of TV5's now-defunct showbiz talk show, Paparazzi Showbiz Exposed.
They met on the set of I Love Betty La Fea in 2008, where John Lloyd, again, played the leading man, Armando, to Bea Alonzo's Betty.
Ruffa played Betty's arch nemesis, Daniella.
When they became a couple, John Lloyd and Ruffa agreed to keep a tight lid on this, mainly for "career" reasons.
But their secret romance turned sour when Ruffa discovered for herself what John Lloyd had admitted to her at the beginning of their relationship.
The beauty-queen-turned-actress elaborated, "Alam mo yung pagiging babaero niya, siguro second na lang yun, e.
"Pero let's first go to the problem na sinabi niya sa akin, na ayun, 'Hindi mo magugustuhan pag nakilala mo na ako.'
"And I said, 'Ano yun?' Then sinabi nga niya sa akin na, 'I drink a lot, hapon pa lang minsan, umiinom na ako.'
"And, of course, coming from a relationship so volatile, abusive, ang sagot ko sa kanya, 'You can drink all you want till you turn blue, I don't care.'"
Ruffa was referring to her marriage to Yilmaz Bektas, which ended amidst allegations of spousal abuse.
But, eventually, it got to her.
"Pero naging problema yun, kasi there were times na we would go out, bigla na lang siya nakakatulog.
"Binubuhat siya palabas ng club, siyempre nahihiya naman ako.
"So that was our main problem kasi, para sa akin, if there's another girl, okay.
"I don't even wanna be with you anymore.
"I don't wanna force anyone who doesn't wanna be with me."
In the same interview, Ruffa revealed that John Lloyd kept texting her months after he and Shaina Magdayao became a couple.
Ruffa said John Lloyd wanted her back, but that he was afraid it would cost him his showbiz career.
According to Ruffa, she made it clear to John Lloyd that he should man up before reaching out to her again.
And then in January 2011, she became entangled in John Lloyd and Shaina's love troubles.
That was the last straw, Ruffa said, that forced her to tell John Lloyd never to call her again.
In October 2011, the trio made headlines again when Shaina disclosed on The Buzz that Ruffa had been sending John Lloyd text messages.
"Yes, it's true na nag-text siya kay John Lloyd," Shaina said. "Right after we left the party, and I replied. I just replied."
In her tell-all interview, Ruffa was firm in saying that she never initiated those text messages.
The then-37-year-old Ruffa said, "I'm not a relationship wrecker!
"I mean, if you look back in the past, ako nga yung dinobol-time.
"I'm not flirting with John Lloyd Cruz!"
Fast-forward to the present time, when Ruffa and John Lloyd have kept in touch despite their controversial dating history.
Ruffa has now been in a two-year relationship with French-Israeli businessman Jordan Mouyal.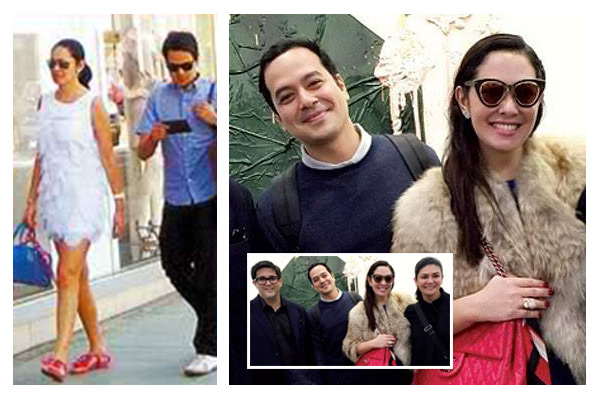 SHAINA MAGDAYAO. On June 20, 2010, John Lloyd confirmed, on The Buzz, his relationship with Shaina Magdayao.
This was about four months after PEP.ph reported that the two had been spotted shopping at a bike store in Makati City.
In a separate interview, Shaina said she was happy when John Lloyd acknowledged their relationship on national television.
Describing how their romance started, she said, "Kasi, masarap naman talaga siyang kasama, e. Masarap siyang kausap.
"Hindi talaga namin in-expect na yung friendship mauuwi sa relationship."
In November 2010, the couple became victims of a nasty rumor. And in the months that followed, their relationship continued to be hounded by intrigues, including Shaina's controversial phone calls to Ruffa in January and October 2011.
Shaina and John Lloyd's happier times were equally magnets to showbiz prattle, such as their luxurious European tour in the summer of 2011.
But what John Lloyd once described as a "bulletproof" relationship came to an end in April 2012.
Around that time, another high-profile celebrity couple, Angelica Panganiban and Derek Ramsay, had called it quits.
On May 4, 2012, Shaina issued an official statement, confirming that she and John Lloyd had indeed broken up.
To this day, Shaina has refused to give details about what caused the breakdown of their relationship.
In 2013, Shaina was romantically linked to co-Star Magic artist Piolo Pascual, but the two have refrained from putting a label to their growing closeness.
Then in February 2017, Piolo revealed in an interview with PEP.ph that he and Shaina have been "exclusively dating" for the past five years.
But in a separate interview, Shaina clarified that Piolo only meant that he's been consistently dating only her.
Shaina added that she has remained single and "free" to date anyone she wants.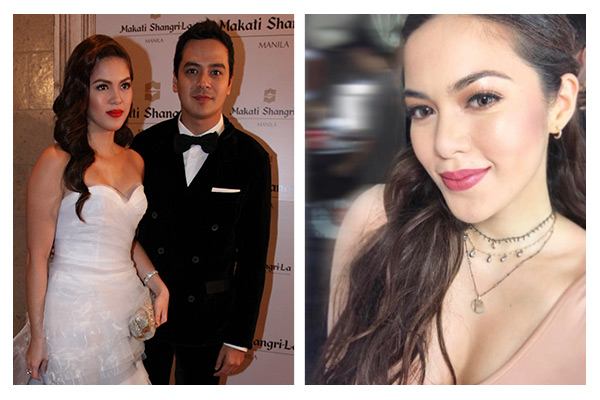 ANGELICA PANGANIBAN. John Lloyd and Angelica Panganiban became a couple on July 8, 2012, a day they would celebrate for the next three and a half years.
The chronology of their romance dashed talk that they became involved when John Lloyd was still with Shaina Magdayao and Angelica was still with Derek Ramsay, her boyfriend of six years.
Gossip about the breakups of John Lloyd and Shaina, on one hand, and Derek and Angelica, on the other, gathered steam when John Lloyd and Angelica returned from Vietnam where they had shot scenes of Star Cinema's episodic film 24/7 In Love.
Characteristically, John Lloyd did not confirm his romance with Angelica until several months later.
The confirmation happened in October 2012 during his guest appearance on The Buzz.
He finally came out and said, "Opo, kami po... Wala naman kaming tinatago, wala naman kaming dapat pagtaguan or paglihiman."
The issue of overlapping romances surfaced again, nearly three years later.
In the February 8, 2015 episode of Gandang Gabi Vice, Angelica admitted that she might have caused the breakup of John Lloyd and and Shaina.
Angelica recounted her private conversation with John Prats, her best friend and Shaina's ex-boyfriend.
She told Vice Ganda, "Sabi ko, in fairness 'no, si Shaina, ano kaya nararamdaman? Best friend ko [John], tapos dyowa niya [si Shaina] dati. Ako ang nagwagi."
Angelica's "victory" wouldn't last long.
The following year, on January 12, 2016, she and John Lloyd broke up.
This was reported by Ogie Diaz via his radio show on DZMM, and published by PEP.ph on January 24, 2016.
Ogie pointed to John Lloyd's perennial leading lady Bea Alonzo as the alleged third party in the split.
Fuelling the third-party rumor was the news that came out a week earlier: Bea and her boyfriend of four years, Zanjoe Marudo, had called it quits.
But Ogie also cited an unidentified source who said that John Lloyd was not romantically involved with Bea at all.
Like Shaina, Angelica has kept to herself the reasons why she and John Lloyd broke up.
But Angelica was open about her pain, which nearly led to her leaving ABS-CBN.
Months later, there was talk of a possible reconciliation between John Lloyd and Angelica, after the two were sighted a couple of times together—dining out in October 2016 and attending an art fair in February 2017.
But in separate interviews, both John Lloyd and Angelica have consistently said that they are just "best friends."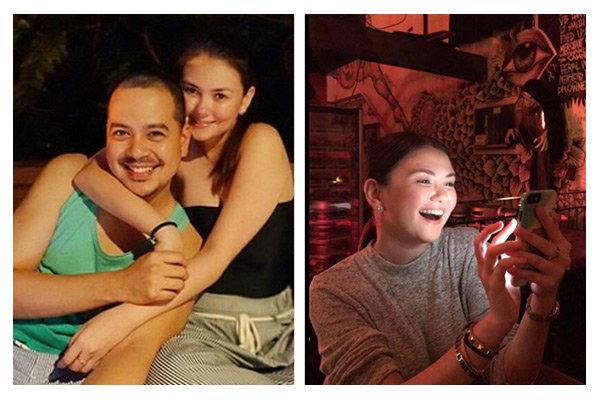 BEA ALONZO. Both Bea Alonzo and John Lloyd are proud of their success as a love team.
They've been at this for the past 15 years without the pressure of appearing to be real-life sweethearts.
According to John Lloyd, their online chemistry has worked precisely because of their platonic relationship.
"Actually ipinagpapasalamat ko yun, dahil siguro kung nabago yung past or history namin ni Bea, baka hindi kami umabot sa ganito," he told Korina Sanchez in a September 2012 radio interview.
Just the same, John Lloyd and Bea were rumored to be in romance after the two broke up with their respective partners in 2016.
In a report dated January 25, 2016, PEP.ph traced the gossip back to the time when John Lloyd and Bea were shooting their 2015 film, A Second Chance.
Sources said that as early as that time, Bea was already going through a rough patch with boyfriend Zanjoe Marudo, and she was said to have turned to John Lloyd for comfort and solace.
The PEP.ph report also cited ABS-CBN insiders who confirmed that Bea and John Lloyd were cozy with each other while shooting the Kapamilya network's Christmas station ID.
But in a number of interviews in February 2016, John Lloyd flatly denied that he and Bea were ever an item.
Speaking to TV Patrol, he clarified, "Hindi po, magkaibigan po kami."
Bea said the same thing in an April 2016 interview, "Magkaibigan naman talaga kami ni John Lloyd.
"I mean, we've been working together for so many years.
"Normal naman yata kasi ako yung huli niyang nakatrabaho."
ELLEN ADARNA. After months of staying single and unattached, John Lloyd's love life starting heating up showbiz again.
The viral videos from his first Cebu trip with Ellen have fanned rumors that they are an item.
Among the videos that made the rounds online was that of John Lloyd calling Ellen "baby," while they were cooking a dish in a kitchen somewhere in Santa Fe, Bantayan Island, Cebu.
While John Lloyd has been open about enjoying the company of Ellen, he has been mum about the nature of their relationship.
He was in Cebu from September 14 to 17, which became four days of vacation time with Ellen and her non-showbiz friends.
The two seemed to have hit it off after several months of working together on Home Sweetie Home, where Ellen plays the girl who's out to steal John Lloyd from Toni Gonzaga.
During the show's third anniversary presscon last January, the two went on record to say that they had known each other since Ellen was in high school.
Ellen recalled that she met John Lloyd when he did a mall show in Cebu.
Videos of John Lloyd and Ellen having a good time together are still going viral, whetting the appetite of netizens for more updates on John Lloyd's love life.
PEPsters, what do you think is up with these two? Let us know your thoughts!