Nadine Lustre announced that she was diagnosed with dengue when she went for a medical checkup on Saturday, September 23.
In her latest Instagram story, the It's Showtime host related that she has been feeling sick for the past two weeks not knowing that she has acquired dengue.
Nadine's post read: "Just to give you a quick lowdown on what's happening..
"I've been really sick since we got back from the mountains.
"On and off fever, weakness, bruising, cold, thinking it was probably just off season for me.
"Didn't really think about it too much."
Dengue is a virus transmitted by infected mosquitoes.
Some of the symptoms manifested in a person with dengue include muscle pain, swollen lymph nodes, headache, fever, and exhaustion.
Nadine may have caught the virus during her hiking trip with boyfriend James Reid to Mt. Ulap in Itogon, Benguet last September 4.
The 23-year-old actress and TV host continued, "Fast forward. Got a check up today.. Doctor comes in and tells me it was Dengue.
"DMN. I'm surprised I'm still alive after 2 weeks of leaving it ignoring.
"Recovering now."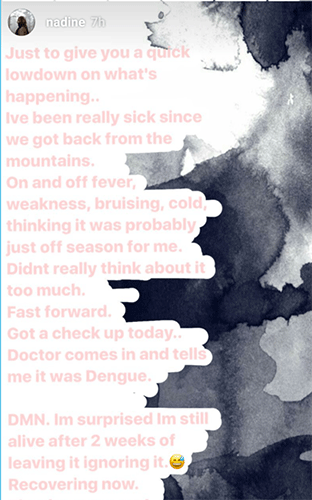 Nadine also posted a picture of herself resting at an undisclosed hospital.
She added, "Well, looks like were stuck here for the day."