What prompted rumored couple John Lloyd Cruz and Ellen Adarna to delete from Instagram all their sweet photos together?
This was the question posed by netizens who noted that John Lloyd and Ellen's very recent photos of each other cozying up—at an undisclosed residential place and during their beach escapades—have been deleted from their respective Instagram accounts, as of this Thursday night, September 28.
The rumored couple, all of a sudden, have wiped out traces of their controversial-yet-unconfirmed romance two days before the Star Magic Ball.
The possible sighting of John Lloyd and Ellen is one of the highly-anticipated sidelights at the annual red-carpet event hosted by ABS-CBN's talent arm, Star Magic.
This year's Star Magic Ball will be held at the Makati Shangri-La Hotel, Saturday, September 30.
It was only over the weekend when the two started firming up, via their own Instagram posts, that they are an item.
On Sunday night, September 24, John Lloyd uncharacteristically posted on Instagram a selfie with Ellen kissing him on his chin, while the 34-year-old matinee idol had his right arm wrapped around the 29-year-old starlet's shoulder.
They seemed to have taken the cozy photo while lying on a bed covered with a white bed sheet at an undisclosed place.
The elusive and very private John Lloyd accompanied the photo with this caption: "Sobrang baduy neto pero this girl really did something good to my soul. i'll always be grateful."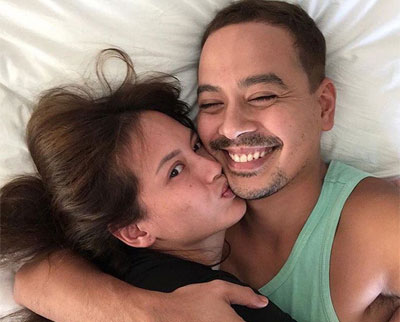 Two days before that, on September 22, Ellen posted on Instagram at least three photos showing John Lloyd's new haircut.
In one of these photos, the award-winning actor was flashing a big smile while looking at her.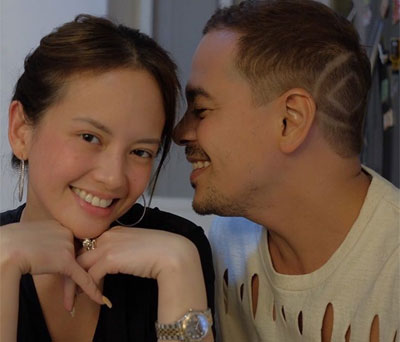 There was also a photo of John Lloyd leaning his head on Ellen's shoulder.
Ellen posted these photos on the same day she posted a private conversation with a fellow Bisaya, Leyte Fourth District Representative Lucy Torres, via Instagram story.
Lucy teasingly told Ellen, "Romansa is alive and live!"
Ellen had other photos with John Lloyd where they can be seen holding hands while walking at the beach, taken during their out-of-town getaways.
All of these have been deleted from both John Lloyd and Ellen's Instagram accounts.
THE BANTAYAN GETAWAY. Early this September, the two made headlines when photos and videos of their Bantayan Island getaway made the rounds online.
Netizens noted how ABS-CBN's premier TV-and-movie actor seemed to be behaving oddly as he sang, danced, hid beside a gas range, and flashed a dirty finger in the videos that went viral.
Following the controversy, John Lloyd issued a sorry-not-sorry statement, via his own Instagram, saying, "diz iz mi lerning. very humbling but i do apologize to the little boys & girls. no regrets babies just life revealing its raw beauty."
Star Magic's chairman emeritus Johnny Manahan, better known as Mr. M, defended John Lloyd, saying that the actor was just "letting off steam" during a much-deserved out-of-town vacation.
Mr. M's official statement, dated September 11, read in part: "In this age of an all pervasive social media, what is ok and innocent in private becomes worthlessly controversial in public.
"He will have learned his lesson and be more careful in the future."