The showbiz circle is so small that it's easy to cross paths with an ex and an ex's current or former flame.
Take it from celebrity couples whose past and present relationships—whether they like it or not—are interconnected.
Who among them became at odds with each other? Who managed to stay friends?
Here, PEP.ph (Philippine Entertainment Portal) looks back at Tinseltown's rigodon de amor or changing partners, with each set of at least four celebrities involved:
1. Sharon Cuneta, Gabby Concepcion, Kris Aquino, and Robin Padilla
Sharon Cuneta and Gabby Concepcion were a reel and real-life couple back in the '80s.
They were married thrice.
According to legal papers obtained by YES! Magazine in its July 2008 issue, the couple wed twice in a civil ceremony dated July 23, 1984 and September 10, 1984.
After 13 days or on September 23, 1984, Sharon and Gabby had a grand wedding witnessed by family and friends at the Manila Cathedral.
It was shortly after their first civil wedding on July 10, 1984 that they produced an offspring: KC Concepcion.
But barely three years after they tied the knot, Sharon and Gabby called it quits.
They broke up in 1987, reportedly due to domestic fights and Gabby's alleged womanizing.
By November 10, 1993, the court declared the couple's marriage null and void "for being bigamous in nature" since Gabby was still married to a certain Jennifer Martin when he wed Sharon in 1984.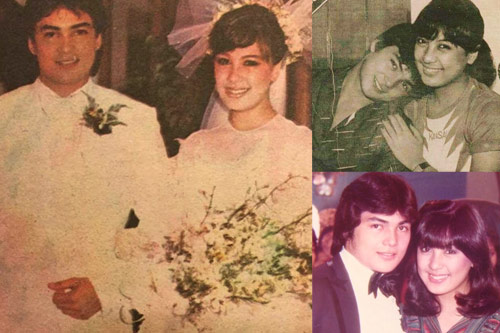 Among the women who were romantically linked to the handsome actor was Kris Aquino.
It was not clear exactly when the two became a couple, but they worked together in the movie Pangako ng Puso in 1990.
Veteran reporter-talent manager Lolit Solis revealed in an Instagram post, dated June 2017, that Kris and Gabby once spent quality time together under the guise of a supposed movie shoot in Anilao, Batangas.
With Kris's mom Corazon "Cory" Aquino seated as President at the time, there was even an "aerial inspection" of the resort the night before the actress and her companions went there.
Kris was said to be accompanied by 16 presidential security guards, a couple of personal staff and friends just so she and Gabby can go out of town during those days.
Their romance, however, eventually fizzled out.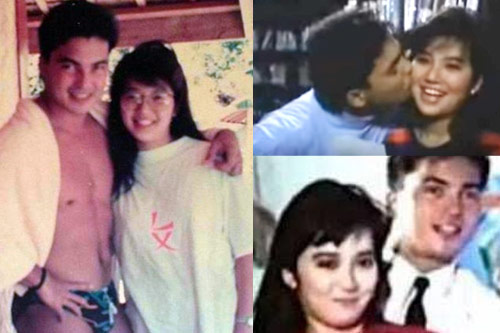 Another common denominator in Kris and Sharon's dating history?
Both ladies also dated Robin Padilla in different periods of their lives.
It was the late Inday Badiday who introduced Kris to Robin in 1989.
The action star likened their relationship to a "fairy tale."
In Star Studio Magazine's July 2010 issue, Robin was quoted as saying, "Nanligaw ako. Para kaming naging poor boy-rich girl. You and me against the world," which later became the title of their 2003 movie.
Robin recalled that Kris even brought him with her to Malacañang several times when her mom was still president.
But according to Robin, his addiction to drugs at the time was partly to blame for his and Kris's eventual split.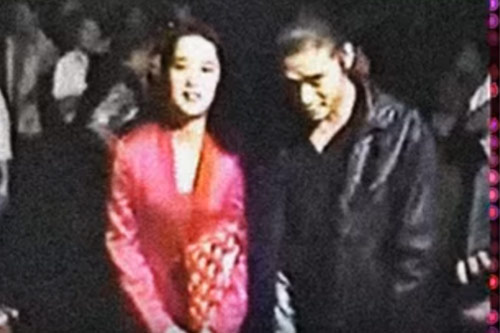 Robin then fell in love with Sharon Cuneta on the set of Maging Sino Ka Man in 1994.
In the same 2010 magazine interview, Robin related that the Megastar had been his longtime crush.
The first time he met her, he was so nervous, he stayed in a corner when Sharon entered the room.
Robin has a "Sharon, I will die for you" tattoo on his chest.
Sharon, for her part, considered Robin one of her two great loves.
In a recent online dialogue with netizens, Sharon admitted that she had an on-and-off relationship with Robin, and no one really knew when their final breakup was.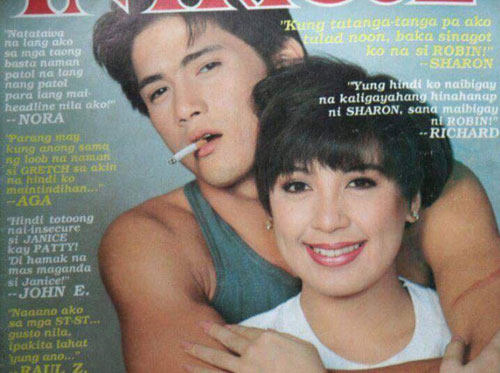 2. Kim Chiu, Gerald Anderson, Sarah Geronimo, Matteo Guidicelli, and Maja Salvador
Kim Chiu and Gerald Anderson were already in a relationship before she turned 18 in 2008.
But even though they were an onscreen love team at the time, they kept their real-life romance under wraps until they broke it off in April 2010.
Their breakup became known to the public by the time they were promoting their movie Till My Heartache's End in October 2010.
It also marked the end of their four-year onscreen partnership.
Kim and Gerald reunited on the big screen via 24/7 In Love in 2012.
But it was only when they did the 2017 Kapamilya TV series Ikaw Lang Ang Iibigin that they felt comfortable enough to joke about their past romance without feeling awkward.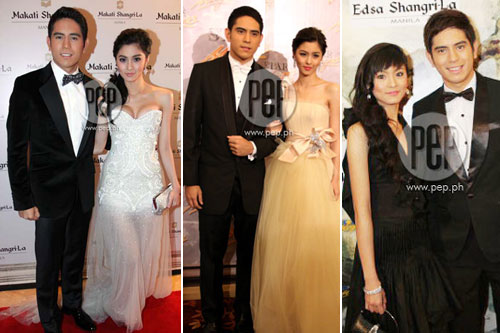 Meanwhile, in March 2012, Gerald went on record about courting Sarah Geronimo.
He was the first guy known to have asked permission from Sarah's parents to court the Popstar Princess.
They were paired with each other in two movies—Catch Me, I'm In Love and Won't Last A Day Without You—which were both shown in 2011.
In his interview on the now-defunct showbiz talk show The Buzz, Gerald admitted that he first realized his growing attraction for Sarah during the last shooting day of Won't Last A Day Without You.
In 2012, Gerald even had the chance to spend Valentine's Day with Sarah and her family at a KTV restobar.
The kilig between the two stars escalated when Gerald turned up at Sarah's 24/SG concert at the Araneta Coliseum on July 7, 2012.
But that same month, what appeared to be a blossoming romance got cut short when Gerald all of a sudden stopped courting Sarah.
Reports pointed at Sarah's mom, Divine Geronimo, laying down rigid rules concerning the singer-actress' love life, as the reason behind Gerald's decision to give up.
On the July 29, 2012 episode of Sarah G Live, a heartbroken Sarah firmly denied such allegations, adding that a man's love can only be proven over time.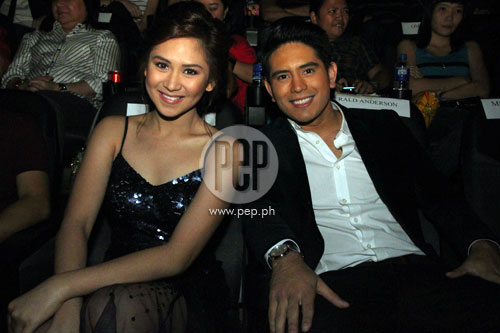 Then in January 2013, Gerald's newfound romance with Maja Salvador became known to public following photos of their holiday vacation at Misibis Bay.
It caused a falling out between good friends Maja and Kim, who admittedly felt betrayed by the former's decision to get romantically involved with Gerald.
Maja and Gerald became a couple for two years until it ended in March 2015.
As for Kim and Maja, the two ladies have buried the hatchet between them as early as April 2014.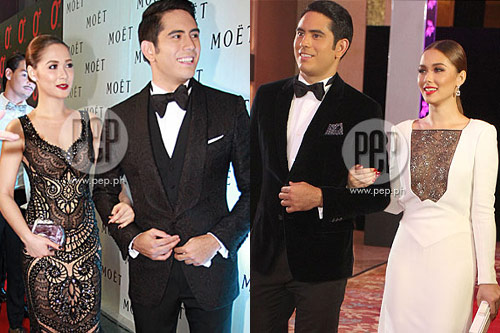 Prior to Gerald, Maja was in a relationship with Matteo Guidicelli for more than a year.
Maja and Matteo initially had a "friendly date" when they appeared together at the 2010 Star Magic Ball.
Then in March 2011, Matteo confirmed that he and Maja were dating for real.
But in July 2012, Maja broke up with Matteo citing his lack of time for their relationship as reason for their split.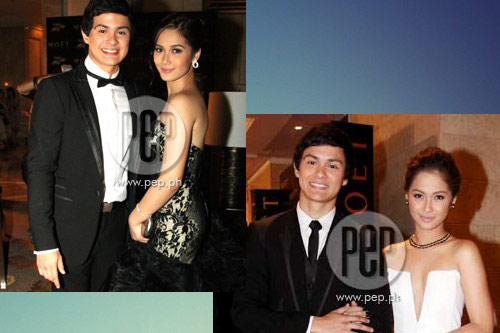 Then Matteo courted Sarah in 2013.
In an October 2016 interview with PEP, Matteo recalled how he went out of his way to get close to Sarah by watching her show in Batangas long before they became a couple.
Then they had the chance to work together during Sarah's 24/SG tour in the U.S. back in June 2013.
It was on June 19, 2014 when Sarah finally confirmed that she and Matteo are in a relationship after months of dodging questions from the media.
The two are still going strong at present time.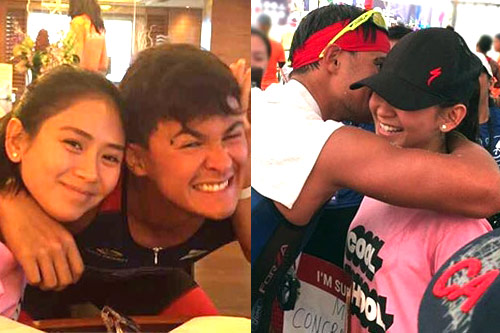 3. Erich Gonzales, Daniel Matsunaga, Arci Muñoz, and Anthony Ng
From 2011 to 2015, Erich Gonzales was in a relationship with Chinese businessman Anthony Ng.
It was in April 2015 when Erich confirmed their breakup, but did not mention the reason behind it.
She did say that their relationship had been on the rocks as early as December 2014.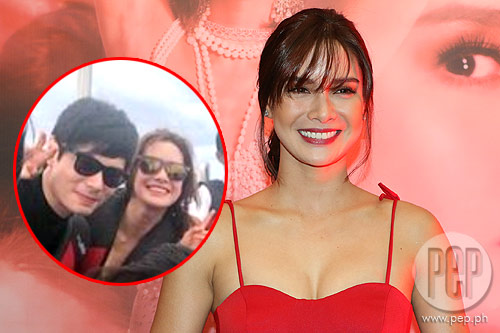 By May 2015, it was reported that Erich had found love again with her Two Wives co-star Daniel Matsunaga.
While they became a couple as early as March 2015, Erich was firm in saying that Daniel did not cause her breakup with Anthony.
Erich and Daniel's much-publicized romance came to an end by January 2017.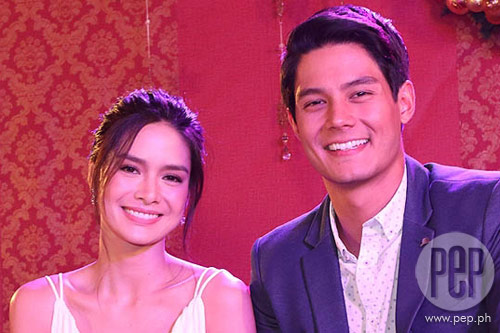 By May 2017, Daniel was romantically linked to Arci Muñoz since they closely worked together in the ABS-CBN reality show I Can Do That.
But both Daniel and Arci reiterated in separate interviews that they were just good friends.
Then in July 2017, Arci confirmed that she's dating Anthony, Erich's former non-showbiz boyfriend.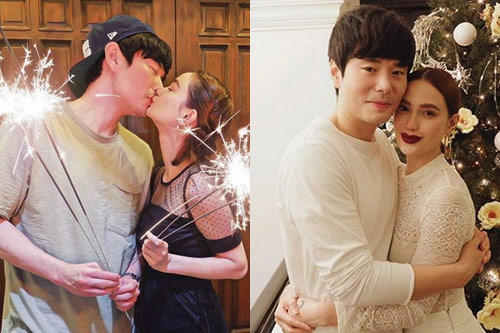 4. Gab Valenciano, Nikki Gil, Rachelle Ann Go, John Prats, Isabel Oli, Billy Crawford, and Coleen Garcia
This next case of rigodon de amor is perhaps better understood starting with Gab Valenciano's dating history.
Gab and Nikki Gil were in a relationship for a year until the latter confirmed in August 2006 that they had broken up.
In a November 2008 PEP.ph report, Gab admitted that he was exclusively dating Rachelle Ann Go.
Their relationship turned serious when Gab gave Rachelle Ann a "promise ring" during her concert Rachelle Ann Falling In Love, dated January 31, 2009.
But the two eventually broke up in September 2009.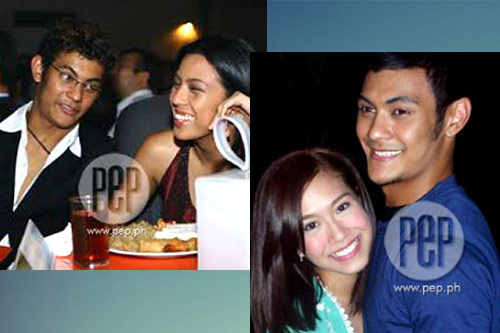 Then, from August 2011 to February 2012, he had a brief romance with Isabel Oli.
Gab also became in a relationship with Coleen Garcia for a year until she broke up with him in January 2013, or days before he flew to the U.S. to study music.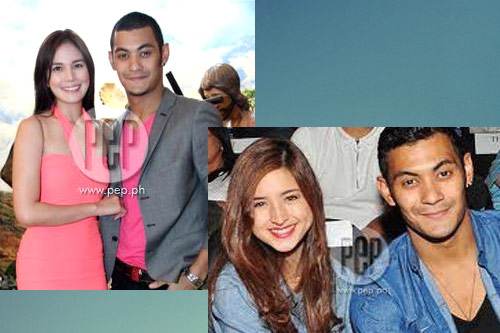 As for John Prats, he had a relationship with Rachelle Ann from February to July 2011.
It was with Isabel—whom he started dating in February 2013—that John found his lasting love.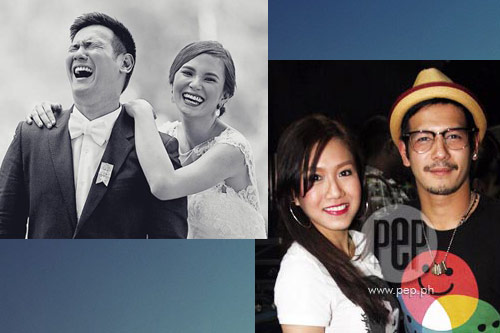 Billy Crawford was also in a relationship with Nikki for more than four years, from August 2008 to July 2013.
Rumors then surfaced that Coleen was supposedly the third party that caused Billy and Nikki's breakup. Both Billy and Coleen denied such allegations.
Then in July 2014, Billy confirmed that he and Coleen are in a relationship.
The two are set to tie the knot this April 2018.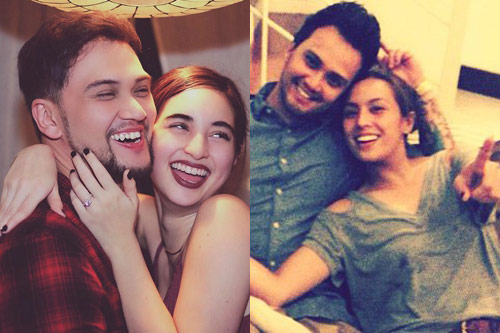 5. Kylie Padilla, Aljur Abrenica, Louise delos Reyes, and Enzo Pineda
Kylie Padilla and Aljur Abrenica's love story has been quite controversial since they first became a couple in 2011.
The couple reportedly had an on-and-off relationship before they went public about it in 2012.
But it was on March 16, 2014 when Aljur and Kylie parted ways for real and got entangled in an alleged rigodon.
On March 23, 2014, PEP cited a source claiming Aljur was spotted with his Kambal Sirena leading lady Louise delos Reyes on at least two different occasions.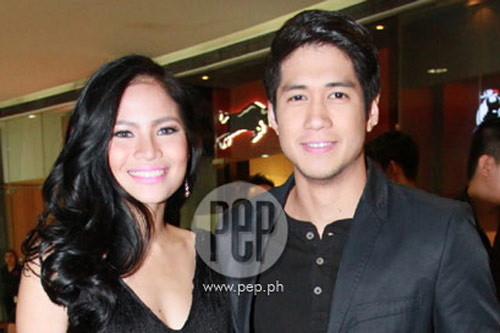 There was also talk that Louise and her then boyfriend Enzo Pineda had broken up because of Aljur.
By June 2014, another side of the story pointed at Kylie and Enzo's supposed growing romance based on their sweet snaps on Instagram.
In a report from GMA News Online dated August 2012, Kylie said she and Enzo had grown closer after their respective relationships came to an end.
While it was not clear what really went on between the two, Kylie did say that she's good friends with Enzo way before the controversy involving their exes cropped up.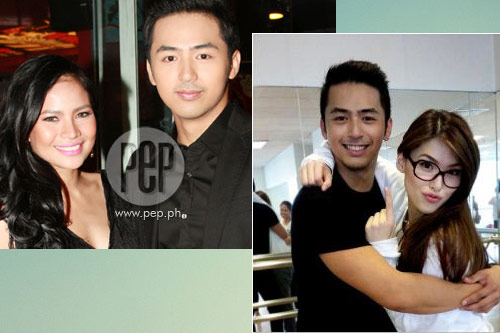 As for Aljur, he neither confirmed nor denied reports romantically linking him to Louise.
It was only in September 2017—or three years after that controversy—when Aljur disclosed in an exclusive interview with PEP.ph that he and Louise became an item for a month. He added that they broke up due to complicated circumstances.
Aljur and Kylie reconciled in September 2016. They got engaged soon after the Encantadia star confirmed in January 2017 that she was pregnant.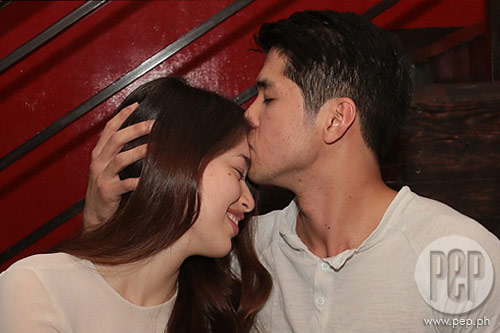 6. Jodi Sta. Maria, Pampi Lacson, Iwa Moto, and Mickey Ablan
Jodi Sta. Maria and Pampi Lacson were married twice.
They first wed in Nevada, U.S.A. in March 2005, then had a civil wedding ceremony in Parañaque City here in the country in June of the same year.
In March 2011, Pampi confirmed in an interview with TV5's now-defunct showbiz talk show Paparazzi that his marriage with Jodi had been on the rocks since the latter part of 2010.
The couple eventually separated, but both parties kept mum about the real reason of their breakup.
Jodi and Pampi have a son together nicknamed Thirdy.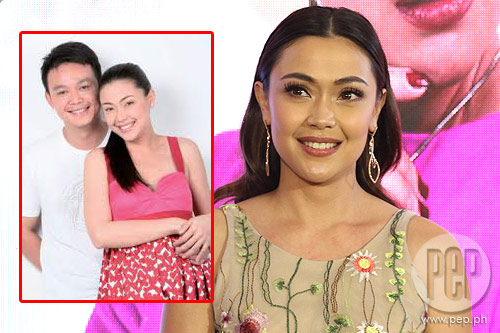 But the following year, in December 2012, Iwa Moto went on the record on TV5's Paparazzi and accused Jodi of being the third party in the breakup of the former's relationship with Mickey Ablan.
Iwa also claimed that Jodi had an affair with Mickey prior to the Kapamilya actress' separation with Pampi.
Iwa went on to say that she decided to break her silence amid reports pointing to her as the cause of Jodi and Pampi's breakup.
As it was, Iwa and Pampi eventually became an item.
But the Starstruck alumna was firm in saying that she and Pampi started dating long after Jodi was out of the picture.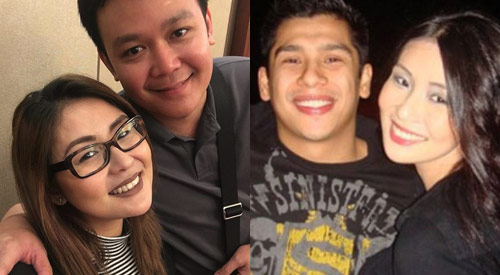 Jodi, for her part, never addressed any of the allegations Iwa hurled against her.
The two finally made peace with each other when Jodi reached out to Iwa after the latter gave birth to her daughter with Pampi in 2013.
To date, Jodi and Iwa have become good friends and co-parents to their children.
7. Dennis Trillo, Jennylyn Mercado, Bianca King, and Patrick Garcia.
Dennis Trillo and Jennylyn Mercado's romance started on the set of the Kapuso drama series Gumapang Ka Sa Lusak in 2010.
In his April 2010 interview with PEP, Dennis admitted to being smitten by Jennylyn's caring attitude and looks.
But by March 2011, they reportedly separated due to terrible fights.
It was in a tell-all interview in YES! Magazine's May 2011 issue when the Kapuso actress accused Dennis of physically hurting her in the middle of a full-blown screaming match that led to their breakup.
In 2011, Dennis found a new love in his Sinner or Saint leading lady Bianca King.
The two broke up in November 2012 after being together for less than a year.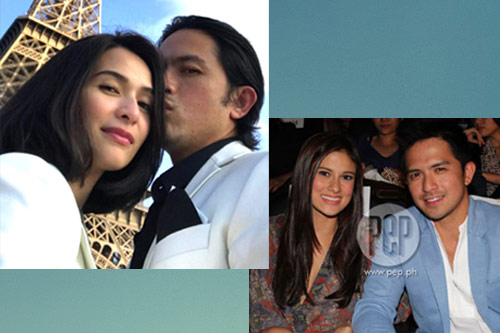 Another common denominator between Jennylyn and Bianca: Patrick Garcia.
Patrick and Bianca were together for almost a year from 2001 to 2002.
It was in February 2007 when Jennylyn admitted that she and Patrick were officially a couple.
But their relationship came to a bitter end barely two months after Jennylyn confirmed that she was pregnant with Patrick's child.
In an interview with PEP, Jennylyn admitted that she was deeply hurt when Patrick did an interview with The Buzz, alluding that he may not be the father of her unborn child.
Patrick, for his part, claimed that he only learned about the breakup when Jennylyn announced it in a separate TV interview.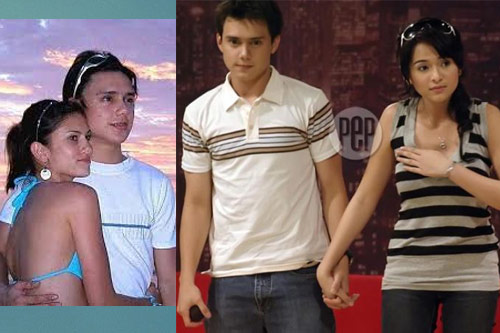 8. Aga Muhlach, Charlene Gonzalez, Dodot Jaworski, and Mikee Cojuangco
Mikee Cojuangco and Robert "Dodot" Jaworski Jr. was in a relationship for two years before they tied the knot in 1999. They have three sons.
During his bachelor days, Dodot was rumored to have dated Charlene Gonzalez who shares his love for basketball.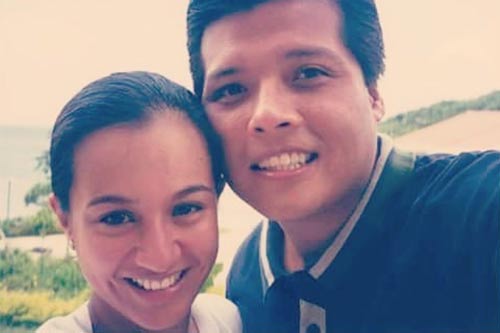 Incidentally, Mikee was romantically linked to Aga Muhlach when they did the 1994 romance-drama movie Forever.
But after a series of much-publicized romances, Aga described as "divine intervention" the moment he realized that he wanted to marry Charlene, his co-star in the defunct Kapamilya sitcom Oki Doki Doc.
Aga proposed to Charlene, and she said yes even though they were not in a boyfriend-girlfriend relationship.
Three months after they got engaged, on May 28, 2001, they tied the knot at St. Joseph The Worker Parish in Baguio City.
They have two children, fraternal twins Andres and Atasha, aged 16.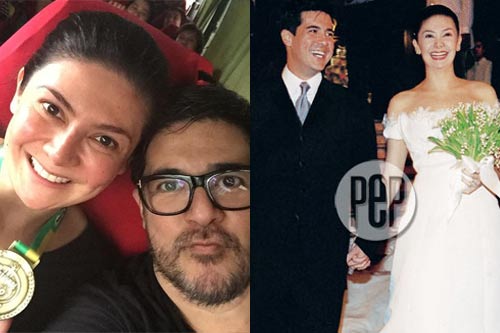 9. Aiko Melendez, Ara Mina, Jomari Yllana, and Patrick Meneses
Aiko Melendez and Jomari Yllana's romance bloomed when they filmed Kahit Kailan in 1996.
They tied the knot in a civil ceremony in Bulacan on December 16, 1996, followed by a church wedding on July 23, 2000.
But the following year, their marriage was reportedly on the rocks due to an alleged third party.
The couple separated in 2001, with Aiko filing for annulment in 2002. Their annulment was granted by the court in 2004.
They have an 18-year-old son, Andrei.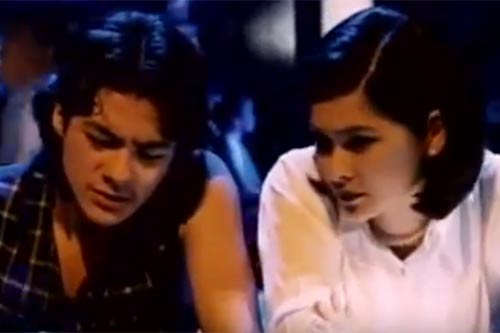 According to a PEP report dated September 10, 2007, Jomari was romantically linked to Ara Mina around the same time he was having marital problems with Aiko.
This caused a word war between Aiko and Ara.
Ara, for her part, was firm in saying that she did not cause the breakup of Aiko and Jomari's marriage.
But on November 23, 2003, Ara and Jomari reportedly celebrated their anniversary as a couple. They broke up after a year.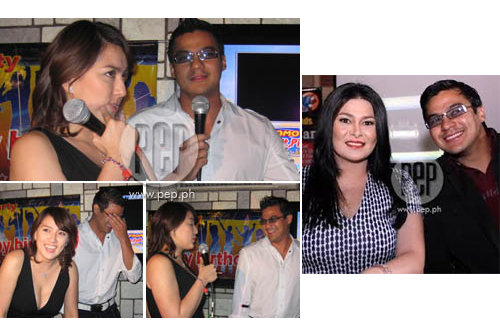 In 2008, Aiko became in a relationship with Bulacan Mayor Patrick Meneses.
They called it quits in 2011, with Patrick filing a libel complaint against Aiko for allegedly spreading rumors about his sexuality.
The following year, Ara and Patrick became an item. Then in December 2014, Ara gave birth to her and Patrick's first child.
Their daughter was only three months old when Patrick broke up with Ara.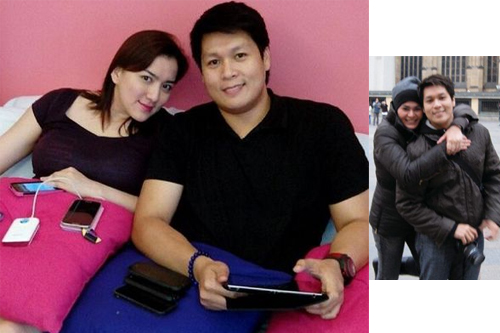 This list of Philippine showbiz's rigodon de amor is an updated edition of a December 2014 PEP article, written by Joseph Francisco and Karen Pagsolingan, as seen below: