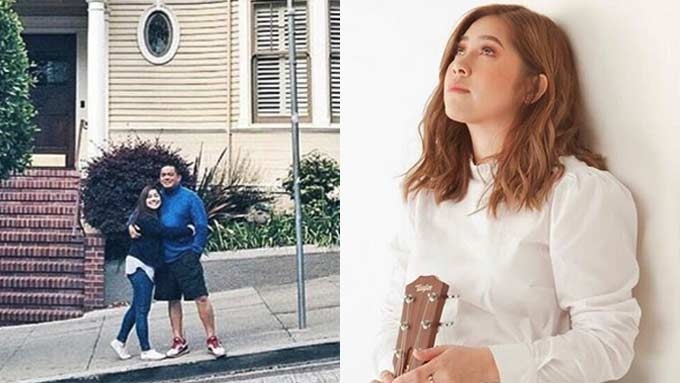 IMAGE Instagram @moirarachelle / Shaira Luna (right)
---
Singer Moira dela Torre, 24, opened up for the first time about her bittersweet reunion with her father after 12 years of separation.
In her Instagram post yesterday, April 24, Moira revealed that her father "tried to kidnap" her when she was only three years old after losing his legal battle for her custody.
The "Malaya" singer revealed it came to a point when she and her mom hid in Olongapo, a province three hours away from Manila, to keep Moira's father from getting to her.
She elaborated, "When my parents were annulled when I was 3 and my mom got custody, my dad tried to kidnap me. LOL
"So, to protect me, my mom and I went into hiding in olongapo where i stayed mostly indoors for the next few years.
"Mrs. Doubtfire was my best friend. I had the whole movie memorized.
"Although I didn't understand what was happening then, i remember understanding that I was in a similar situation as Mrs. Doubtfire's kids, secretly wishing my dad would show up dressed as a nanny????
"The movie's happy ending gave me hope that I would... so I waited."
Mrs. Doubtfire is a 1993 film showcasing the comic misadventures of a dad, played by the late Robin Williams,  disguising himself as a female nanny, Mrs. Doubtfire, to get closer to his unsuspecting children.
The film has a happy ending with the dad gaining back the respect and acceptance of his children.
Referring to her souvenir photo of her first meeting with her dad, Moira added, "That house in San Francisco became a monument for me...
ADVERTISEMENT - CONTINUE READING BELOW
"It was Mrs. Doubtfire that helped 3 year old me understand that love defies distance and time.
"I stood in front of that very house next to the man I once thought I'd never see again."
THE REUNION. Moira fulfilled her wish to be reunited with her father when she visited him at his home in the U.S. in August last year.
Moira said it feels "surreal" that her broken family has overcome past scars.
Now, not only has she gotten back her long-lost father but also gained a new family that welcomed her with open arms.
Making a parallel to her favorite movie, Moira gushed, "True enough, 12 years later, he came back into my life. No more kidnapping or hidden agendas...
"He never dressed up as a nanny either but God had healed both him and my mom and i've had two homes since then.
"One unforgettable moment happened last August in San Francisco, where we got to visit Mrs. Doubtfire's home.
"This time spent with my dad, however brief it was, was one of the most surreal moments of my life. It was when it sunk in how faithful God really is.
"It was a dream to see him again in good terms with everyone, in the proper conditions. No cases. No papers. No issues. No drama."
DADDY'S GIRL. At the end of her lengthy post, Moira expressed how much she feels loved by her father, who has been sincerely making up for lost time between them.
"Now, my dad has become a man of God, dedicated to his family. He works so hard to make sure we're all well taken care of.
ADVERTISEMENT - CONTINUE READING BELOW
"He is a great listener. He's everyone's favorite uncle. Every night, before going to bed, he calls our family in his room to pray.
"I know he will always see me as a 3year old, but I'm blessed that he has learned to let go, supported me, and let me be my own person-- something I know was very hard for him to do with his first born."
Moira continued, "I know this is long but I wanted to make sure my dad knows his efforts never go unnoticed, that I honor him and that I feel blessed & privileged to be able to call him my father.
"Thank you for everything, Daddy.
"Thank you for being God's reminder to me that just because our past was broken doesn't mean our future will be, too."
Her parents may have long since separated, but Moira noted that she's grateful for what the future entails now that their "broken family" were able to heal past scars.
She added in a separate post via her Instagram story yesterday, "My present & my future doesn't have to be defined by my past---no matter how broken."
Moira's inspiring tale of her family healing old wounds moved even her fellow celebrities including Jackie Forster, Kakai Bautista, and even Sharon Cuneta who liked the 24-year-old singer's post.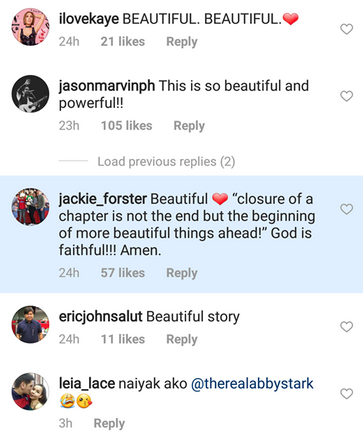 ADVERTISEMENT - CONTINUE READING BELOW