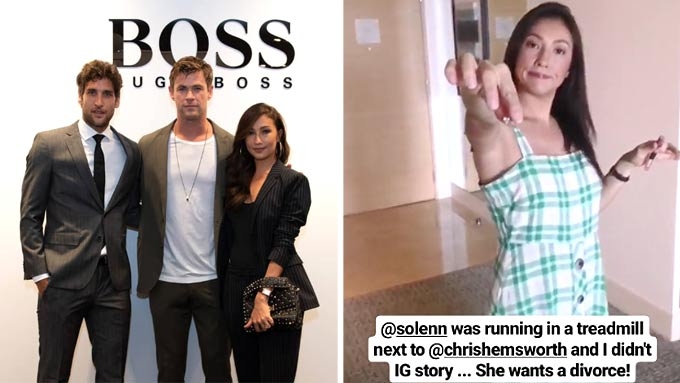 IMAGE Instagram @nicobolzico
---
Solenn Heussaff's frustration at husband Nico Bolzico for failing to capture her kilig moment with Hollywood star Chris Hemsworth was a total laugh trip.
The celebrity couple met Chris—aka Thor, the god of thunder from the big Hollywood franchise The Avengers—at a perfume brand convention in Singapore last night, May 25.
But prior to the event, Solenn actually got to work out with Chris, who happened to be running at a treadmill next to hers at a hotel gym.
It was quite a surreal fan-girling moment for Solenn, but her husband Nico "didnt sneak an IG story" of the whole encounter.
Solenn couldn't get over Nico's lack of foresight that she jokingly quarreled with him back at their hotel room.
While taking a video of their exchange, Nico pointed at Solenn and said, "I'm so sorry! So she was running in a treadmill next to Thor..."
Solenn interjected, "And no one's ever gonna know that because my stupid husband..."
Before she could finish her sentence, Solenn took off her wedding ring and told Nico to take it back. 
To which Nico replied, "No! No joke with that! Bebe, put it back."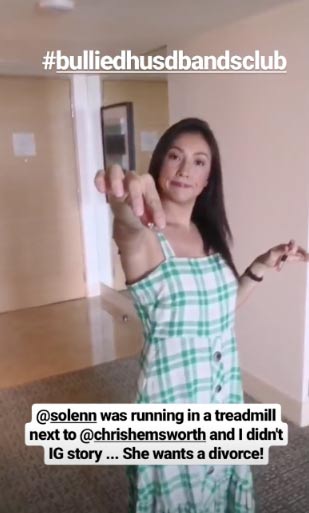 The Kapuso actress further threatened Nico that she'd get back at him if ever he meets Argentinian football star Lionel Messi: "Babe, if one day you run next to Lionel Messi, I'm not gonna take a photo!"
Sounding fearful, Nico replied, "Babe! No, Thor is not to you what Messi's to me. No, it's completely different. This is my god!"
Solenn added, "Yeah, Thor's my god too!"
Luckily, Solenn and Nico got to meet Chris at the brand event later that night.
Solenn was thrilled when Chris recognized her from their gym encounter.
Solenn wrote in her Instagram Story, "He asked if we were in the gym this morning. I die."
ADVERTISEMENT - CONTINUE READING BELOW
In his separate Instagram Story, Nico joked about "offering my wife" to the The Avengers star.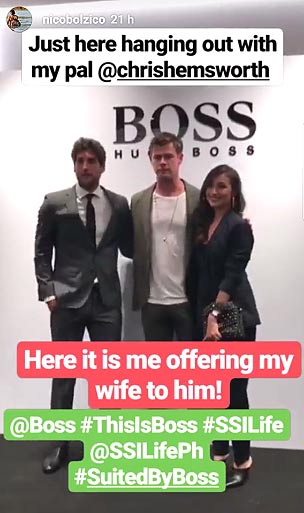 Solenn, however, didn't let Nico off the hook even after they managed to take a photo with Chris.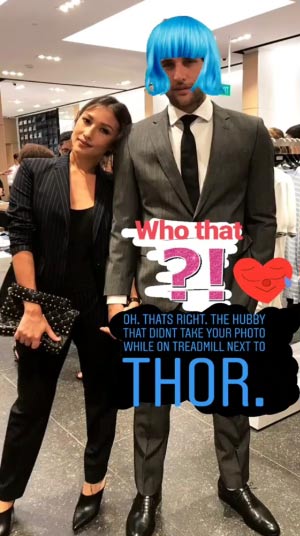 Back at their hotel, Solenn described how her Argentinian husband asked for her forgiveness with a song and by putting on an Australian accent just for her.
Nico teasingly remarked, "You want some sexy times now?"
Solenn laughingly replied, "No!"