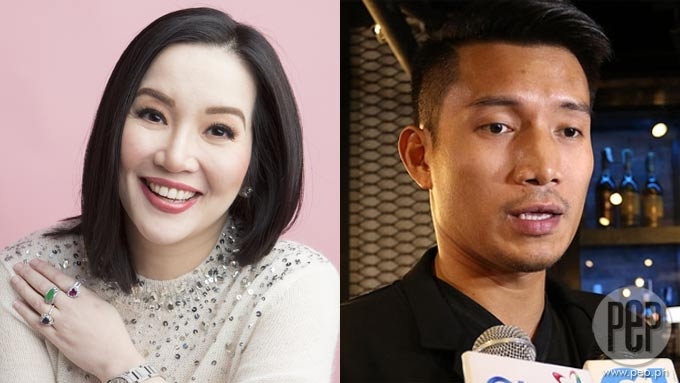 IMAGE Cyrus Panganiban / Noel Orsal
---
Kris Aquino said that she would not stop her son Bimby if he decides to seek reconciliation with his father, James Yap, after a long time of not seeing each other.
She gave this statement during her candid conversation with Bimby via Facebook Live video yesterday, June 17, which happened to fall on Father's Day celebration.
Kris told Bimby: "When the time comes you are actually ready, please don't ever feel na si Mama ang nagpi-prevent sa iyo.
"Don't feel na I'm the one, ha? Na it's out of loyalty for me or anything like that, because your Mama is ready."
Kris went on to say that recent events reminded her how her late mom, former President Corazon "Cory" Aquino, was forced to be a single parent after her dad, Benigno "Ninoy" Aquino Jr., got assassinated.
But Kris added that she will always be grateful for the three years that she got to spend with her dad when their family lived with him during the senator's exile in the U.S.
Apparently, her own childhood experience made her think of Bimby's current estranged relationship with James.
Kris reiterated to Bimby: "For your Mama, I'm OK. And for your Mama, I had to do a lot of reckoning.
"I had to realize that you're lucky you have a dad alive.
"It's up to him now. I hope that he will reach out.
"But I'm also not gonna force you to be the one to reach out, OK?"  
ADVERTISEMENT - CONTINUE READING BELOW
FATHER'S DAY VIDEO? As it happened, Kris revealed that Bimby was supposed to give James a surprise Father's Day video.
"So I was asking you that if we could do something privately—a Father's Day video that I wanted to send your dad.
"And I knew you did it because I asked you, because I really want peace.
"But I also saw how much you couldn't handle it after.
"So it will come, okay? And that was my proudest moment because you tried.
"As far as Mama is concerned, the very fact you tried is more than enough."
Noting how Bimby cried an hour after doing the video, Kris added, "That's why Mama took it upon herself...
"Hindi pa tayo handa. Or hindi ka pa handa. So I'll give you that. You deserve that."
Then she reminded Bimby that he can do whatever he chooses to do without feeling that he has to take sides on this matter.
Still speaking to Bimby, Kris said, "I'm telling you. I'm not forcing you.
"Sinasabi ko sa iyo na na-realize ng mama mo yun. Maraming natutunan ang mama mo this whole month that passed."
ON FORGIVENESS. It was just last April when James's birthday greeting for his son sparked a word war between him and Kris, who accused the PBA player of using their child for the sake of "publicity."
According to Kris, Bimby's relationship with James has been estranged due to several occasions when the child allegedly felt disrespected and disliked by the father.
ADVERTISEMENT - CONTINUE READING BELOW
One particular incident, she said, was when James supposedly spoke ill of Bimby at the time when the estranged couple had been battling for child custody in court.
And yet, after all that has been said and done, Kris said that her spoken line from the movie I Love You, Hater has a message about forgiveness that struck a chord in her.
Kris said, "Doing forgiveness not because you're doing it for another person, but you're doing it for yourself because it's a gift.
"Because ultimately, mabigat mabuhay nang may bitbit kang sama ng loob."
It was partly what prompted her to see if Bimby can do a Father's Day video for James.
LESSON ON HUMILITY.  And when she was asked to give advice for single parents, Kris emphasized that the children's welfare always comes first. 
This led to her next statement that separation should be the last option for troubled married couples, especially if there is still love and respect left in the relationship.
"It's not easy. And our children deserve talaga na there are two parents.
"If it cannot work, strive for peace."
She added that single parents should "make your children feel that they don't have to take sides, that they are loved by both."
But Kris admitted that it's easier said than done.
"Siguro mahirap talaga. Kasi, di ba, nakaka-yuck naman talaga minsan ang dami mong pinagdaanan, marami na kayong nasabi sa isa't isa?
"Pero if you love your kids, then you'll try your best."
ADVERTISEMENT - CONTINUE READING BELOW
Admitting her own struggle with humility, Kris reiterated, "Sinabi ko naman, di ba, hirap na hirap talaga ako sa humility.
"Humility is hard. But if it takes humbling yourself for your kids, do it."
---
Stories We Are Tracking
---