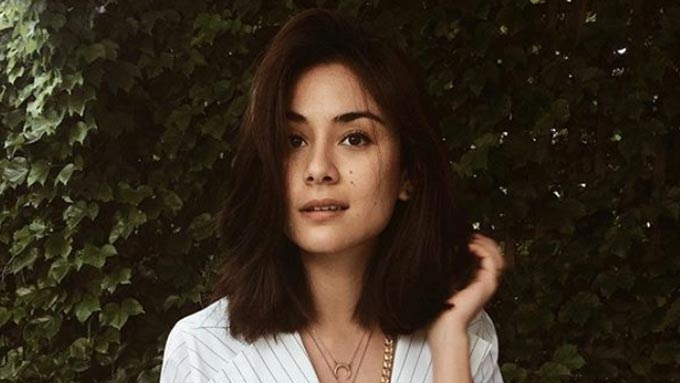 IMAGE Instagram @mari_jasmn
---
Mari Jasmine took offense at online news sites linking her to ex-boyfriend Sam Milby in headlines about her coming out as a proud member of the LGBTQIA+ (lesbian, gay, bisexual, transgender, queer, intersex, and asexual) community.
In her post on Instagram last July 4, Mari revealed her relationship with Samantha Lee, who is the director of the indie film Baka Bukas, starring Jasmine Curtis-Smith and Louise delos Reyes.
Mari also mentioned that her closest friends in the Philippines know about her sexual orientation, and have never made her feel any different since she came to the country as a model/host/blogger more than five years ago.
An Australian citizen, Mari is of half-English, half-Japanese descent.
Hours after her special shout-out to the LGBTQUIA community, Mari tweeted that being called Sam Milby's ex-girlfriend in news headlines was inappropriate because the story was not even about him.
There is some irrelevant information in this headline. I am a woman with my own story and identity who doesn't need to be defined by past relationships. ????????‍?? https://t.co/VwZhDeX943

— Mari Jasmine (@mari_jasmn) July 5, 2018
Mari also retweeted the netizens' comments which pointed out that using her ex-boyfriend's famous name diminishes the impact of her strong message.
Agreed. Anchoring the headline with a "known" name to captivate an audience seems good until the article misses the mark to empower a woman with an equally interesting story to tell. Writers, here's a challenge to do better. https://t.co/k9rQsToJmR

— John Harold Escora (@haroldiffic) July 5, 2018
Accomplished host and media personality, Mari Jasmine, admits relationship with award-winning director and pancake aficionado, Sam Lee ♥?

Fixed it. https://t.co/G6IdofH55Q

— Kai Honasan-Del Rio (@kaihonasan) July 5, 2018
While she is better known in showbiz as Sam's ex-girlfriend, Mary has always been elusive when it comes to showbiz-related issues.
In an exclusive interview with PEP.ph (Philippine Entertainment Portal) last March, Mari briefly talked about the reasons she turned down offers to enter showbiz.
"I respect the people in showbiz because they have a tough life—long hours and, you know, they don't necessarily have privacy.
"So, I know that they work really hard with what they have.
"And I see that it's really not me. I'm really happy with what I am doing." 
ADVERTISEMENT - CONTINUE READING BELOW
---
Stories We Are Tracking
---