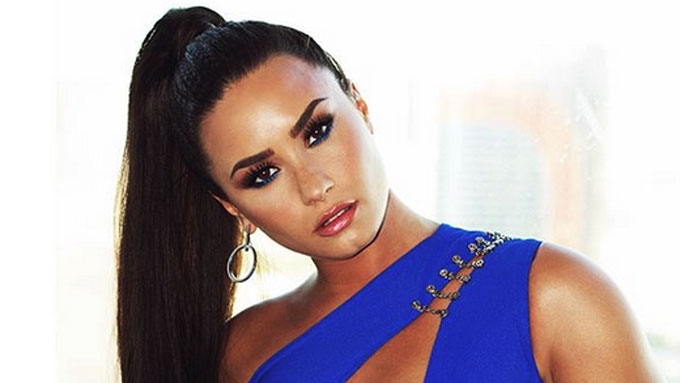 IMAGE @angelokritikos via @ddlovato Instagram
---
Demi Lovato, 25, was rushed to the hospital after she was "found unconscious" due to alleged overdose of heroin at her home in Hollywood Hills, Los Angeles.
Citing sources from the authorities, TMZ reported that Demi was allegedly treated with Narcan, also known as naloxone, which is a medication used to reverse the effects of an overdose of drugs made from opium or opioids like heroin.
Latest update from Demi's camp stated that the "Sorry Not Sorry" singer is now recovering, but did not mention exactly what her ailment was.
"Demi is awake and with her family who want to express thanks to everyone for the love, prayers and support," said Demi's representative in an official statement sent to reporters.
Still vague about Demi's reported drug overdose, the representative added, "Some of the information being reported is incorrect and they respectfully ask for privacy and not speculation as her health and recovery is the most important thing right now."
ADVERTISEMENT - CONTINUE READING BELOW
In July, Demi released her original composition "Sober" that has lyrics that speak of what appeared to be a relapse to her previous vices.
A part of the lyrics go like this, "Mama, I'm so sorry I'm not sober anymore / And Daddy please forgive me for the drinks spilled on the floor / To the ones who never left me / We've been down this road before I'm so sorry, I'm not sober anymore."
Demi tweeted a link to her new single with the caption, "My truth…"
BREAKING SIX YEARS OF SOBRIETY. It was just last March 15 when Demi celebrated her sixth year of being "sober" from self-confessed battle with substance abuse, eating disorder, depression, and self-inflicted harm.
Just officially turned 6 years sober. So grateful for another year of joy, health and happiness. It IS possible. ????????

— Demi Lovato (@ddlovato) March 15, 2018
Last year, Demi went on record in an official documentary titled Demi Lovato - Simply Complicated about her getting addicted to "cocaine" and how she first tried it when she was only 17 years old.
ADVERTISEMENT - CONTINUE READING BELOW
The former Disney star confessed that she had issues with her birth father who was an "addict" and an "alcoholic."
"I guess I always searched for what he found in drugs and alcohol because it fulfilled him and chose that over his family."
Demi also admitted to her struggle with "depression" at a very young age, and was diagnosed with "bipolar disorder" when she was 18.
The singer said she have had "20 sober companions" who had difficulty dealing with her until she finally decided to get her act together.
Demi was 19 when she was on first year of sobriety
In the latter part of the documentary, Demi spoke of how music was her number one motivating force.
"I have my friends and my family but music gave me a purpose when I was bullied in school, it gave me the motivation to keep going and proved to everyone that didn't believe in me that I was gonna be something someday."
ADVERTISEMENT - CONTINUE READING BELOW
Demi was sober up until her reported relapse to alcohol and substance abuse last month.