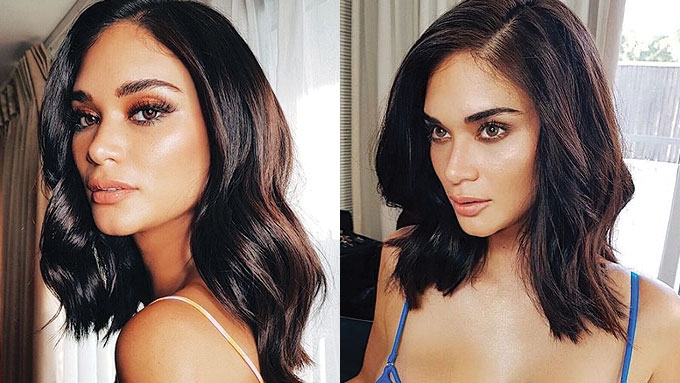 IMAGE @piawurtzbach on Instagram
---
Pia Wurtzbach defended her Instagram post about being a breadwinner at age 11 after a netizen took the beauty queen-actress' post the wrong way.
Six days ago, the 29-year-old beauty queen posted on Instagram about her early struggles and challenges before reaching her dreams.
The former Miss Universe mentioned that since she was 11, she was working for her family and took on odd jobs before she finally became successful.
It was apparent that Pia wanted to convey her inspiring story.
But one netizen twisted what Pia wanted to convey and implied that Pia's statement about working at an early age is a form of child abuse.
Part of the netizens comment read, "… u do know ur basically telling everyone that ur parents had let u work when u were 11, let u feed and support them instead of them working and supporting u? What were they doing when u were 11? Just sits around waiting for u to come home from work? #childabuseawareness"
ADVERTISEMENT - CONTINUE READING BELOW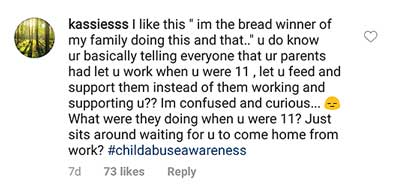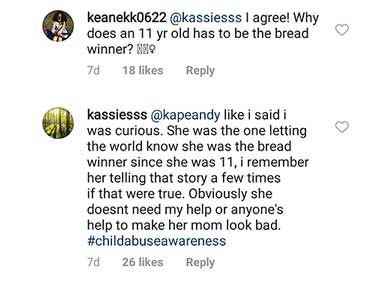 PIA RESPONDS
The beauty queen responded to the netizen and said that while she gets what the netizen's point, she clarified that she was never deprived of the joys of childhood even when she started working at an early age.
"Ah yes I understand how my caption could make you think that way. What I mean was I stepped in to be breadwinner of my family because I eventually had the most income through my modeling and acting career as a kid," Pia retorted.
"But at the same time I was still in school, I never stopped schooling. And my mom would be around me all the time to watch over me.
"Soon after that I was waiting table and packing in factories but that was when I was over 17. Legal enough to work."
She stressed that it was her own initiative to help her family out and she was never forced to make a living for them.
ADVERTISEMENT - CONTINUE READING BELOW
Pia continued, "It was my decision to help my family. They never forced me. But of course mahirap yun. In the Philippines it's not uncommon for children to decide to help their families out. As long as it's within the law and you're not hurting anyone…."
Furthermore, Pia clarified, "Wala po kaming nilabag na batas. Mahirap lang po talagang lumaki sa hirap and im not ashamed of where I came from. I'm sharing my story na kung kaya ko, kaya nyo rin!"
ADVERTISEMENT - CONTINUE READING BELOW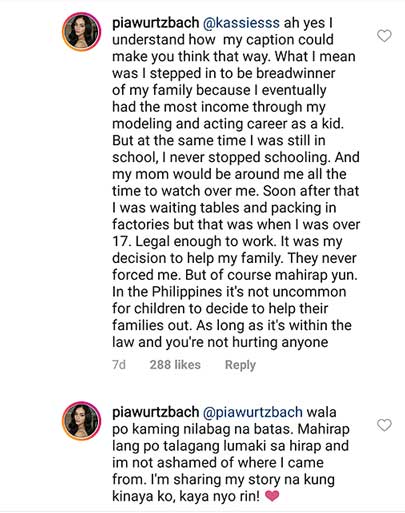 Meantime, Pia's supporters slammed the netizen for taking Pia's post negatively instead of drawing inspiration from it.
ADVERTISEMENT - CONTINUE READING BELOW