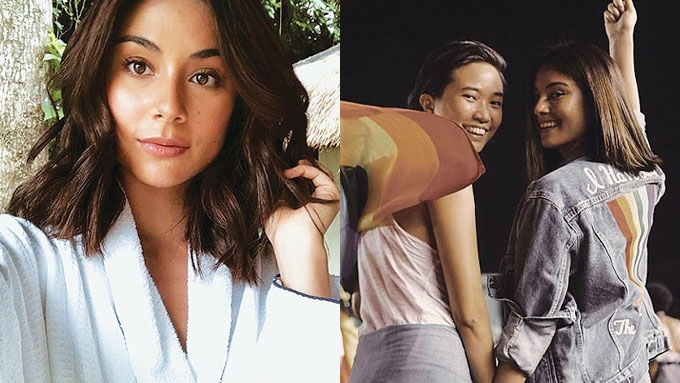 IMAGE @marijasmine and @givemesam on Instagram
---
Model-TV host Mari Jasmine took to Instagram and wrote a lengthy piece about her coming out last July, when she admitted her relationship with female director Samantha Lee via social media.
Before being involved with Samantha, who is the director of the 2016 indie movie Baka Bukas, Mari was highly identified as the girlfriend of ABS-CBN actor/singer Sam Milby.
In her Instagram post yesterday, October 12, Mari reflected on her coming out three months ago.
Being a private person, Mari recounted how reluctant she was about revealing her true identity and announcing her same-sex relationship.
"I am, and have always been, a private person," part of her post read.
"Whilst I share many aspects of my life online, the things that matter most to me: my family, my friends, my relationships, I've always kept to myself and protected fiercely.
"So making the decision to come out online wasn't an easy one."
ADVERTISEMENT - CONTINUE READING BELOW
She admitted that the hard part about her coming out was the idea that the public would talk about it.
"Because I didn't know whether I was ready to have yet another part of my life thrusted into the spotlight, for people to consume as entertainment," she said.
She also explained that when she was wrestling with the idea of revealing her true identity, someone told her that it might be a good idea to do so to become a voice to those who are like her, but are afraid to come out and be judged.
"I could be spreading awareness and advocating for LGBTQIA+ causes, but by staying silent I was perpetuating a culture that so desperately needs change," she said.
Over time, Mari said that she realized that she could make a difference by being a voice, and that there are things bigger than her issues.
"The more time passed, the more I thought about the responsibility that comes with the privilege of having a platform, the privilege of being heard, and ultimately decided that I was wrong. Some things were in fact, bigger than me."
ADVERTISEMENT - CONTINUE READING BELOW
She said that coming out on social media was worth it.
---
Stories We Are Tracking
---
Up to now, Mari keeps on getting messages from people asking her for advice.
She explained: "I always don't know what kind of advice I should be giving, but here's what I can say: there's nothing wrong with you, you are loved, stay safe, take your time and this is your own journey."