Clint Bondad cooly shut down netizens criticizing him for flaunting a photo of his sexy back on his Instagram account today, December 25.
His caption for the photo in question: "Merry Christmas Philippines [gift emoji] Don't break the internet! Truly inspired by the swimsuit competition. So liberating!"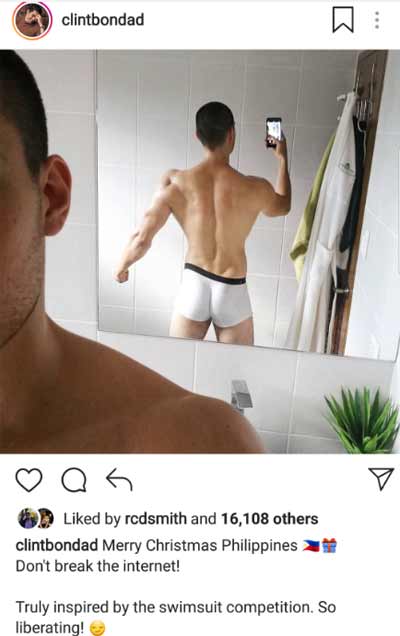 Clint actually received good feedback from netizens who gave him high marks for looking really fit in his body-hugging underwear, but he also drew flak for the revealing photo that other netizens said was unbecoming of the boyfriend of Miss Universe 2018 Catriona Gray.
As a netizen pointed out (published as is): "@clintbondad you wont like my commrnt but hey.. you chose to be still in a relatinship with the miss universe and somehow the way you are posing and posting here in IG is somehow not the kind of post we expect from the boyfriend of our miss unisverse."
In his defense, Clint said he saw nothing wrong with joking around for his Instagram followers with a photo of himself in his underwear and his back muscles flexed.
His reply (published as is): "Thanks for the reply. Just have a little laugh and get over it. Its supposed to be funny if you let it.
"Besides, its my IG and its not like Catriona is now the queen of England wearing white gloves to the elbows. She also has a ton of underwear pictures floating around...
"I think its a bit sexist to say that the guy all of a sudden can't. But thanks again and have a wonderful Merry Christmas [heart emoji]."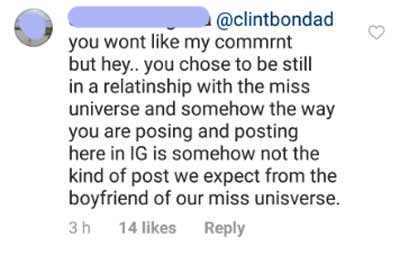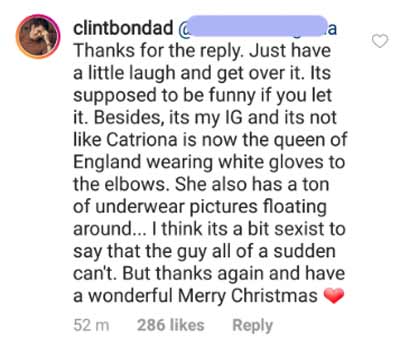 Clint also made it clear that he does not need Catriona's approval to post whatever content he wants on his personal Instagram account.
Addressing another critic calling him an "attention seeker," Clint simply retorted, "why comment if you aren't? [kiss emoji]"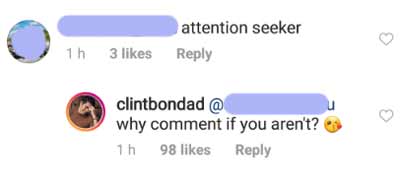 One other critic accused Clint of flirting with girls on social media.
The netizen said (published as is): "This guy only follows catriona but reply to every single girl that comments in his picture."
To which Clint replied: "check again... But thanks for the fake news."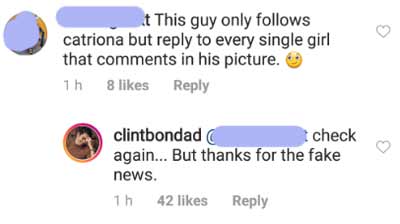 JUST FOR LAUGHS
As for the supportive messages that Clint drew from fans, these commended him for not changing his usual comic self on social media just because people expect him to behave differently now that Catriona is Miss Universe.
Clint, for his part, kept serving lighthearted replies to comments on his post.
The Fil-German model even assured his followers that his photo was not edited and was "100% man's pride."