It looks like there is no end to the excited and joyous reaction to the Maginhawa Community Pantry.

Some say it is "phenomenal," "inspired," "thinking out of the box." Some actually wonder why no one thought of it before. Some have gone on to call it "revolutionary," which of course attracts even the unwelcome attention. Some recognize it is as the new language of young people who want to make a difference. And some just well up thinking this is how it is to be Filipino.
Begun by Quezon City resident Ana Patricia Non, one small, spontaneous act of kindness has galvanized others around the country. Already, many have set up their own pantries in their own communities—and now, by the looks of it, it's become a whole small movement rekindling the spirit of bayanihan once thought lost.
In the time of a pandemic, too.

This is a dizzying display of enthusiasm and selflessness, from people from up and down and in and out—the well-off, the taho and ice cream vendors, the celebrities, the middle-income groups, the below-minimum wage earners, the students, the parents, the cliques, the individuals.
And all this, despite the exhaustion and frustration of a people going through lockdown after lockdown, staying cooped up in one rigid space for prolonged periods, with not enough vaccines in sight to keep them hopeful, and with their jobs in jeopardy or long gone.

While Filipino resilience is a good story resurrected every time a calamity comes around, there is, in the community-pantry movement, a gracious charm.
This is about fruits and vegetables and eggs and just food at its most basic—given freely, taken freely. They come in: sacks of rice, plastic bags filled with chichirya and instant noodles, small plastic drums and batya filled with cabbages and tomatoes, and many harvested squash so huge they have to sit on the floor.

One set of people line up to bring the stuff in and leave them at the pantry; another set of people line up and take them home. Sometimes, the people who take them home come back and bring in stuff this time, and so on.

Its tagline is perfect: "Magbigay ayon sa kakayahan, kumuha batay sa pangangailangan."

Admittedly, this is something Karl Marx said once upon a time, but it is also exactly what democracies write in preambles to Constitutions and what Christians oft-intone in services as their way of life.

"From each according to his ability, to each according to his need." What person, believing in a better society, could not see the tremendous spirit in such a line? This is a call for inclusivity, a mantra on empathy, a hymn to being human.
The Philippine Entertainment Portal (PEP.ph) got in touch with Patricia, as well as with volunteers of the Maginhawa Community Pantry (MCP), which now has its own Facebook page.
Patricia is also Patreng, a pretty UP Fine Arts graduate in her 20s, who looks to be running an orderly effort, as is evident in the Google Form we had to fill out for MCP's Media Contact Information.

We surmise this is to keep track of the unexpected media mileage the project has generated—and which, it must be said, is much deserved.
HOW THE MAGINHAWA COMMUNITY PANTRY STARTED
We are not surprised to discover that this is not the first gig of Patricia and friends.

"Actually, last year pa lang nung nagkaroon ng lockdown, nag-start na rin kami kasama nung brods and sisses ko sa Artists' Circle ng Bigas Drive para sa mga drivers na affected yung pasada," Patreng tells PEP.ph via Telegram chat app.
"This year, nagkaroon ng three-week lockdown sa barangay namin. Sobrang apektado dahil dun yung small furniture business ko, pero swerte pa rin kasi meron pa rin ako enough pang-food every day.
"May isang beses sa chat group naming magkakapatid, sinabi nila sa akin na yung pinaka-importante ngayon is mabuhay at maging healthy. Pero di mawala sa isip ko yung thought, 'E, paano yung iba? Pano yung walang trabaho, walang pera, walang ipon, ano mangyayari?'
"So right after ma-lift yung lockdown, hinila ko yung bamboo cart ko pa-Maginhawa, tas lahat ng sobra kong de lata, bigas, gulay, prutas, nilatag ko lang dun.

"Nagsabit din ako ng sign na 'Maginhawa Community Pantry: Magbigay ayon sa kakayahan, kumuha batay sa pangangailangan.' At doon na nga nagsimula."
Patreng first brought her bamboo bar cart to Maginhawa Street on April 14, 2021.
Today, the bar cart sits in the parking space of a building on Maginhawa, the busiest commercial and residential street in Teachers's Village in Diliman. The modest cart will often contain cans of sardines, packs of noodles, packets of coffee, and loaves of bread. Around it, on the rough cement ground, will lie big cartons, sacks, and plastic trays of more foodstuff.

Above the cart, taped to a post, is colorful signage announcing: "Maginhawa Community Pantry," and "Magbigay Ayon sa Kakayahan, Kumuha Batay sa Pangangailangan." On another side of the post: "Social Distance 2 meters."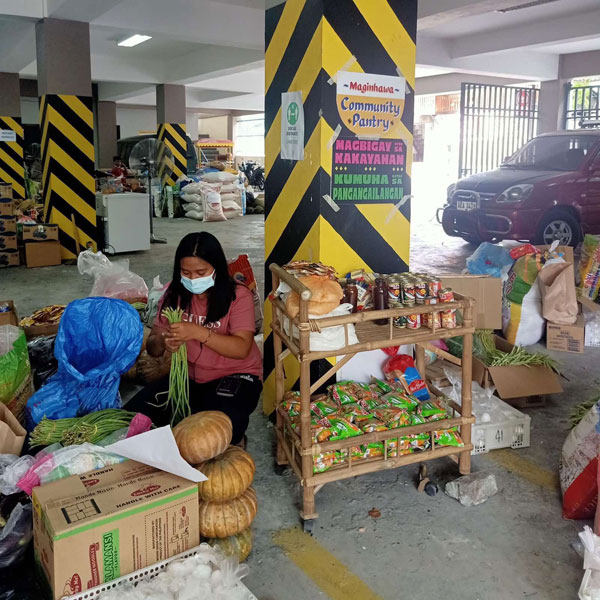 Why Maginhawa?

Patreng chose Maginhawa because it is near where her furniture business, Silya MNL, is located. It was in Silya MNL where Patreng created the bamboo bar cart. In their own words:
"Did You know?
"The iconic kariton used in the Maginhawa Community Pantry was supposed to be a summer product launch of Silya MNL? It was a work in progress, production prototype of a bar cart harnessing the craftsmanship of Filipinos using locally sourced materials.
"It is now a symbol of Bayanihan. A symbol of hope amidst these challenging times."

Patreng says to PEP.ph still via the chat app: "Nakaka-taba talaga ng puso yung pagtutulungan at yung desire ng mga tao na magbahagi kung ano mang lagpas sa pangangailangan nila, goods man yun o oras o lakas."
Others obviously feel that way, too.

The community pantry has since been replicated in other areas of Quezon City, where Maginhawa is. Actress Angel Locsin organized her own community pantry in Barangay Holy Spirit in Quezon City, and while much has been made of the little chaos that ensued there, what the bigger picture shows is just how much of a clamor there is for food during this pandemic.
There are now also makeshift community pantries in Marikina, Manila, and Rizal. And more in Laguna and Pampanga, Tarlac and Boracay. Former actress Paula Peralejo-Fernandez has gathered donations in Boracay, where her family is temporarily based.

The idea is for those with something extra, something to spare, something they don't need to survive the day, to give to the community. But, and this may be surprising to some, there are many have-nots—literally, those who have nothing extra for the morrow—who come lining up, ready to give something away.
#COMMUNITYPANTRYENCOUNTERS
Here are a few stories from various community pantries that will have Filipinos believing in Filipinos.

This is a post on April 25, in J's Project Facebook Page, which is maintained by a charitable group aiming to help Pinoys in far-flung areas. They shared this narrative (published as is) about Romeo Gonzales, a junk vendor, who came to their community pantry in Kamias, Quezon City.

"Mang Romeo, who usually takes from the makeshift pantry, but on that day brought mangoes to be given to others instead. Siya si Kuya Romeo, isa siyang street dweller at kumikita sa pangangalakal. Suki namin siya dito sa Kamias Rd. CP. Araw-araw siyang dumadaan para kumuha ng makakakain.
"Tuwing dumadaan siya, talagang nakangiti siya at bumabati. Minsan, nahihiya pa siyang kumuha pero talagang pinipilit namin siya kasi alam namin kailangan nila ng kasama niya. Kaya lang sa sobrang haba ng pila kaninang umaga, hindi siya nakaabot sa laman ng pantry. Umalis siya, at after ng ilang oras ay bumalik na may dalang isang malaking supot. Akala namin kukuha siya ng ilang pagkain sa pantry dahil may milo, delata at tinapay pa naman, pero sabi niya ay may dala daw siyang mangga at ilalagay niya daw sa pantry para sa mga gustong kumuha.
"Umiiyak ang puso namin sa sobrang saya! Ito ang ibigsabihin ng "Magbigay ayon sa kakayahan." Hindi siya kumuha ng kahit ano sa pantry kasi kumain na daw siya at hindi pa niya kailangan.
Tirik ang araw, pero umaapaw ng pagmamahal! Blessed Good Shepherd Sunday, friends!
#CommunityPantryPilipinas
#TiwalaSaMasa
#JustSmileProject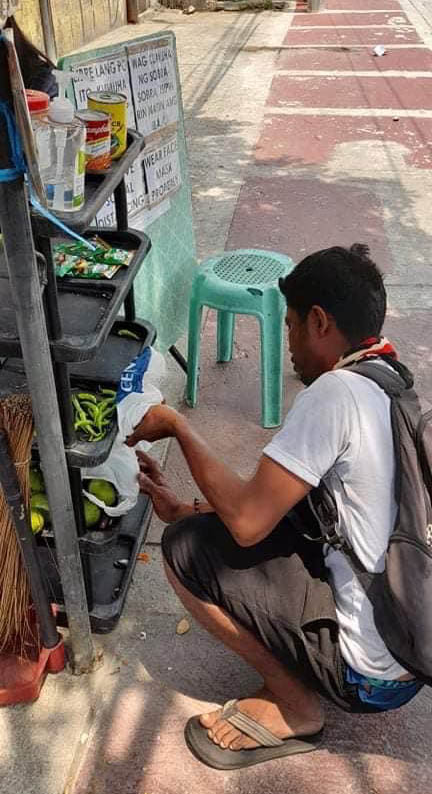 On April 21, a Facebook post by Melynn Alipio Limjap told the story of an ice-cream vendor who gave away free ice cream to people lining up at Brgy. 136 Pasay Community Pantry.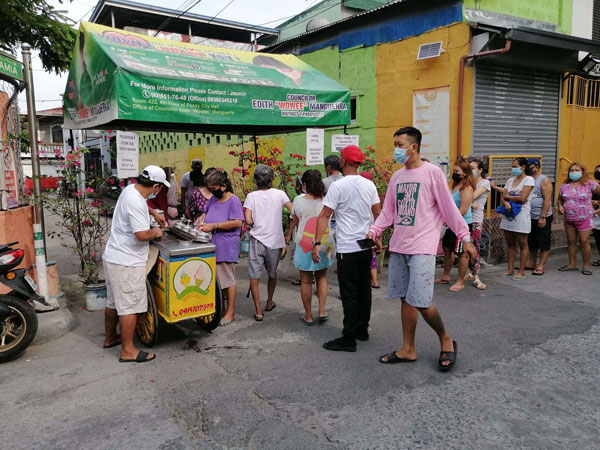 One day, Project Starfish, a community pantry in Cavite, gave out cups of taho for the early birds who had lined up, saying those who hadn't had breakfast yet would do well to take it. This benefitted not just those in line, but also the taho vendor who was passing by, because more people chipped in to buy more taho for more people. But Tatay Nelson himself, the taho vendor, ended up giving away some of his taho for free. He put plastic cups filled with taho on the community-pantry table for the taking.
This is the content of the April 21 Project Starfish Facebook (published as is):
"Libreng taho para sa lahat!
"We set up a little table and few cups of taho for anyone who haven't had breakfast yet and hungry.

"While grabbing their free taho, the smile on their faces were priceless.
And because of that, few more people chipped in to add more cups on the table, even the taho vendor himself!?
"Naubos na po lahat!
"'No act of kindness, no matter how small, is ever wasted'—Aesop
#createpositiveenvironment
#sharingiscaring"
On April 25, the Facebook Page Magsasaka Outlet, run by a group in the metro bringing produce from farmers to citizens, posted:
"Panibagong batch ng mga gulay mula sa ating mga magsasaka sa Ifugao Province.
"Ang mga gulay na ito ay binili ng mga community pantries sa tulong ng kanilang mga donors.
"Maraming salamat po muli sa LGU ng Banaue sa tulong na pagpapadala ng ani ng inyong mga nasasakupan. Maraming salamat rin po sa mga tumutulong samin upang maabot at matulungan ang mga farmers. Mabuhay po kayo!
#MagsasakaOutlet
#CommunityPantry
#SaveOurFarmers"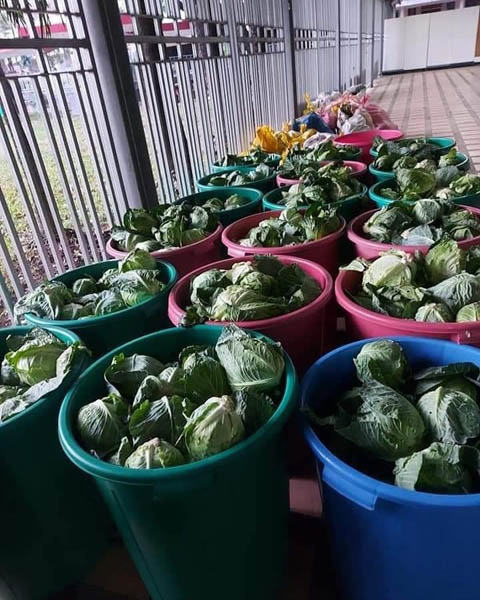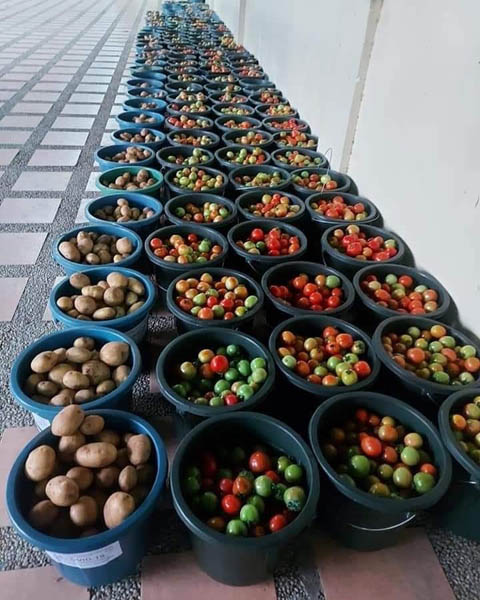 The April 24 Facebook post of Juan Lagalag noted:
"LOOK: Mang Alberto, the cart vendor who went viral for donating noodles, will be returning to the Maginhawa Community Pantry to donate more goods!
He received financial assistance from people who got touched w/ his story, so he's giving back rice, noodles, & eggs."
The April 28 post of Karaya Cy of Valenzuela City:
"Ripple effect.
Nakakahawa talaga ang kabutihan!!!
"Ito yung matatanggap ng bawat Community Pantry sa NCR+ cities.
"Libreng binibigay ng aming #MotherPantry (Maginhawa Community Pantry) para magkaroon ng laman ang bawat community.
"Galing sa monetary donations ng iba't ibang tao hindi lang dito sa Pilipinas.
"Binili nila ito ditectly sa farmers ng ating bansa para diretso ang profit sa kanila.
"Tulong tulong tayo!!!"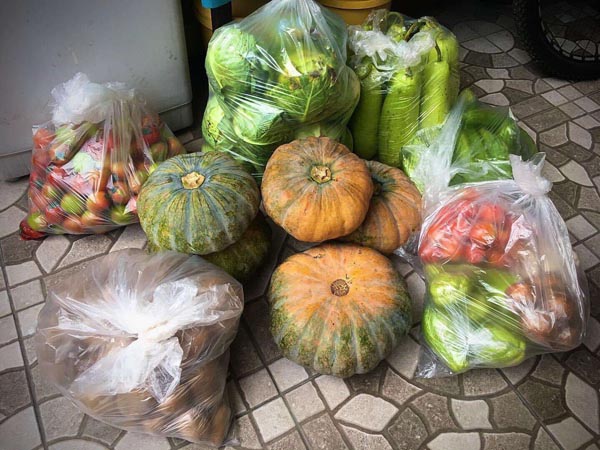 RED-TAGGING
But, this not being a perfect world, even the best intentioned can come under attack.

Patreng was aghast when, barely a week after operating, the Maginhawa Community Pantry was subjected to red-tagging.

Turns out that the community pantry has opponents in government, including a general*, who frothed in the mouth and called it the Maginhawa Communist Party. (*Lt. Gen. Antonio Parlade, spokesperson of the National Task Force to End Local Communist Armed Conflict.)

What's unfortunate is that red-tagging is not harmless. It is no ordinary bullying tactic, no simple matter of throwing insults on social media, no just making a social pariah of those you disagree with, and not ever just someone's private, earnest business.

Red-tagging kills.

Encouraged by people like the frothing general, dark forces have gone full-mode ugly: The rightists and the ignorant, the organized and the merely influenced, the small minded and the mean spirited have taken action. They have used deadly weapons, too. We need only go through the news of the killing of doctors and community workers, teachers and social workers, lawyers and judges, most of whom had been red-tagged.

According to the Reuters.com report of March 23, 2021: "In the last five years under President Rodrigo Duterte, 61 lawyers and judges were murdered, the most under any government administration, data from the National Union of Peoples' Lawyers (NUPL) and the Free Legal Assistance Group showed."

There is darkness in the air, which is probably why community pantries, hitting all the bright notes, have been very welcome.
As Patreng laments: "Medyo nakakalungkot na ganun yung reaction ng ilang tao sa government, parang, kasalanan ko pa talaga? Alam naman natin na hindi pipila ang tao para sa tulong kung enough ang naibibigay.
"Puwede naman natin i-acknowledge lahat na maraming nagugutom, maraming walang trabaho, maraming walang pera, at hindi talaga nagiging sapat yung relief na nare-receive ng mga families.
"Ngayon, yung mga tao mismo nagtutulungan, baka siguro ang better reaction ng government is same sa community pantries, magbigay at tumulong batay sa kakayahan.

"Kaya naman eh, kung gugustuhin."

Patreng's mother, Zena Bernardo, 52, is troubled. She posted this on Facebook in late April:

"Please allow me to admit a moment of weakness.

"I now seriously do not feel safe for my children. Normal naman siguro ito sa isang nanay, di ba?

"Ang worry ko po ngayon ay with the aggression coming from the top, the intimidation and harrassment of everyone with pantries may intensify.

"Inhale. Exhale."
BOUNCING BACK AND GETTING MORE ORGANIZED
Patreng admits it was not hard to bounce back.

First, she says, the allegations have no merit.

"Kasi hindi totoo," Patreng tells PEP.ph. "Actually, nakaka-hurt talaga yun, alam niyo yun, yung physical, mental and psychological stress pa lang ng pag-manage ng pantries, sobra-sobra na. 'Tapos yung ganung accusations nila, wala naman natutulong kundi doblehin yung trabaho sa pantries."
Next, she decided to turn her energies to streamlining their operations.

"Kaya yung naging resolution namin is to not put it [red-tagging] sa priority. Mas importante na pagtuunan ng pansin yung mga nangangailangan, mas kailangan ngayon ng pagtutulungan, and true enough, help came from a lot of people. Sobrang inspiring."
The help, in fact, has come from all over, until even international media took notice.
Patreng's initiative has so far landed on the Asian Sentinel, and people from Timor Leste have been inspired to put up their own community pantries.
An April 21 Facebook post by Laser Blitz Sumagaysay says in part: "Loron diak! Noting the local economic effect of this month's historic flooding in #Dili and the year-long COVID-19 lockdown in Timor-Leste, I took the opportunity to discuss with some Timorese friends and diplomats about the concept of 'bayanihan' and particularly showed them photos of #communitypantry set-ups in Ph to which they gained much interest.
"Colleagues and I, in our private capacities, are now supporting Timorese organizers as they launched their own (and the very first one) in TL."
Patreng is grateful for the international attention. Certainly, it brings in more help for all community pantries.

"Nagpapasalamat ako sa lahat ng nakakapansin lalo na sa mga tao sa ibang bansa na tumutulong pa rin sa mga kababayan natin rito. Masaya rin ako na nakapag-inspire yung pantry movement dito sa Pilipinas para gawin rin sa ibang bansa."
But she herself is aware that they cannot lose sight of why they are where they are: "Pero sinasabi ko rin sa mga volunteers namin na focus tayo sa anong importante: makatulong at makipagtulungan sa kapwa natin. Mahirap ang buhay ngayon."
A number of European envoys have already visited the Maginhawa Community Pantry.
"Kinumusta nila ako at yung mga volunteers, nagdonate din sila ng goods para sa pantry."
Patreng's oldest sister Jenny, 32, who is based in the United States, has been getting donations via PayPal. "Since last year very active siya sa mga fund raising para sa community feeding doon. Kaya nung nagstart yung pantry sa Maginhawa, kahit nasa U.S. siya, nag-volunteer siya to solicit support from Fil-Am community sa US para masuportahan mga pantry dito."
She openly reveals what her sister has collected: "And sa totoo lang siya rin yung unang unang nag-donate. Actually, as of now, nasa $20,000.00 na yung nagdo-donate sa Paypal niya. Yung mga donations dun ginagamit namin para bumili ng goods directly from farmers papunta sa mga pantries."

In Patreng's family, her father and mother are separated, but they all seem to be on the same page. Dad Arthur, 55, manages community pantries in Tarlac and Pampanga. Mom Zena is involved with Bayanihang Marikenyo at Marikenya which, according to an April 29 ANCx report, organizes community kitchens in various barangays in Marikina City.

Her sister Diana, 30, runs a community pantry in El Nido, Palawan, where she is based. Her brother Mox, 29, helps with the Maginhawa Community Pantry's media liaison, among other tasks. Patreng, at 26, is the youngest child.
Maginhawa community pantry VOLUNTEERS
PEP asked two MCP volunteers, via Telegram, why they joined this "revolutionary" community movement.
"Iniisip ko din yan kung bakit nga ba dahil alam ko na sa simple kong pag vovolunteer madami akong taong matutulungan at mapapasaya," volunteer Donnaville DM Pavillion says.

"Sobrang sarap sa pakiramdam na nakakatulong ka," she goes on, "sa simpleng 'pagpapasalamat' ng mga tao kada bigay mo."

She adds that she will never forget this experience: "Parang buong buhay ko, dadalhin ko na yung memory na yon na may nagawa pala akong mabuti sa kapwa ko..."

Donnaville ends her Telegram response with smiley faces.
Asked how she manages her time, she says she multitasks. She goes to her online classes, sells goods, and volunteers at the pantry. "Pero walang imposible kung gusto mo talaga tumulong. Oo mahirap pero di ko alam bat nakakaya ko tong ginagawa ko.
"Pero masarap talaga sa pakiramdam yung nakakatulong. Wala talagang imposible kung kakayanin mo at kung gusto mo talaga makatulong."
Another volunteer is Janice Milano, who is a sidewalk vendor.
"Naisipan ko pong mag-volunteer nong nakikita ko na dumadami na yung tao na kumukuha at madami na rin nagdo-donate. Sa mga nagdo-donate po, maraming salamat po sa inyo. Dahil sa community pantry, may pagkukunan ang mga taong kapos at wala walang pag kukunan ng pagkain."

Janice ends her own Telegram response with angelic smiley faces.
WHAT'S NEXT?
So what's next for Patricia and the Maginhawa Community Pantry? Does she see this as something that can be sustained?
"Hopefully, we can extend as much as we can with this mutual help project," Patricia responds. "Pero alam din naman namin na kinakailangan talaga ng tulungan rito both ng mga tao sa likod ng pantries at ng government.
"Pero sa tingin ko, hanggat marami naman kasing gutom, o walang trabaho, hindi mawawalan ng taong pipila para manghingi ng ayuda. Sa long-term, mas yan din ang kailangan i-address."
Right now, Patreng and volunteers have put up the Maginhawa Community Pantry Facebook Page, as well as the Community Pantry PH Facebook Group. The latter will centralize communication and donations among community pantries, and provide correct information to the public.
She says, "Para rin po mas madali yung announcements sa changes, lalo na tina-try po namin kasama na ibang pantries yung system ng community pantries.
"Sa lahat po ng nais mag-donate, pwede niyo po icheck yung announcement sa MCP Facebook page."
As early as April 26, the 108 Maginhawa Street outpost became a drop-off center for donations, with the goods sent out to barangays in Diliman.

The plan is to create a more organized, efficient system with the help of other community pantries and the barangay itself. An added goal is to make the pantry especially helpful to senior citizens, the pregnant, and persons with disabilities.
The Maginhawa Community Pantry receives donations at 108 Maginhawa Street Teachers Village East Barangay Hall, every day from 10 a.m to 6 p.m.
We are now on Quento! Download the app on
Google Play
or
App Store
and enjoy more articles and videos from PEP.ph and other Summit Media websites.