It's not unusual for women to find out they're pregnant late in the first trimester, as early pregnancy signs are similar to pre-menstrual symptoms (which tell you that you're about to get your period).
But for new mom Pia Rapusas, 38, the thought that she was pregnant never crossed her mind—until she got to the hospital and was told by doctors that she was about to give birth.
On May 14, 2020, Pia's husband, Jonathan Rapusas, 38, posted a Facebook update that surprised his friends and family: Pia had given birth on May 8, the same day she found out that she was 38 weeks pregnant.
"Pia and I are so thankful for your prayers and support for Team Rapusas in this season of COVID-19 and ECQ. Our story has overwhelmed many of you with varying degrees of reactions ranging from a speechless jaw drop emoji to a ridiculous joke," Jonathan wrote.
But it was not a joke.
In an email interview with SmartParenting.com.ph, Jonathan recalls the events leading up to the fateful day and why the couple failed to realize that Pia was with child.
Finding out about the pregnancy on the day of birth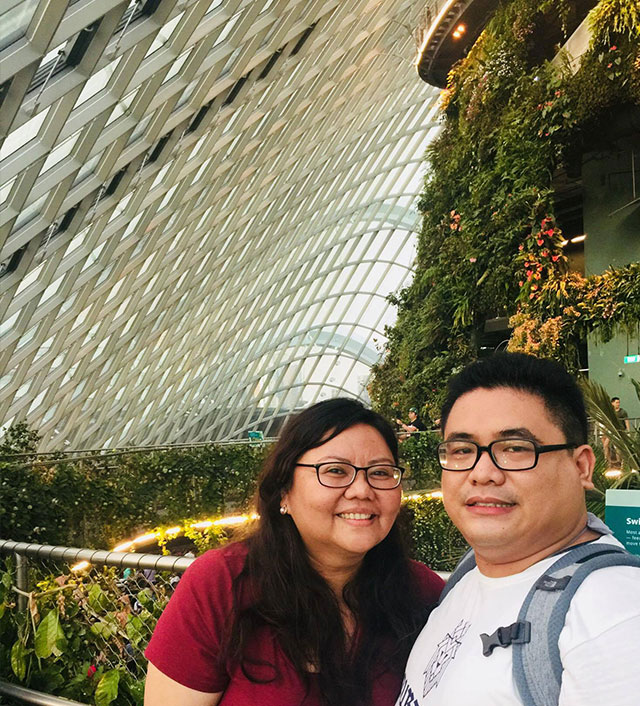 Jonathan and Pia have been married since 2012 and have been praying for a baby for seven years. But because Pia had Polycystic Ovarian Syndrome (PCOS), a hormonal imbalance that can affect a woman's chances of getting pregnant, they knew the journey would be difficult.
Still, they just kept trying. "It wasn't really a problem," Jonathan says. "Due to her PCOS, we never really had any family planning."
But things were about to change. As Jonathan wrote in his Facebook post, "Pia and I were at home and she experienced abdominal pain, which she thought was an extreme case of dysmenorrhea last May 6."
He tells Smart Parenting that Pia also vomited a few times, but the possibility of pregnancy did not occur to them.
Pia had an online consultation with a doctor later that evening and got a prescription, which they were able to buy the next day. It relieved the vomiting, but the pain did not subside, according to Jonathan.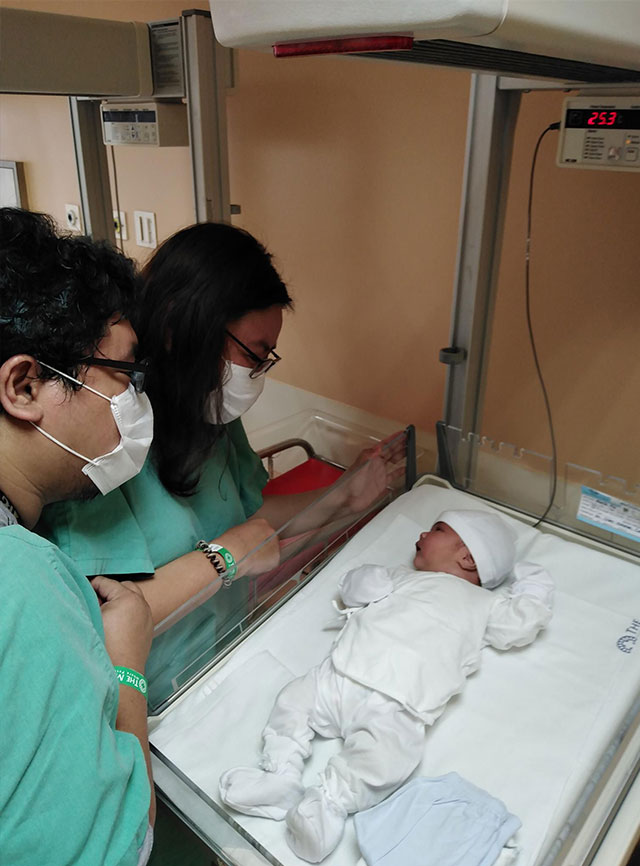 The doctor actually told her, "Ma'am, ulo na po ang nakakapa ko."
On May 8, Pia was still unwell. By this time, she suspected that she was pregnant. She took a home pregnancy kit twice and both results were positive. The couple were overjoyed and shared to their families that they had finally conceived during the enhanced community quarantine (ECQ).
But because Pia was still in pain, they decided to go to the emergency room (ER). "A doctor we knew assured us that it would be safe because there is a separate ER for non-COVID cases," Jonathan says. "[Since] we were already going to the hospital, we thought we should also consult with an ob-gyn to determine the next steps in our pregnancy journey."
At the ER, Pia was asked to take another pregnancy test. The results came back positive and they were sent to the ob-gyn ward.
Jonathan recalls waiting for the doctor to call him to discuss their next steps. Little did he know that Pia's first consultation was already causing a commotion among the hospital staff.
In an interview with GMA News, Pia says the doctor actually told her, "Ma'am, ulo na po ang nakakapa ko."
The head of the department also approached her and told her that she was already in labor and about to give birth.
"When I was called, I got the shock of my life when I found out that Pia was ready to give birth," Jonathan shares.
"The head of the department was only giving us two options: give birth right now in the hospital or transfer to another one."
The first thought that ran through Jonathan's mind was that they were going to have a premature baby.
"She was asked when her last menstruation was and she replied that it was [in February]. Doing the math, you are expecting a premature baby," he says.
"We have heard of stories of babies staying in NICU (neonatal intensive care unit) for so long and the financial consequences would have been huge. One relative was saddened with what was going on and feared that Pia will experience a miscarriage. I did not dwell on that idea."
A healthy baby boy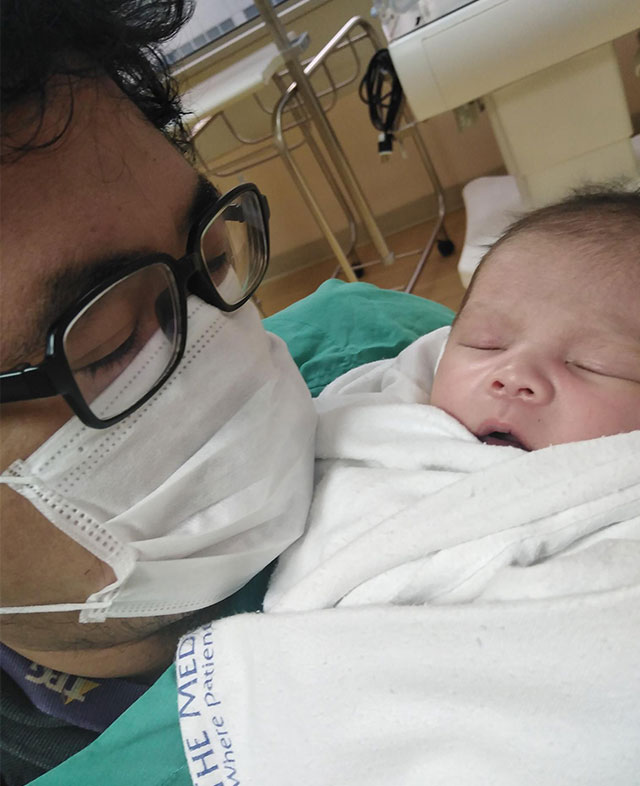 As it turned out, Pia was 38 weeeks pregnant, which meant their baby was born full-term. Their son, Isaiah David was born at 4:46 p.m. via caesarean section.
"The doctors told us that the baby weighed 3.2 kilograms, was pinkish in color, had an APGAR score of 8.9, and was full term at 38 weeks," Jonathan shares.
He initially thought it was a girl after having been informed by the doctor, but when Pia was wheeled into the hospital room, she said that she clearly remembered giving birth to a boy.
"She was still groggy from the effects from the anesthesia (after birth) but she was awakened by the cries of [our son]. The staff was telling her that she had a boy. The doctors also corrected their initial statement," Jonathan says.
He adds, "I was laughing when Pia told me the news. God fulfilled the promise of having a baby boy after seven long years."
But they had another challenge to overcome. Isaiah was admitted to the NICU because he experienced stress after they attempted a normal delivery. His heart rate lowered, he pooped inside the womb, and he ingested some of it. Isaiah developed meconium aspiration pneumonia and had to be treated for pneumonia for two weeks in the NICU.
Thankfully, he was able to recover well.
Pia's cryptic pregnancy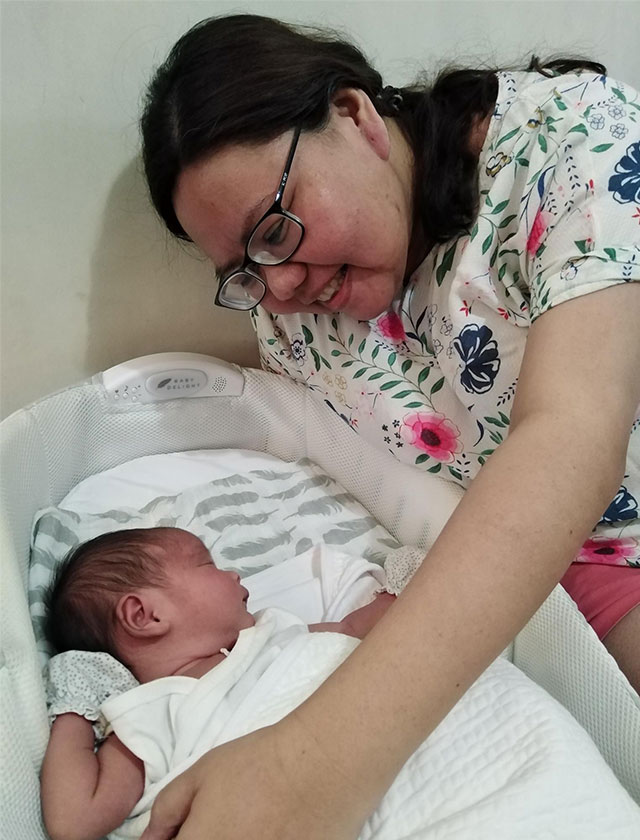 What the couple experienced could have been a cryptic pregnancy, where women only learn of their pregnancy when it's almost time for them to give birth. (Read more about it here.)
Looking back, Jonathan shares that because of Pia's condition, they completely missed her pregnancy symptoms. They only realized it after Pia gave birth.
"PCOS brings irregular menstruation cycles, so when she was asked when her last period was [back in February], she was actually experiencing spotting," Jonathan says. "[Also], we saw other women who were pregnant really gain weight and that was not the case for Pia."
Pia tells GMA News that she also missed the fact that she already had a baby bump. She did not notice anything different and attributed it to her being a "big girl."
Jonathan adds that Pia did not experience the classic symptoms of pregnancy like headaches, nausea, frequent urination, mood swings, and more. "The symptom that I observed was that she was fussy about the food she ate. I would always joke that she was pregnant but she would dismiss it," he tells Smart Parenting.
"During the ECQ period, she was always sleepy. But we never really thought she was pregnant."
Jonathan knows that theirs was not a model pregnancy. "We did things that pregnant moms should not do. To prevent this from happening again, couples who have an active sex life should get a pregnancy test regularly (monthly or quarterly)," he says.
Despite the surprising turn of events, both are just glad that the pregnancy happened during the ECQ.
"During the 2 months of ECQ, my wife stayed at home and had a lot of rest. This time renewed her love to cook so we were eating healthy," Jonathan says, adding that the ECQ protected their baby.
Now, they're just enjoying and embracing their new roles as parents.
"We get to finally enjoy the process without any shortcuts. Seven years is a long time, but God prepared us to be parents at the right time. We just want to continue the miracle that was given to us," Jonathan says.
Pregnant and worried about what to expect in the hospital? One mom shares her experience of giving birth during the pandemic here.