A website mirrored PEP.ph (Philippine Entertainment Portal), and put out fake news as click bait.
The fake news contained an edited photo of Ina Raymundo and her husband Brian Poturnak and a made-up story that clearly aims to dupe readers into buying a diet drink sold online.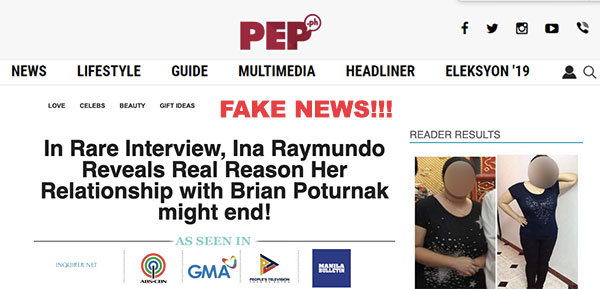 PEP.ph issues this statement to inform the public that it has NO PARTNERSHIP with any product.
It also did not publish any story about Ms. Ina Raymundo and husband Brian Poturnak.
A check with Ms. Ina Raymundo's manager Paula Punla, confirms that the actress never had a "rare interview" where she was supposed to have said her husband was upset with her "entrepreneurship."
We must remain vigilant on social media, where scammers freely use websites, publications, and celebrities to promote their products.