"For months the guilt of not replying to him literally ate away at my being. To be honest it still does."
These were the words that Benjamin Alves wrote on March 31, 2019, or five months after his father Ebet Sapida passed away from a heart attack.
His Instagram post showed a screenshot of the last message he got from his father commenting on Benjamin's daredevil climb at a beautiful rock formation in Caramoan Islands, Camarines Sur.
Ebet's message, dated October 7, 2018, read: "Okay ha. God keep you safe always."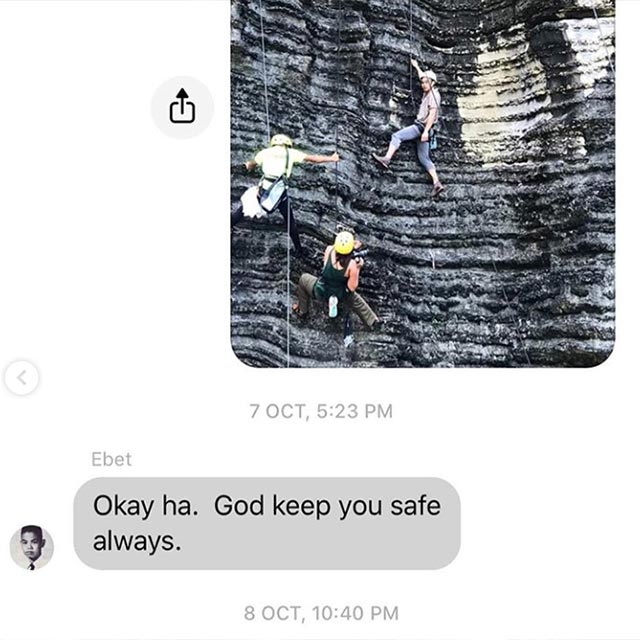 Benjamin was born and raised in Guam, and his parents had both been living there. They regularly communicated with the Kapuso actor—who is based in Manila—via phone calls, text messages, or sometimes through social media messaging apps.
At the time his father texted, Benjamin was at a pictorial, and was engrossed with his usual day-to-day affairs that he didn't get the chance to reply anymore.
Little did he know that it was the last time he would hear from his father Ebet, 65, who passed away two days later.
"I had a hard time forgiving myself for making the mistake of justifying that I was too busy at my pictorial to reply to him when I really wasn't," Benjamin went on to write in his emotional Instagram post.
"And the people around me would've understood if I asked to be excused for a moment.
"I guess what I'm trying to say is that life is short. You have to prioritize what's important and of value to you, because you never really know how long you have out here.
"One day, you're chatting with someone then tomorrow they're gone.

"It is, it was, as swift as that. Like a thief in the night I feel like someone stole my dad from me."
The Instagram photo is one of the 41 others still left on his Instagram feed since he took a break from social media, and all of a sudden decided to archive a huge chunk of the pictures he posted many years before his father's passing.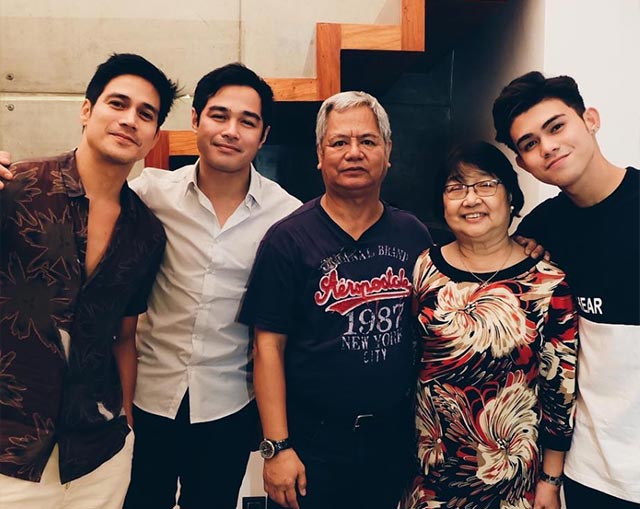 (When his parents came to visit Benjamin in 2017, they met up with the Kapuso actor's uncle Piolo Pascual and the latter's son Iñigo.)
BENJAMIN ALVES ON LOSING A FATHER
It was evident that Benjamin was deeply grieving the loss of his father, and grappling with the thought of how he could have had one last conversation with his dad almost broke the actor's heart.
Speaking to PEP.ph (Philippine Entertainment Portal) Wednesday night, May 15, Benjamin said on hindsight: "I could have replied, you know?
"But everyone's guilty of it. You use your work or your business as a license not to be able to [say], 'Mom, busy kasi ako, e. Dad, masyado akong busy, e.'
"But what's a text, you know?
"And in my case, I didn't text for probably a day.
"You just kinda rationalize and think, 'Cause you're busy.'
"And busy is good, kung iisipin mo, nagtatrabaho ka."
The next time he heard news from his family in Guam was when he "found out that he passed away."
Taking us back to that moment, Benjamin recalled, "I was at taping. I was on the set of Kapag Nahati Ang Puso."
It was the Kapuso prime-time series he co-headlined with Sunshine Cruz, Bea Binene, and Zoren Legaspi.
He went on: "It was like 12 midnight, my PA [personal assistant] gives me my phone, there was like 60 missed calls from my sister.
"And coming back here in 2012, I knew—because my dad a heart attack years ago, like, 1996—that I might get a call like that.
"All my friends have their families living abroad, that's our biggest scare, makakuha ka ng tawag na ganun."
Benjamin considers it a "blessing" that his father survived a fatal heart attack in 1996 and got to enjoy many happy years with their family, but it still didn't prepare him from the shock of losing his dad.
He said, "And even if I kinda psyched myself up to be ready for that, when it happened I still couldn't believe it.
"I didn't cry at all. I didn't cry, not until I got to Guam. I was in such disbelief.
"When I went home, that's when it sunk in that he really is gone.
"Five days later, I buried my dad.
"The next day I came back, and went to taping the very next day."
At that time, Kapag Nahati Ang Puso still had two remaining weeks for airing and Benjamin was admittedly not on the right frame of mind to work.
"I wasn't able to debrief myself. I was basically just keeping my head above water, to finish out Kapag Nahati Ang Puso.
"I was trying to stay afloat."
As soon as the soap ended, Benjamin asked for some time off work from his GMA-7 bosses.
Crediting GMA execs Lilybeth Rasonable, Redgie Magno, Gigi Lara-Santiago, and his co-manager Jonas Gafud, Benjamin said, "I wanna thank them for understanding that I needed time, for all the things that happened last year, how things ended last year.
"They were so gracious for giving me the time to leave and not to take that against me as well...
"They respected that. They did not even ask how long. What I need, they gave."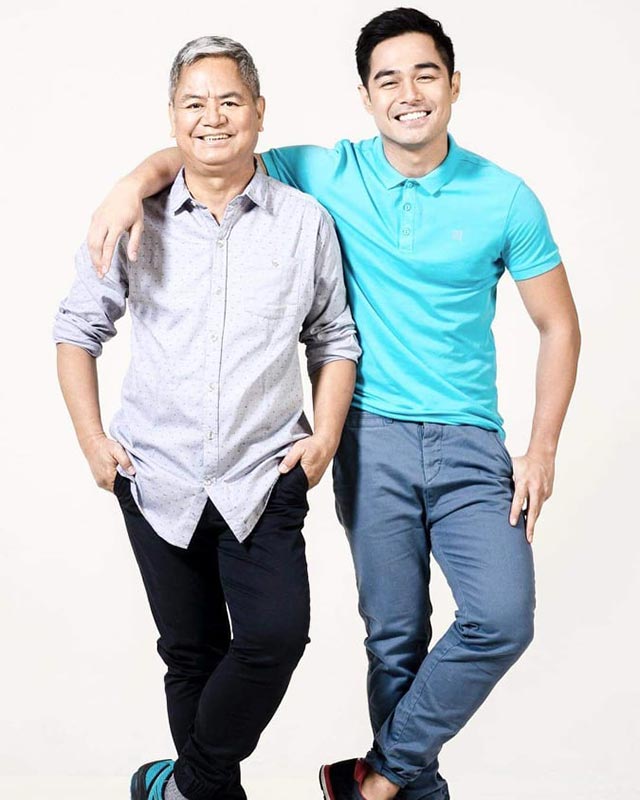 BENJAMIN ALVES ON ALMOST QUITTING SHOWBIZ
During his leave of absence from work, Benjamin took the chance to stay in Guam and spend time with his mom and sister.
"People are saying na, 'Oh, you're so nice for taking care of your mom. You're always there for your mom.'
"I was, like, 'Yeah, I guess.' But it really is my mom taking care of me as well. I need to be able to talk to my mom. 'Cause that's important to me."
He said he reached a "low point" in his life that he even thought of quitting showbiz altogether.
He admitted feeling "vulnerable" and couldn't help but have negative thoughts in his head.
He confessed, "To be honest, when I was back home, there was a time I was thinking, 'Do I deserve to go back for all the things that happened?'
"I really had to talk to people that truly care about me. 'Cause I feel I wasn't deserving of coming back here.
"I'm trying to be honest, you know. It was really a bad time..."
He was also considering the possibility of moving back to Guam so he could be there for his mom.
"Because my mom needs me. But then that wouldn't be healthy for my mom either," Benjamin mused.
"She would be relying on me all the time, and that's not normal for her. So at some point I had to leave also.
"Yeah, those are the things that go through your head. It's like a cloud. May fog yung utak mo, e.
"You're just honoring whatever's coming your way."
BREAKUP WITH JULIE ANN SAN JOSE
At this point in the interview, Benjamin made it known that his breakup with girlfriend of two years Julie Anne San Jose happened around the same time he was grieving over his father's death.
Without mentioning exactly when and why they broke up, Benjamin simply summed up the rollercoaster of emotions that he went through.
"It was just a really bad time. The things that happened.
"You hear things... People care more about a breakup more than the loss of your dad.
"It's just, like, insane. It was just a lot to deal with."
Ever a gentleman, Benjamin did not throw his ex under the bus.
He said, "I'm sure it's also hard for Julie, so I'm not taking that away.
"But, yeah, that's what I thought. That's just the thing that barraged me, it was a little overwhelming.
"I'm trying to deal with everything.
"'Do I really deserve to go back?' I don't wanna make it sound like I'm painting a sad picture.
"But that's when you think about it, when you're there."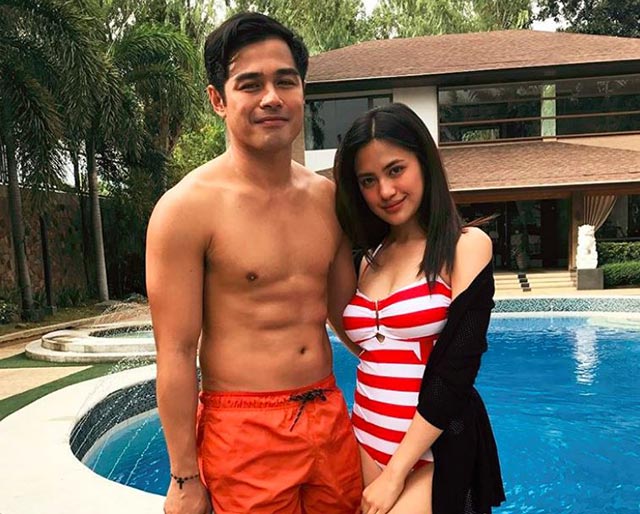 (Taken during better days, Benjamin and Julie Anne were photographed on the set of their 2017 Kapuso drama series Pinulot Ka Lang Sa Lupa.)
THE WOMAN WHO HELPED BENJAMIN WITH HIS GRIEF
Through it all, Benjamin said it was his sister who helped him move forward.
"Luckily, when things like that happen, you really are able to see who really cares about you and who appreciates you as a person.
"The lesson I can take away from what happened is that you're able to perceive what's really important."
Going back to that moment he did not reply to his father's message, Benjamin added, "Busy—you'll always be busy.
"I feel like with my dad, yeah, it was such a missed opportunity to talk to him.
"But that's something I have to live with and to be at peace with.
"That's why I can't talk right now. I'm usually alone, that's what I do."
BENJAMIN ON HIS FATHER'S LEGACY
Losing his father also taught Benjamin to appreciate his father's selfless acts that he used to "resent" about him.
"My dad is such a humble person. That person is so willing to let a person step over him in order for that person to shine.
"Kasi you're told now, when you grow up, you have to fight for what's right for yourself. You have to fight for your space.
"My dad was none of that. His humility is through the roof.
"When I was young, I used to view that as one of his weaknesses."
Benjamin admitted that he didn't idolize his dad when he was growing up because, "I always felt we could've had more financially, if he had just taken a promotion at work."
That he used to "look down" on his dad's "meek" attitude made him feel "guilty" because it was only after his father passsed away that he finally understood that what he perceived as his father's weakness was something really admirable after all.
"But now I see when a person's content, it doesn't matter what happens to them.
"That's what my dad was, he was able to be such a humble person because he was content.
"And I knew it for sure, that's the legacy that he left because that's what everyone told me when they visited and paid respects to my dad.
"I don't even have that kind of reputation.
"He is so nice I've never heard somebody say a bad thing about him."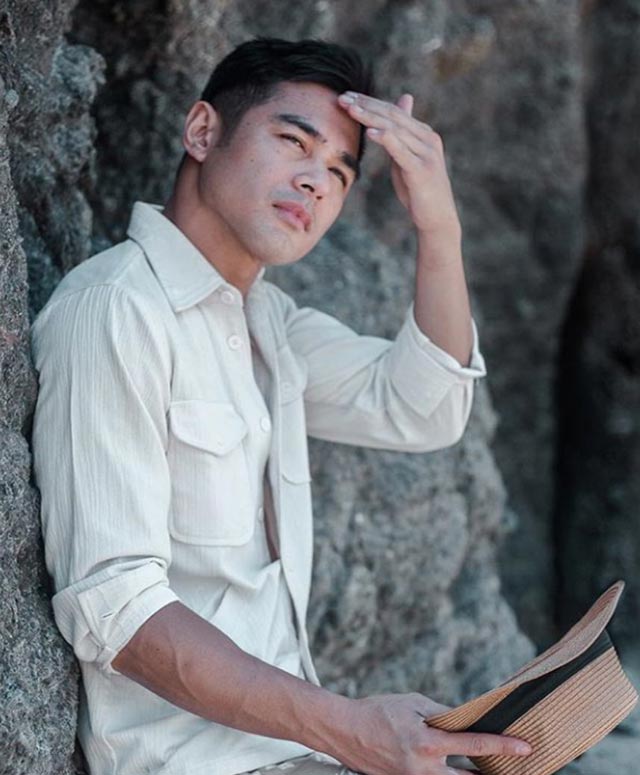 BENJAMIN ON BEING BACK ON TRACK
Now, Benjamin is back to work starring opposite Sanya Lopez in GMA-7's afternoon series Dahil Sa Pag-ibig, beginning May 20.
Armed with the memory of his dad as inspiration, he said, "I'm a lot better now. I'm no longer sad. The last time we talked I couldn't even talk about my dad.
"I'm in such a better place. Sana makita nila ito sa show.
"I'm giving everything I can to the best of my ability, from the workshops that we've had, listening to Direk Ricky Davao, wanting to do better, wanting to grow, wanting people to recognize me as a serious actor.
"I honestly want people to consider me, to see na I'm serious about this thing, that I'm not just in it to look good or whatever.
"That's all my focus now. I really give my heart and soul in this show."
Recommended Videos