On the night of November 7, 2019, Matteo Guidicelli revealed that he had proposed to longtime girlfriend Sarah Geronimo.
The real-life couple is also known for their uni-name AshMatt, a combination of their names Sarah Asher and Gianmatteo.
Social media was instantly abuzz with photos of the Popstar Royalty goofing off and having fun. But in those same photos, Sarah can be seen flaunting a diamond engagement ring on her right hand.
Matteo kept his caption simple: "I love you my love, now and forever."
It was the ultimate kilig moment that the media, showbiz fans and netizens alike were waiting for from this celebrity couple who seemed to have mastered the art of privacy by keeping their relationship out of the showbiz radar through the years.
By then, the couple has been together for six years.
But in spite of their enduring love, it was later made public that Sarah's parents have never approved of Matteo for Sarah.
The two secretly tied the knot on February 20, 2022, in a Christian wedding ceremony at Victory Church in Taguig City, under the guise that Sarah's merely out for a work engagement.
Sarah's parents weren't invited, but her mom Divine reportedly crashed the wedding reception and made her disapproval known even after the couple sealed the deal.
Two years and eight months after that controversial brouhaha, Sarah finally broke her silence and humbly asked for her parents' forgiveness as a gesture of love and respect for her parents.
Here, PEP.ph (Philippine Entertainainment Portal) looks back on how Sarah and Matteo stayed solid through kilig milestones and tough issues surrounding their six-year relationship as boyfriend and girlfriend, and until now as husband and wife.
june 12, 2009: sarah is matteo's secret crush
Matteo admittedly had a crush on Sarah long before they became a couple.
As early as October 2009, he tried to get to know Sarah by making an effort to drive all the way to Batangas to watch her The Next One concert tour.
Matteo said he even brought with him his music teacher who was in Batangas at the time.
Quoting Matteo from his 2016 PEP.ph interview, Matteo fondly recalled: "Sabi ko, 'Sir, si Sarah may concert sa isang coliseum dun. Punta tayo.'
"Pumunta kami. Pumila ako sa backstage.
"May VIP picture-taking, parang ganun. Nagpila talaga kami dun.
"'Tapos nakita niya ako, 'Uy, Matteo anong ginagawa mo dito?'"
Matteo went on to say that he pretended like there was nothing unusual about him popping in her out-of-town show.
"Hindi pa kami close nun. Hindi pa kami magkakilala nun.
"Sabi ko, 'Wala lang.'
"I was watching. Kunwari macho-macho pa ako. Tahimik lang ako, kunwari wala akong crush."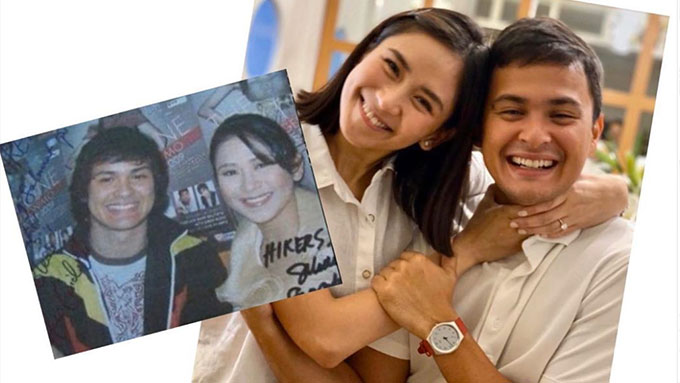 JULY 2009 to june 2010: MATTEO MEETS SARAH AND HER PARENTS
Matteo wanted to catch a glimpse of Sarah again.
And this time, he asked his friend Billy Crawford to arrange a meeting with Sarah who held a concert in Cebu on July 31, 2009.
Billy happened to be one of the guests at Sarah's The Next One concert, and Matteo took the chance to be formally introduced to the Popstar Royalty.
But it wasn't until June 2010 when PEP.ph got to ask Matteo about his efforts to be closer to Sarah.
Downplaying his admiration of the Popstar Royalty, he said that it just so happened that he was visiting his hometown in Cebu and "timing lang na may show si Sarah."
But he couldn't resist adding, "I feel so cool about that. She is Sarah Geronimo, she's very talented, and it's nice to make her feel happy."
Sarah, for her part, seemed clueless of Matteo's attraction towards her.
All she said was they became friends after he came to watch her concert in Cebu.
"Ipinakilala po siya sa akin ni Billy. In-introduce din po niya ang sarili niya kina Mommy at Daddy, nagpakilala lang," Sarah said in a March 2010 interview with PEP.ph.
When pressed if she finds Matteo attractive, she simply answered, "Opo naman, ang guwapo-guwapo ni Matteo, lalo sa personal. 'Tapos magaling ding kumanta.
"Friend ko rin siya sa Facebook. Binati ko rin siya nung birthday niya sa BBM."
It was only when they became a couple years later that Matteo told Sarah how he would never forget the very first time he came to see her in Batangas.
Talking about his very first souvenir photo with Sarah, he told PEP.ph in 2016, "It was funny because after so many years, that same picture I gave it to her as a Christmas gift."
2011 to 2013: sarah and matteo as workmates
Work was what got Sarah and Matteo together in the next few years.
In 2011, Matteo made his film debut in Catch Me...I'm In Love starring Sarah and Gerald Anderson.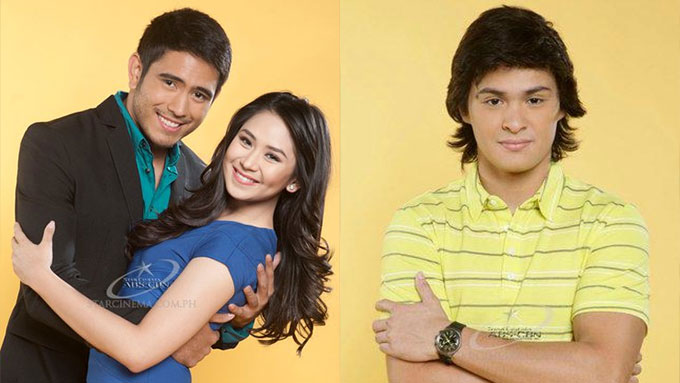 The following year, on November 2012, Sarah and Matteo were paired for a sexy song-dance number in ABS-CBN's Sunday music-variety show ASAP.
By this time, Matteo was already single after a year-long relationship with Maja Salvador.
Sarah was also unattached since her budding romance with Gerald got cut short when he reportedly stopped courting her sometime in July 2012.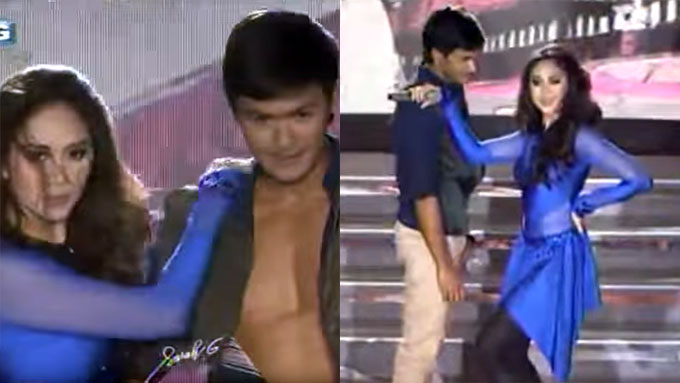 In August 2012, Sarah promised to be more discernful the next time she falls in love again.
"Kung sino man siya, kailangan siguro ng panahon para mapatunayan ko sa sarili ko kung totoo yung tinitibok ng puso ko o totoo yung tinitibok ng puso niya," said Sarah in an episode of her show Sarah G Live.
"Sabi nga time will tell. Hindi yung gusto ko kundi yung gusto ng Diyos para sa akin.
"Walang doubts and fears."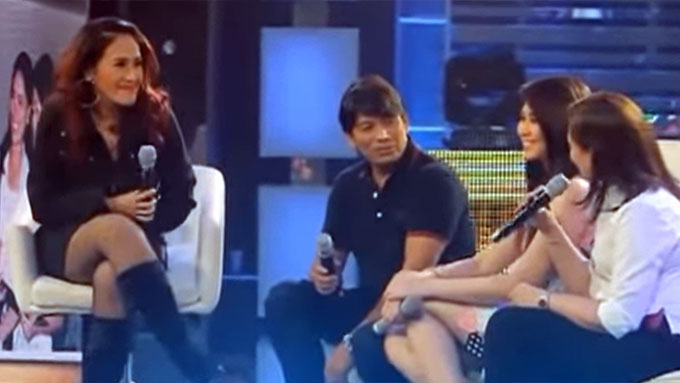 Then on December 2, 2012, Sarah was joined by Matteo and Robi Domingo as guest co-hosts on Sarah G Live.
At the start of the show, Robi revealed that Matteo cancelled his provincial tour when offered to do a guest appearance on Sarah's show.
"Hindi siya pumunta dun para lang sa 'yo," said Robi.
To which, Matteo shyly replied, "Hindi, kasi kailangan andito ako kasi masaya ako... pag andito ako sa stage."
Robi then asked the audience, "Bagay ba sila, Popsters?"
Sarah seemed surprised and refrained from making any comments, while Matteo couldn't help but smile as Robi teased them onstage.
Little did the public know that it was a clue to what would soon blossom between Sarah and Matteo.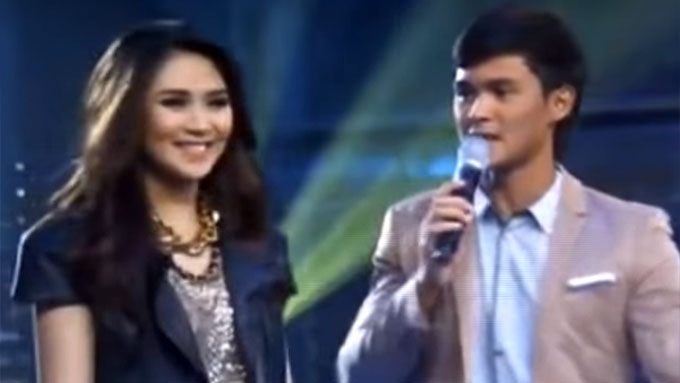 MAY to august 2013
Sarah and Matteo had the chance to grow closer when he joined the 24/SG concert tour in the U.S. from May 25 to June 2, 2013.
Their unforgettable number was Prince's "Kiss"—the same sizzling production number that they did for Sarah G Live.
They looked like they were having fun on stage as they danced and held each other's hands.
At the end of the song, Matteo even kissed Sarah's hand.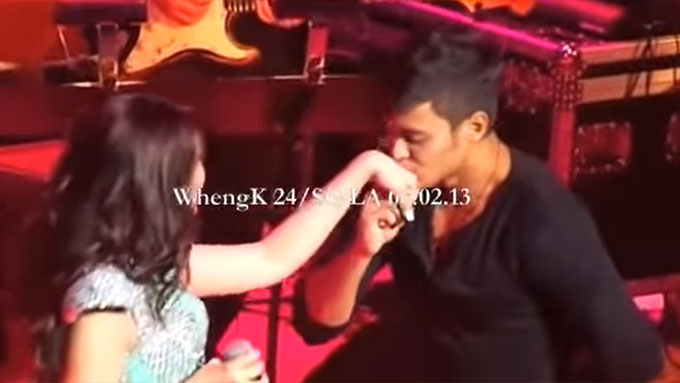 This apparent closeness between Sarah and Matteo didn't go unnoticed by avid fans of the Popstar Royalty.
When Sarah celebrated her 25th birthday on July 25, 2013, Matteo was among the few guests that got invited to her party.
But in at least two interviews with PEP.ph in July and August 2013, Matteo categorically denied that he's courting Sarah.
September 2013
Sarah and Matteo officially became a couple in September 2013.
While they decided to keep it a secret, it didn't take long before their relationship became known in showbiz circles.
PEP.ph reported in October 2013 how Sarah appealed to the press to allow her some privacy when it comes to the real score between her and Matteo.
Her failed romances—first with ex-boyfriend Rayver Cruz, and second, with suitor Gerald—was an open book and she wanted to be certain if she's getting into something that is built to last this time.
"Sana naiintindihan niyo po na, this time, sana gusto kong gawing private at ayaw kong haluan ng showbiz.
"Kung sino man yung taong mapapalapit sa puso ko… kasi nandun na po talaga yung takot ko.
"At the same time, gusto ko nang makita kung gaano kasinsero… kung anuman yung… kung gaano kasinsero siguro yung tao na yun. Or, ako din, di ba?"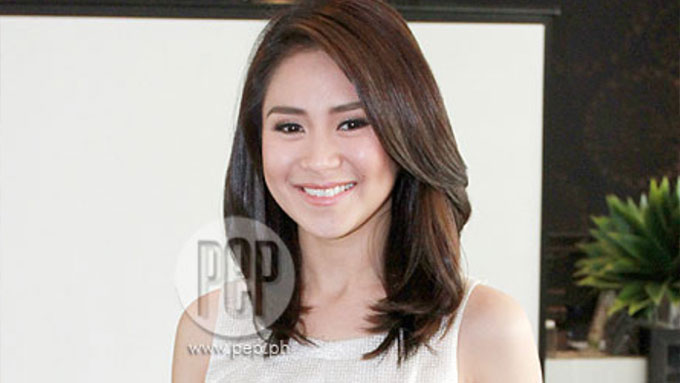 JUNE, AUGUST, AND NOVEMBER 2014
It took almost year before Sarah finally confirmed that she is in a relationship with Matteo.
"O sige, sabihin ko na po, boyfriend ko po si Matteo, so yun," she said in a June 2014 interview that was shown on ABS-CBN's late-night talk show Aquino and Abunda Tonight.
She added, "Kasi marami ding nagsasabi na parang paliguy-ligoy, di ba? So, yun po."
This was followed by Matteo's confirmation when he was put on hot seat in an August 2016 episode of the now defunct Sunday talk show The Buzz.
Keeping it a secret, he said, was something he did out of respect for Sarah's family.
"It was something we talked about, we wanted to keep private.
"That was my way of respecting her side, her family, everybody in her side.
"I just wanted to give full respect and I kept quiet the whole way."
There was also a part in the interview when Matteo made it clear that he's willing to prove his sincere intentions towards Sarah.
He elaborated, "It's not because of who she is, di ba, Sarah Geronimo. It's not that.
"It's the person outside the camera, when we're together, without the make-up and everything, she's really true.
"Parang I don't think I can find anybody like her. I don't want to lose her."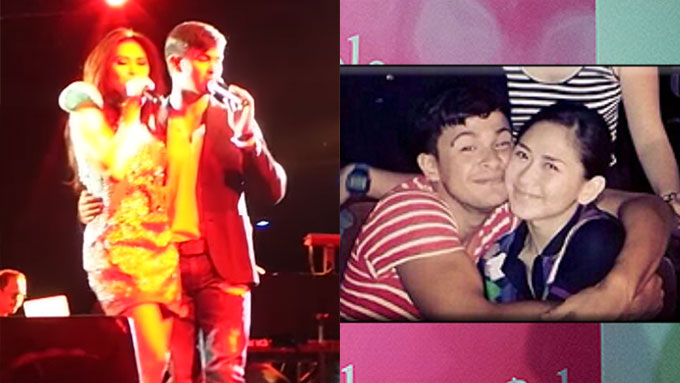 In a November 2014 interview with PEP.ph, Matteo said that his parents and Sarah's parents "have bumped into each other a few times."
He was vocal in saying that his parents totally approve of Sarah.
It was no secret that Sarah's parents, known in showbiz circles as Mommy Divine and Daddy Delfin, are very protective and keep the singer-actress chaperoned at all times.
Does he and Sarah go out on dates unchaperoned?
Matteo answered, "Siyempre naman, siyempre girlfriend ko 'yan, solo ko 'yan, di ba?
"There are ways naman.
"If you love something or somebody, you will do everything it takes to protect and take good care of it."
The couple had an unforgettable date night when they watched John Legend's All of Me concert in Manila in September 2014.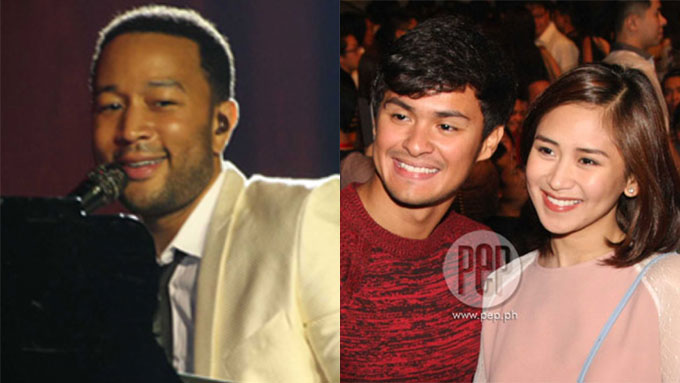 MARCH 2015
A year and a half into their relationship, Sarah and Matteo were allegedly having a tough time with Sarah's parents still not fully accepting their relationship.
Such speculation was fueled by Mommy Divine's absence when Sarah attended Matteo's 25th birthday held at Swatch + Swatch Center, Makati City on March 26, 2015.
This made fans wonder why Sarah's mom—who was known for always looking after the Popstar Royalty in both work-related events and social functions—was missing in action.
That Matteo reportedly wished for "happiness and acceptance" during the party added to questions about whether or not it has something to do with Sarah's parents allegedly laying down strict rules for the couple.
Videos of the party also showed Matteo turning emotional when Sarah gave him this cryptic birthday message:
"I love you... Maraming salamat sa pagmamahal mo.
"You are now becoming a man, and I am praying, lovey, that you will continue to seek God, and that you will become the man that God has planned you to become, okay? Okay? Okay?
"Ako man makatuluyan mo o hindi, okay. Okay? I love you."
YES! Magazine's videos of Sarah and Matteo taken during the party showed how Matteo looked so happy when she sang their favorite song "Thinking Out Loud" during the party.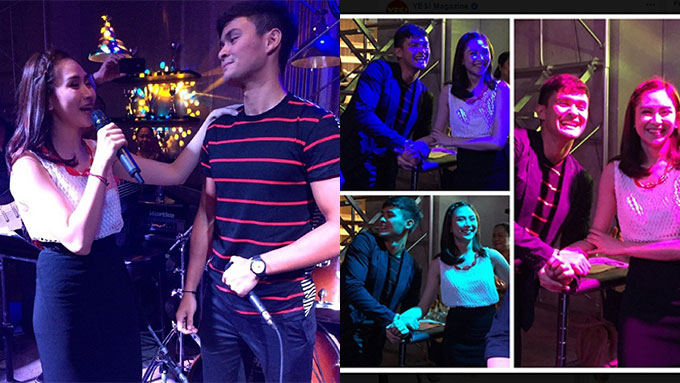 Three days after his party, Matteo was cornered by reporters about his cryptic wish for "acceptance."
At first, he seemed awkward and evasive when quizzed about how he is with Sarah's parents.
Then, as is almost expected of the straight-shooting Matteo, the actor-triathlete admitted that he and Sarah's parents don't see eye to eye in certain things.
"We don't have the same mindset, kumbaga.
"But I respect like whatever mindset they have, what they feel and think about, I respect everything, totally everything.
"I can't do anything because they're the people Sarah loves the most so I love them, too, and I want to love them, too.
"And I hope everything will be better and happier in the future, kumbaga."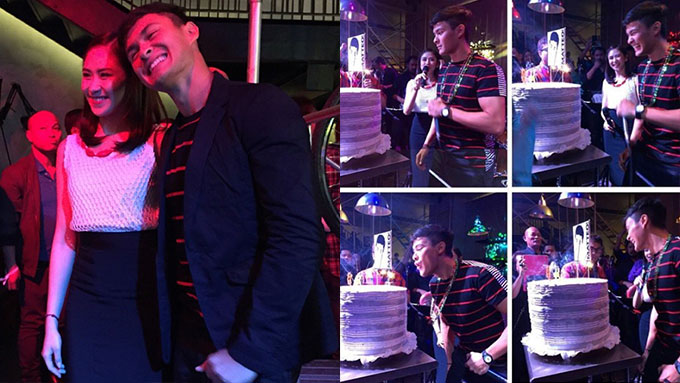 FEBRUARY TO April 2016
It was sometime in the first quarter of 2016 when word got out that Sarah allegedly left her family's Quezon City home because of a rift with her mom.
Sarah kept mum about the issue even when asked by PEP.ph and Cinema News in an interview after her contract signining with ABS-CBN on April 4, 2016.
"Hindi ako lumipat ng bahay, grabe siya!" Sarah exclaimed when asked if it's true that she has started living on her own.
Then she respectfully explained that she'd rather keep family matters private.
"Kasi, paano po ba… huwag natin siyang pag-usapan. Okay na po, huwag na nating pag-usapan," she added.
She then talked about how she flew to Cebu to celebrate Matteo's 26th birthday, on the 26th of March, and then flew back to Manila the next day.
"Usually pag Holy week, nag-i-stay lang kami sa bahay, pero sinadya ko na magpunta ng Cebu para mag-celebrate.
"Very intimate lang, private lang, mga employees lang ng bago nilang business.
"Yun lang, yung family niya, kasama ko yung friends ko, simple lang."
Avid fans of the couple even reposted photos of Sarah blending well with Matteo's family during her visit in Cebu.
Seen in the photo were Matteo's parents, siblings, and grandmother.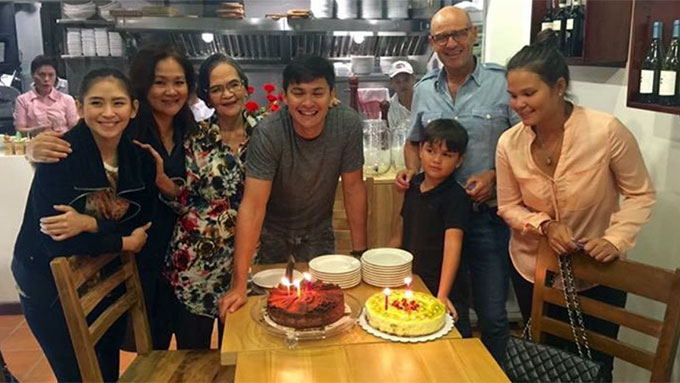 JULY 2016
Being a triathlete and a racing enthusiast, Matteo eventually encouraged Sarah to be more open to adventures.
Just like when they went to a hiking trip to Mt. Pico de Loro in Batangas for Sarah's 28th birthday on July 25, 2016.
Photos of the couple's kilig public display of affection while making their way to the four-hour climb went viral online.
In one snapshot, Matteo gave Sarah a sweet kiss on the cheek upon reaching Parrot's Beak, a steep vertical cliff on the mountaintop.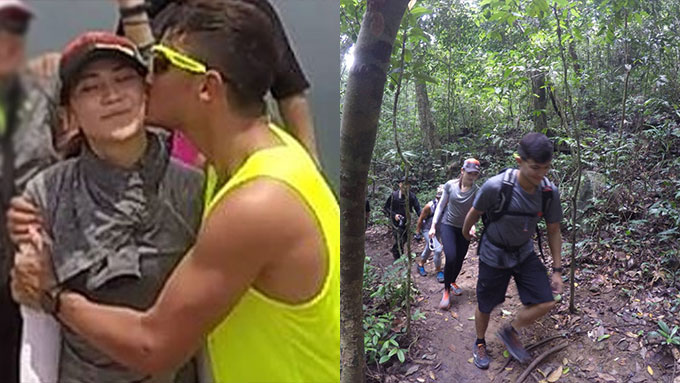 SEPTEMBER 2016
When they marked their third anniversary in September 2016, Sarah and Matteo headed to their next adventure together—swimming with whales in Oslob, Cebu.
The couple were inseparable as they were seen holding hands when they were at the beach or even while walking around the town.
By this time, it seemed like the very private Sarah has gained more confidence with the way she handles her relationship with Matteo.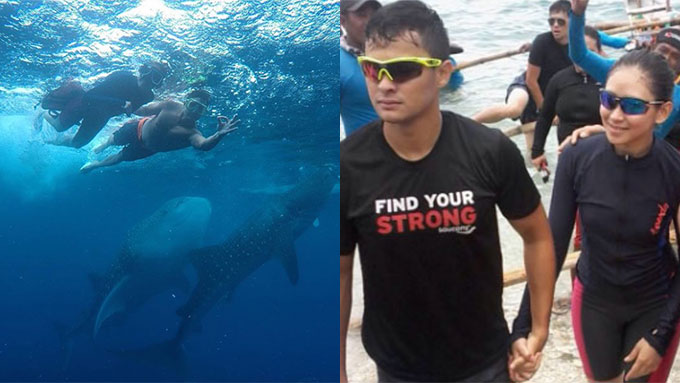 It also brought to mind what Matteo once said that Sarah is becoming an "independent woman" who knows how to stand up for herself.
That was from his 2014 The Buzz interview when he spoke of how happy he is when Sarah first went public about them being a couple.
In the same interview, he was quoted as saying, "Ipinaglaban niya rin po ako, that's why I'm very, very proud of her."
At the same time, he said he understood that Sarah's parents are just "like other parents, very protective for every child."
That he was barely seen bonding with Sarah's parents the way Sarah spends time with his family was something the actor-triathlete has never discussed in public.
After all, Sarah's parents are very low-key people, and more often not, preferring to remain behind the scenes as they look after the Popstar Royalty.
NOVEMBER 2016
In the meantime, happier days were ahead for Sarah and Matteo.
On November 18, 2016, Sarah showed her all-out support for Matteo's MG1 concert at the Waterfront Hotel in Cebu.
The couple looked like they could barely get their hands off each other as they later mingled with colleagues, family, and friends after the concert.
Several photos showed them celebrating director Rowell Santiago's birthday together with singer Martin Nievera, music composer Louie Ocampo, Matteo's mom Glenna, Dyan Castillejo, and Garlic Garcia.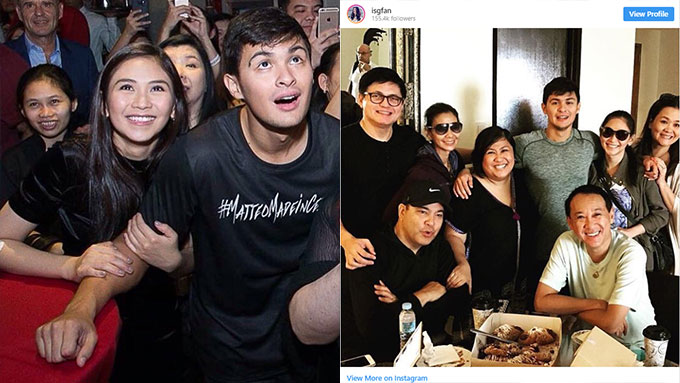 JUNE 2017: DATE NIGHT
During the first half of 2017, Sarah got busy filming Finally Found Someone, her reunion with John Lloyd Cruz.
But Sarah and Matteo still found time to go out for a date night at a posh hotel restaurant on June 5, 2017.
Fans even got hold of the couple's handwritten request for the hotel singer to perform a choice of Norah Jones' "The Nearness of You," Frank Sinatra's "All The Way," or "Moon River."
When PEP.ph got to interview Matteo two days later, he spoke of how he earned the trust of Sarah's parents.
"Just be honest with your intentions. Know what you'll do in the future."
When told that fans look up to him and Sarah as #relationshipgoals, Matteo said that it's "not always beautiful flowers and colorful" but that they make an effort to stay solid together.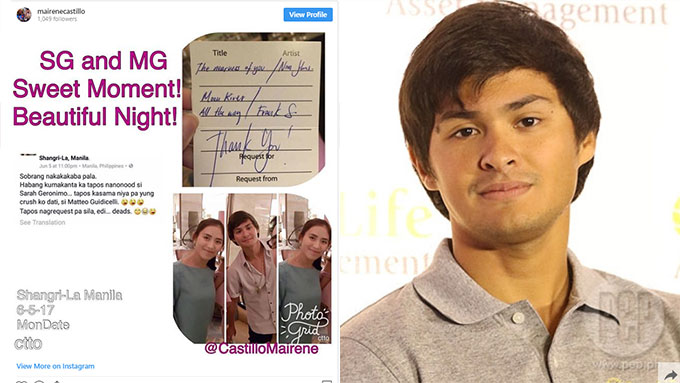 AUGUST 2017
Then on August 7, 2017, Sarah surprised Matteo with a congratulatory banner after he finished the Iron Man triathlon race in Cebu.
She waited at the finish line with a sweet message that read "MATTEO CONGRATS MY LOVE GIHUGUGMA TIKA!!"
Then Matteo gave his girlfriend Sarah a warm hug and kiss on the cheek!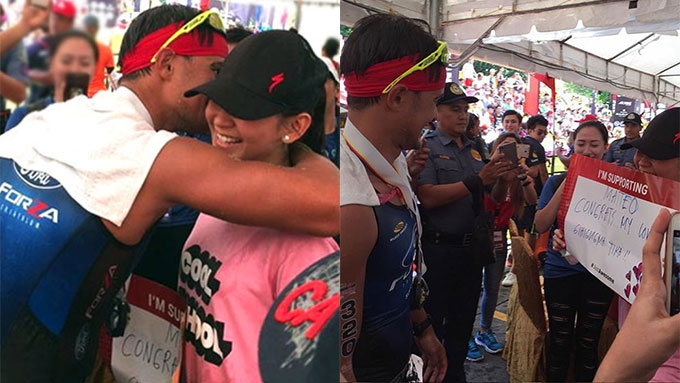 MARCH 2018
On March 26, 2018, Matteo celebrated his 28th birthday with a kilig jamming session with Sarah.
They performed her hit songs "Ikot-ikot" and "Kilometro."
It seemed to be a prelude of Matteo's impending proposal as he sang this kilig line from Kilometro: "Gagawin ko ang lahat upang sa huli sa huli ay tayo."
A beaming Sarah jokingly interjected: "Talaga?! Totoo ba? Totoo ba? Totoo ba?"
It was a night filled with laughter, love, and music as Matteo kept serenading Sarah with kilig songs.
Before the end of the month, the couple also took a beach trip with Matteo's siblings and a couple of friends including Nico Bolzico.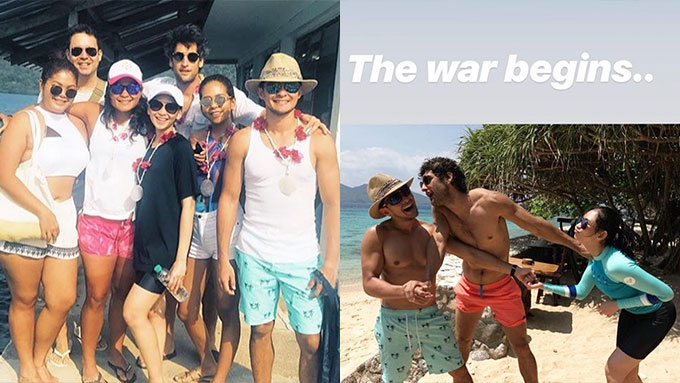 Fans were thrilled as they reposted videos of Sarah and Matteo singing "Let's Stay Together" and "Forevermore" during a night cap inside a beach hut.
Little did the public know that they'd be making their "forevermore" happen in the next few months.
APRIL 2018: SARAH BREAKS DOWN IN LAS VEGAS CONCERT
On April 29, 2018 (U.S. time), Sarah unexpectedly broke down in the middle of her This 15 Me concert tour in Las Vegas, Nevada.
"I'm sorry pagod po ako," a tearful Sarah told the audience.
Sarah explained that she has been struggling with feeling empty despite her success as an artist.
Sharing her realization about what matters in life, she added, "Hindi yung successful na shows or mga hits ang makakapagpakumpleto sa 'yo, ang makakapagpasaya sa 'yo bilang tao, kundi yung tunay na pagmamahal na hindi nagbabago—perpekto ka man o hindi."
She then began to sing "Forever's Not Enough" but it soon became evident that she's having a hard time hitting the high notes of the song.
The Popstar Royalty could barely hide her frustration with her hoarse singing voice.
She eventually turned her back from the crowd and walked out of the stage.
After the concert, Sarah was seen with her mom by her side as the Popstar Royalty kept apologizing for her struggle while singing onstage.
But the Popstar Royalty was still warmly welcomed by supporters telling her that she did alright and what matters is that she has a "big heart."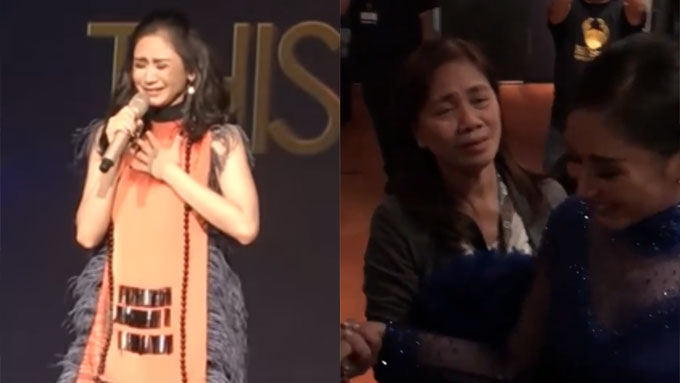 SEPTEMBER 2018: TRIP TO ITALY
Sarah had the chance to enjoy a much-deserved break with Matteo when they left for Italy in September 2018.
They were spotted leaving Manila airport for a reported European vacation.
At the time, the two kept it hush hush with Matteo refraining from posting any pictures with Sarah throughout their trip.
This did not stop fans from speculating about the exact whereabouts of the couple as Matteo only posted on Instagram Stories photos of coffee cups that he ordered from different cafes
Matteo later posted a lone photo of him sitting on a yacht with Italy as his tagged location.
But the Kapamilya actor later confirmed to PEP.ph that he and Sarah went to Italy where they had a lot of coffee dates.
He was evasive, however, about the details of their trip and whether or not he already proposed to Sarah in Italy.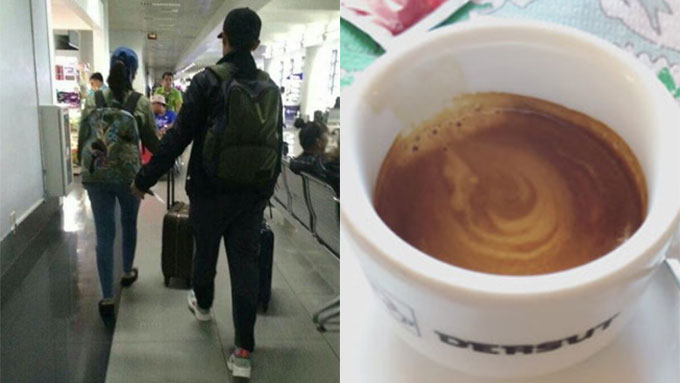 SEPTEMBER 29, 2018: FIRST ABS-CBN BALL
Then on September 29, Matteo brought Sarah for the first time as his date at the first ABS-CBN Ball.
They enjoyed the night of glitz and glamor catching up with friends and getting cozy in what appeared to be their unguarded moments during the party.
Netizens actually caught Matteo giving Sarah a kiss on the cheek while they were standing at a stairway.
DECEMBER 2018 TO FEBRUARY 2019: secretly engaged?
It was in December 2018 when fans of the couple were abuzz with talks of how Sarah was seen wearing what appeared to be an engagement ring.
They were looking for it when the couple stepped out for an outreach activity at the Gualandi Effata Catholic School for the Hearing Impaired in Cebu on December 18, 2018.
Sarah, however, was not wearing any ring at the time.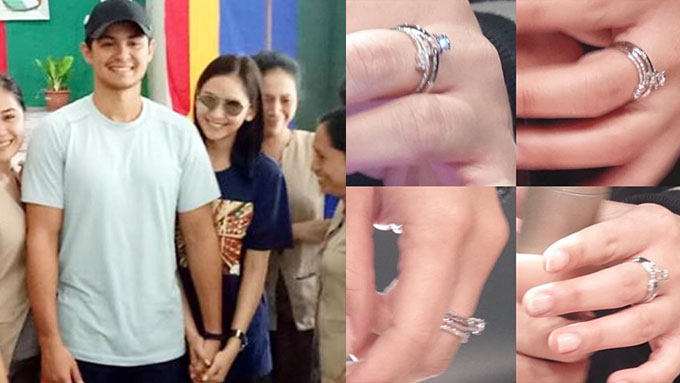 By January 4, 2019, netizens were still speculating about the rings that Sarah was wearing in a series of close-up photos.
Then on January 20, 2019, Sarah was seen wearing a ring on her right ring finger when she came out to watch Matteo's racing event.
Matteo, however, downplayed queries about him proposing to Sarah and said that he'd give her a bigger diamond ring than the ones that came out online.
He exclaimed, laughing, "No, no. It's too small!"
The Kapamilya actor was firm about not speaking about their secret engagement at this time.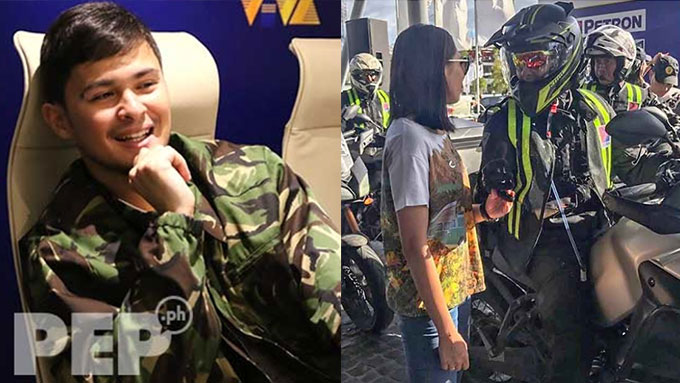 OCTOBER 25, 2019: matteo downplays wedding talks
Matteo was still keeping mum about his engagement with Sarah when he faced the press when he was launched as the new Pedro Penduko on October 25, 2019.
He told PEP.ph that Sarah was chosen to be the maid of honor of his sister Giorgia who's getting married on December 8, 2019.
When teased that he and Sarah will be the next couple to get married, Matteo laughed and said, "Sana, 'no? Twenty-nine years old na ako. Let's see... Pag-usapan natin next year!"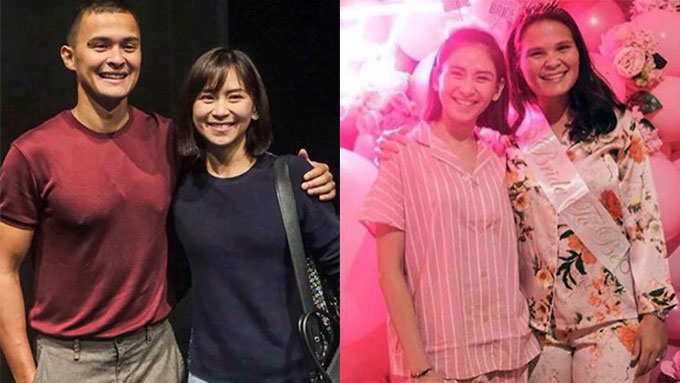 NOVEMBER 2019: ashmatt finally engaged
After a year of keeping it under wraps, Matteo thrilled AshMatt fans as he broke the news that he and Sarah are getting married.
Save for some wacky photos, Matteo didn't give details when and how he proposed to Sarah.
It was his little brother Paolo Guidicelli who revealed that the couple has been engaged "for a about a year" and "nobody found out" about it until now.
Fans couldn't wait to know more about Sarah and Matteo's engagement and wedding plans.
We'll soon find out from the couple. But for now, all the best wishes for these two!