Miss Universe 2015 Pia Wurtzbach and professional car racer Marlon Stockinger have called it quits after almost three years of being in a relationship.
Their breakup was marred by allegation, from unnamed sources close to Pia's camp, that the beauty queen had been disappointed with Marlon's lack of a stable job.
In an official statement sent to PEP.ph (Philippine Entertainment Portal), Pia categorically said that she and Marlon have broken up, but the news about him and his family depending on her for financial support is not true.
She refused to say, however, who initiated the breakup and why their relationship fizzled out.
Here, PEP.ph (Philippine Entertainment Portal) traces the kilig days of the couple, how they dealt with controversies surrounding their relationship, and why things didn't work out between them in the end.
BEFORE DECEMBER 2015: SECRET CRUSH
Pia once confessed that she secretly had a crush on Marlon "few years" before she was crowned Miss Universe in December 2015.
But she didn't have the guts to reach out to him just yet because she failed to win Binibining Pilipinas for two consecutive years.
"I was thinking, 'He's never gonna notice me,'" the Filipino-German beauty queen admitted in a 2017 makeup video tutorial with Internet sensation Patrick Starr.
It was more than halfway through her Miss Universe reign when she finally mustered the courage to make the first move on him by liking his pictures on Instagram.
She said it was her way of "knocking on his door" and letting him know "I'm here."
Pia's strategy actually worked.
She went on to say that Marlon, a Filipino-Swiss, later told her that it got him into scrolling through Pia's Instagram feed.
It was only then that he learned that she was the one who gave the Philippines the much-coveted Miss Universe crown after 42 years without it.
"He didn't even know who I was," Pia added, smiling.
At the time, Pia was living in New York, where the headquarters of the Miss Universe organization is located.
Marlon, for his part, was then based in Europe as a professional race car driver, whose experience includes being part of Lotus Formula 1 junior team in the 2013 World Series by Renault.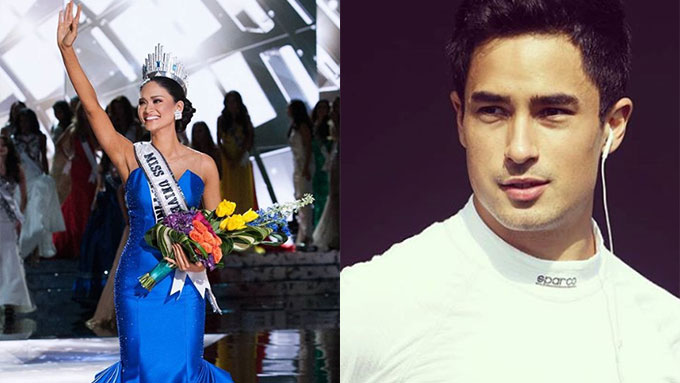 SEPTEMBER 26, 2016: meeting in new york
The two have been getting to know each other online until they finally had the chance to meet in New York.
It was Pia who first posted on Instagram a picture where she's holding on to Marlon's shoulder as he takes a selfie of them spending time at the park.
She hinted at their blooming romance by calling herself a "Marloner" in her own caption of their photo together.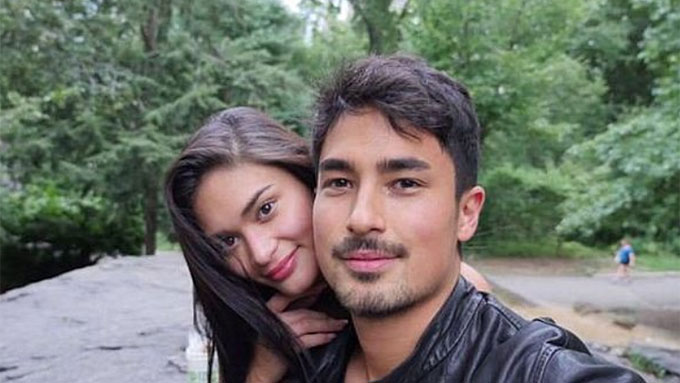 After 15 days, Marlon posted on Instagram of him meeting up with Pia in Manila.
"NY-Manila with this one [smiley] @piawurtzbach," he wrote in his caption.
These photos of Pia and Marlon kept netizens guessing about the real score between them.
That they were not letting distance hinder their still-unconfirmed romance seemed to be a sign that they're serious about each other.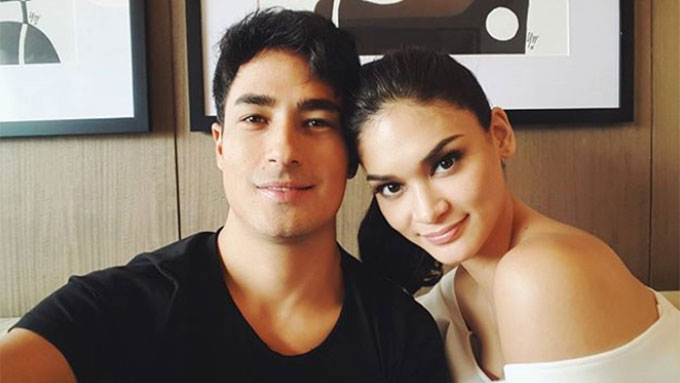 OCTOBER 2016: exclusively dating?
Then, on October 2016, Marlon confirmed that he and Pia are "seeing each other."
He gave the statement to PEP.ph and Cinema News when he was interviewed on the sidelines of the Star Magic Ball.
While he was careful about giving too much details about him and Pia, Marlon said that Pia would have been his date to the ball if she happened to be in Manila that night.
He also hinted at exclusively dating Pia by saying that she's no longer seeing Mikhail Vershavski, also known as Dr. Mike, who earned the online tag "the sexiest doctor alive."
The American-Russian doctor was romantically linked to Pia during the first quarter of 2016.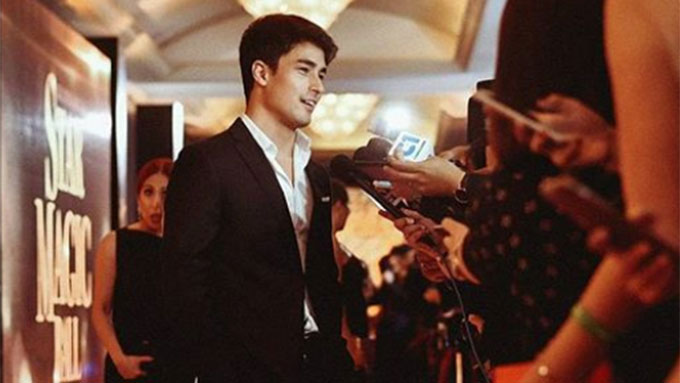 NOVEMBER 28, 2016: date in singapore
Pia and Marlon really made an effort to see each other whenever their schedule permits it.
They even went on a date in Singapore, based on their social media posts dated November 28, 2016.
By then, speculation was rife that Pia and Marlon were already a couple.
In one photo, they were in a loose hug just as they were smiling at each other.
The snapshot was taken somewhere overlooking Gardens By The Bay, a famous tourist spot in Singapore.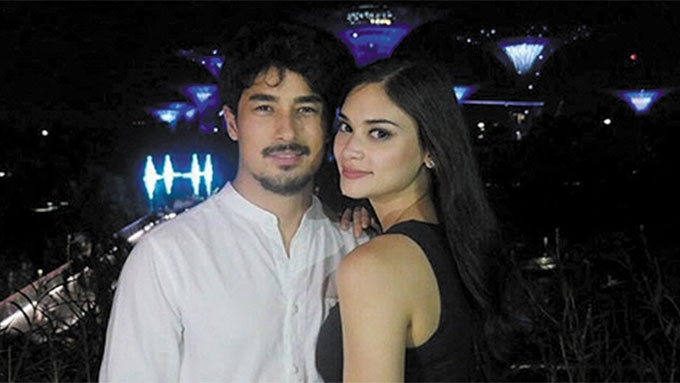 JANUARY 1, 2017: THE SEXY COUPLE
Pia and Marlon made waves when when they welcomed New Year together with a trip to the beach.
Marlon took a photo of Pia wearing a skimpy bikini that flaunted her 36-23-35 figure.
They also made a picture of a happy couple with a topless Marlon carrying Pia by the beach.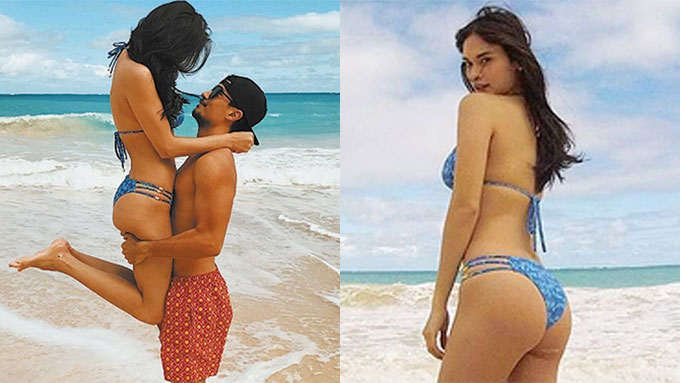 JANUARY 26, 2017: PIA'S CONFIRMATION
It didn't take long before Pia herself confirmed that she's in a relationship with Marlon.
Fourteen days before she relinquished her crown as Miss Universe, Pia went on record about Marlon being every inch of her ideal guy.
"I'm glad that I finally met somebody who's very secure with himself and who understands my job, and who's not afraid to let me have my moment such as right now, now that the competition is happening here."
She said this in an interview with ABS-CBN News' Dyan Castillejo on January 26, 2017.
She was also very happy that Miss Universe organizers approved of her relationship with Marlon, which meant that she didn't have to worry about it causing problems with her taking on Miss Universe duties.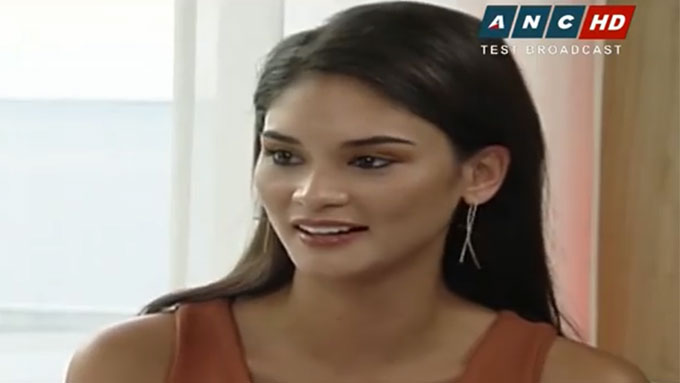 FEBRUARY 11-13, 2017: FIRST VALENTINE CELEBRATION
Their relationship was certainly filled with adventures as they went on a trip to Brunei for what appeared to be their first Valentine celebration as a couple.
Photos of their three-day trip surfaced online showing them enjoying a boodle-fight-type meal and dressing up in traditional Brunei outfits for a clothing brand.
A report from PEP.ph indicated that the couple stayed at The Empire Hotel and Country Club, a luxury hotel in Bandar Seri Begawan wherein room accommodations ranges from "PHP9,500 to PHP 96,800" per night.
The report also mentioned that they were seen being greeted by Brunei-based Filipino businesswoman Kathelyn Dupaya.
By this time, it wasn't known yet how Pia and Marlon got to know Dupaya.
But their association would later cause a social media controversy involving the beauty queen.
Seen below is a photo of the couple lounging by the pool of their hotel in Brunei: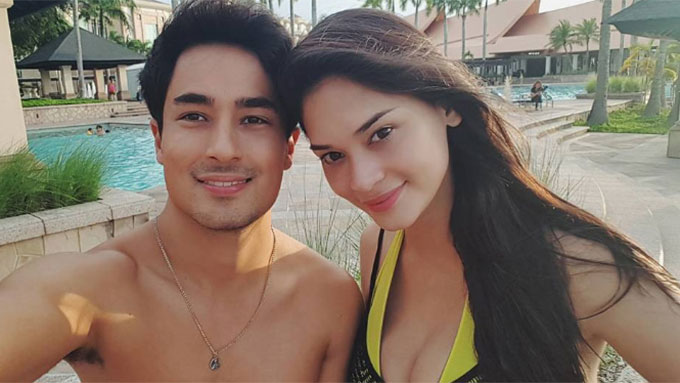 MARCH 8, 2017: PIA ASKED ABOUT MARLON'S PATERNITY ISSUE
The relationship of Pia and Marlon was first marred by a controversy about Marlon fathering twins to an ex-girlfriend.
Pia was candidly asked about it at a press interview right after she was launched as a celebrity endorser for a fabric conditioner.
Keeping her cool, she simply answered, "I have actually never… Are you sure it's the same Marlon? There's a lot of Marlon… I don't know anything about that."
It appeared to be the first time Pia heard about the issue involving her boyfriend.

She added, "Because if it does turn out not to be true, then the credibility of the media would be…
"I guess we just have to check the facts first, but I really don't know."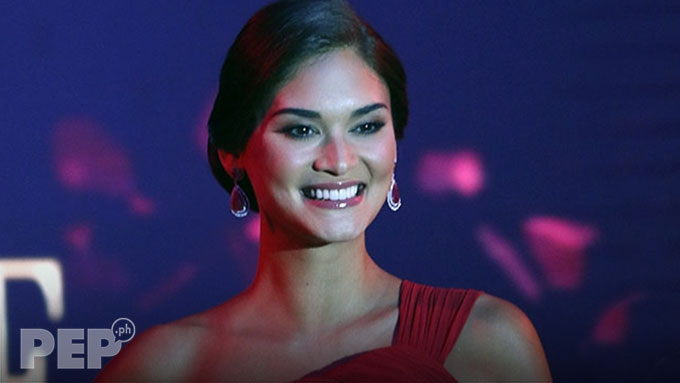 MARCH 28, 2017: EX-GIRLFRIEND OF MARLON BREAKS SILENCE
Then on March 28, 2017, PEP.ph released an exclusive interview with Kit Barraquias, a model and fitness enthusiast.
Kit categorically said that she is the mother of seven-year-old twins and that ex-boyfriend Marlon is the biological dad.
"We had twins. He's the biological dad. I don't wanna say he's the dad… just the biological dad," said Kit.
She made it clear that Marlon never saw their kids and that she never asked for financial support from him.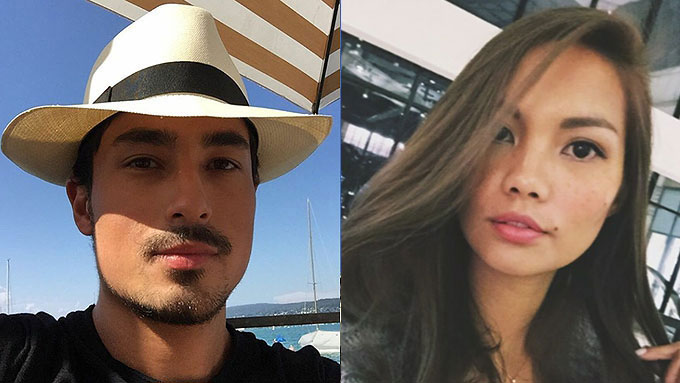 APRIL 4, 2017: MARLON MUM ABOUT PATERNITY ISSUE
At the height of the controversy, both Marlon and Pia remained tight-lipped about him having kids with an ex-girlfriend.
Whether or not Pia knew about Marlon's past before it got leaked to the media was not clear.
But the couple showed that they're still very much together as they celebrated Marlon's 26th birthday on April 4, 2017.
It was Marlon who posted on Instagram photos of what looked like an intimate house party with few friends plus Pia.
Eight months passed before Pia spoke about how the paternity issue involving boyfriend Marlon only made their relationship stronger.
She said she did not consider breaking up with Marlon because he is "first and foremost my best friend before he is my boyfriend."
It meant standing by each other through thick and thin, she added in her interview with TV host Boy Abunda on Tonight With Boy Abunda's December 25, 2017 episode.
Pia also said that it was her idea that she and Marlon keep things low-key whenever they are plagued with showbiz controversy.
APRIL 20, 2017: BRIEF RIFT WITH A BRUNEI-BASED BUSINESSWOMAN
Also in April 2017, Pia got caught up in a controversy involving Brunei-based businesswoman Kathelyn Dupaya who accused Pia of ingratitude.
Dupaya took to Instagram her complaint that Pia was allegedly badmouthing her after providing the beauty queen an all-expense-paid trip to Brunei.
Dupaya also accused Pia of breaking their agreement that the beauty queen would drop by the businesswoman's newly-opened spa in Brunei.
In a follow-up report published by PEP.ph, Dupaya narrated that she was the one who brought Pia and Marlon to Brunei for their Valentine celebration in February.
In exchange for the all-expense-paid trip, Dupaya said she expected that Pia would at least show up at the soft opening of her spa without having to participate in the ribbon-cutting ceremony.
Dupaya added that she was willing to make it a private visit so Pia won't have to mingle with other guests, but the beauty queen allegedly was a no-show.
"Sabi ko sa mother ni Marlon at sa friend ko, 'Kung alam ko lang na di kayo sisipot at maraming bawal si Pia, hindi ko na kayo pinapunta dito at gagastos ng malaki.'"
Dupaya explained she has been acquainted with Marlon and his parents after she helped the racer find luxury hotel accommodations in January 2017.
Then Dupaya met Pia through Marlon.
Dupaya's complaint about Pia only lasted two days.
Via Instagram on April 22, 2017, Dupaya issued a public apology to Pia stating that what happened between them was just a "MISUNDERSTANDING."
Dupaya then said that she had a long talk with Pia's manager Jonas Gaffud, and it made her realize that she had been too rash in attacking Pia on social media.
Gaffud's separate statement partly read, "I thank Kathy for clarifying the issues she raised against Pia, and for apologizing for what she has done.
"Clearly, what happened was misunderstanding as she never heard Pia talk bad about anything.
"Pia is thankful for the hospitality that Kathy provided during her private vacation in Brunei."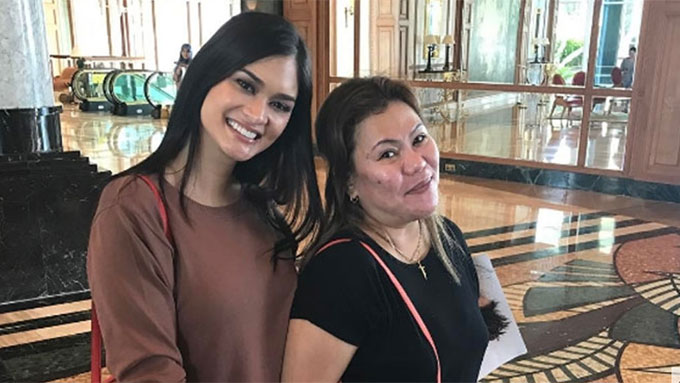 JANUARY 2018: QUALITY TIME IN NETHERLANDS
In January 2018, Pia and Marlon started the year vacationing in Netherlands.
Marlon even wished for a "a great year ahead" with the love of his life.
He also showed some of their "cheesy" moments together as they made the most of the romantic ambience under a tree filled with Christmas lights.
It was a perfect time for them to bond before Pia got busy shooting the film My Perfect You, her first lead-starrer, with Gerald Anderson as her onscreen partner.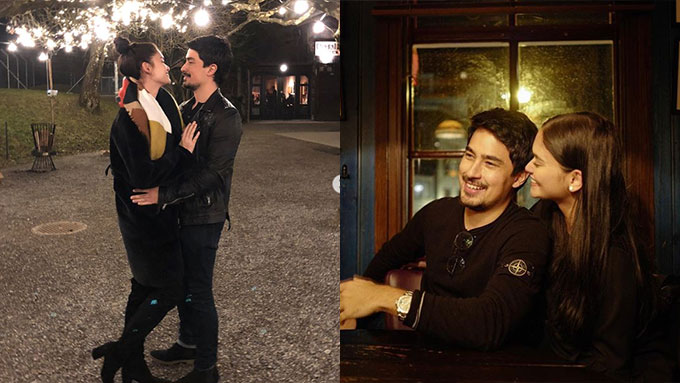 MARCH to november 2018: PIA-GERALD ALLEGED ROMANCE
Pia and Marlon's relationship was put to the test once again when the beauty queen got romantically linked to Gerald.
Speculation was rife that Pia allegedly caused the love trouble between Gerald and his girlfriend Bea Alonzo as soon as the latter unfollowed the two My Perfect You Stars on Instagram.
It was reported that Bea deleted two of her posts where she promoted My Perfect You as well as her throwback photo with Pia when they co-starred in the 2002 teen-oriented series K2BU.
Netizens also didn't fail to notice that Bea's hair stylist posted a cryptic message about womanizers and its possible connection to rumors that Bea and Gerald have broken up.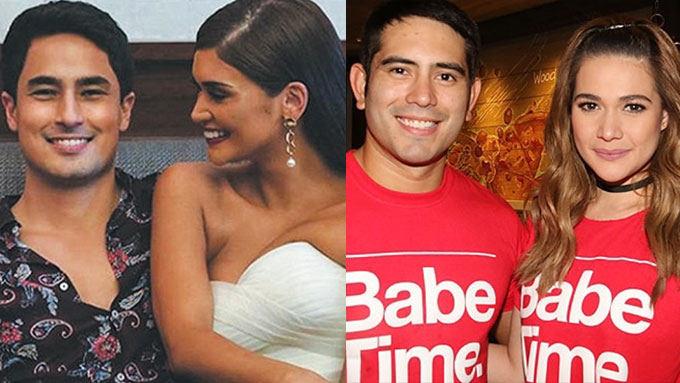 In May 2018, Bea was quoted in an ABS-CBN News report that she is "technically single" causing speculations she and Gerald haven't patched things up yet.
Bea and Gerald never discussed the cause of their love trouble even when they eventually got back to being a happy couple, until they broke up for good in July this year.
As for Pia and Marlon, they seemed unfazed even at the height of Pia's alleged romance with Gerald.
Marlon even showed his full support to Pia by watching My Perfect With You with her.
It was reported, however, that Pia managed to evade the controversy by skipping media interviews wherein she would likely be grilled about Gerald.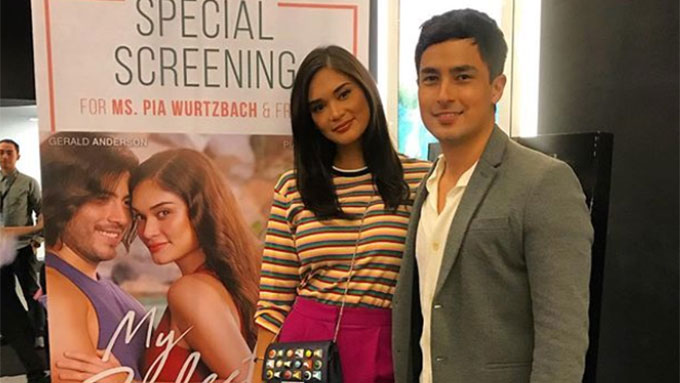 NOVEMBER 30, 2018: SECOND ANNIVERSARY
After the trials in their relationship, Pia and Marlon marked their second anniversary as a couple with a romantic dinner date.
He posted on Instagram a picture of the two of them toasting to "many more years" together.
His sweet message for Pia read in part: "I hope you enjoyed my little surprise for you... Happy anniversary love."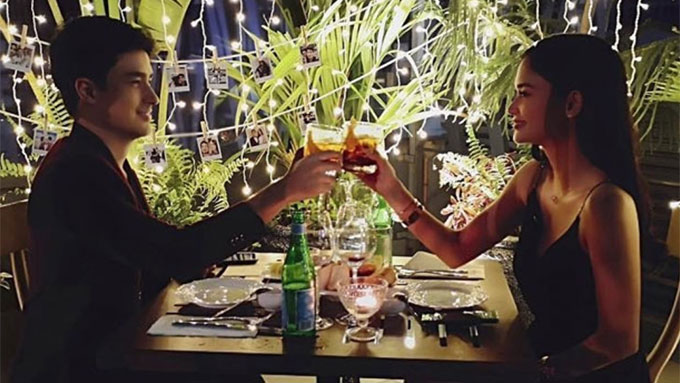 DECEMBER 2018, APRIL 2019: MORE TRIPS ABROAD
By now, it was clear that both Pia and Marlon enjoy spending quality time together abroad.
In December 2018, Marlon escorted Pia when she attended the Miss Universe 2018 coronation in Thailand.
The couple happily cheered for Philippine bet Catriona Gray who bagged the crown.
"Amazing event here in Thailand. What a win for our country the Philippines," wrote Marlon in his Instagram post dated December 17, 2018.
Then in April 2019, the couple went to Dubai for vacation.
They didn't pass up the chance to take a souvenir photo at the top of Burj Khalifa, which is one of the tallest buildings in the world.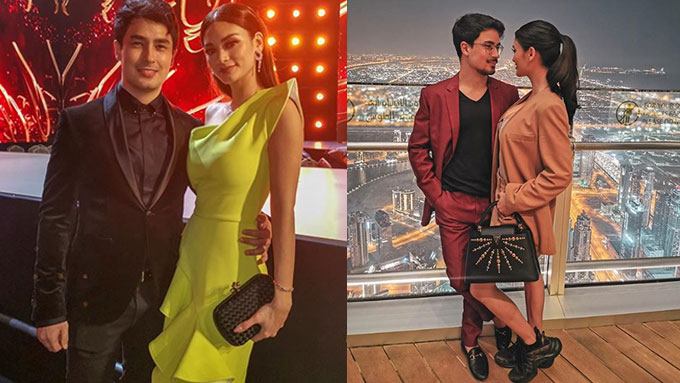 AUGUST 2019: LAST VACATION TOGETHER
Then in August 2019, Pia and Marlon spent time together in Los Angeles.
They even had a cute photo-op by the Urban Light sculpture at the Los Angeles County Museum of Art.
Marlon's caption of his Instagram photo with Pia read: "Chased the summer all the way to US with you."
They certainly didn't look like they were on the verge of breaking up.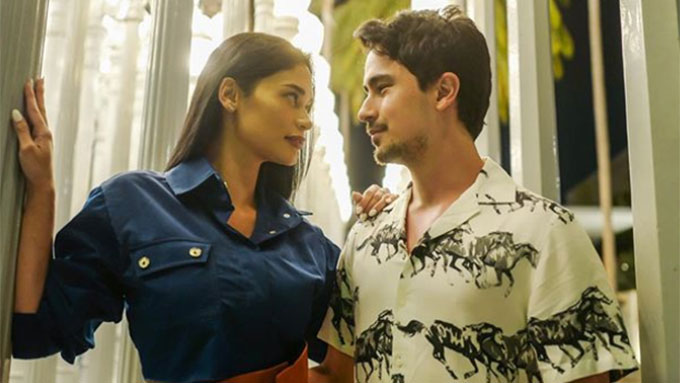 SEPTEMBER 2019: THE BREAKUP
But by September 2019, Pia and Marlon's relationship headed to Splitsville.
Both of them refrained from making it public until it was reported on several online entertainment news publications this December.
On December 5, PEP.ph reported that Pia's business manager Rikka Infantado Fernandez confirmed that the couple had an on-and-off relationship up until this "final" breakup.
Rikka also said that Pia has been single since she turned 30 years old on September 24.
That Pia deleted all of her pictures with Marlon was deemed to be a sign that she's really not getting back with the racer this time.
An unnamed source from Pia's camp added that Marlon's lack of work contributed to the couple's split.
There were also rumors that Marlon doesn't earn from his profession as a racer and that he and his family are depending on Pia for financial support.
But on December 5, 2019, Pia went on record that those rumors were unfounded.
Sent through her business manager, Pia's full statement read:
"It's true that Marlon and I are no longer together.
"I wish him and his family well, and out of respect for them, let me make it clear—Marlon and his family never depended on me financially.
"This will be my only statement on the matter. Thank you for your support."
A separate report from The Philippine Star, dated December 5, cited unnamed sources saying that Pia has a "new suitor" who they think is a better match for the beauty queen than Marlon.
The report didn't say, however, if Pia is ready to get back to the dating scene anytime soon.
Marlon, for his part, still hasn't issued any statement about his breakup with Pia.
He hasn't deleted any of their couple photos, but continues to be active on social media based on his latest posts and replies to his followers on Instagram.
The photo of Pia and Marlon below was taken from when they attended the first ABS-CBN Ball in September 2018: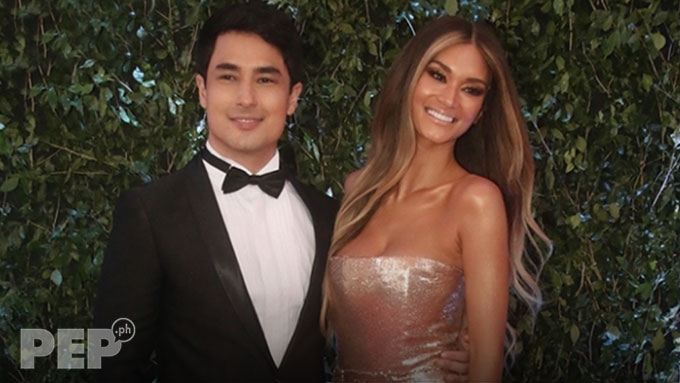 So PEPsters, how do you feel about Pia and Marlon breaking up? Is there really no chance of them getting back together?