There are areas in the country that will still fall under Enhanced Community Quarantine (ECQ), and there are areas that will now fall under General Community Quarantine (GCQ).

The following are the areas that will remain under ECQ (Enhanced Community Quarantine) for two more weeks, or up to May 15, 2020:
Metro Manila (National Capital Region)
Calabarzon (Region IV-A)
Central Luzon (Region III), except Aurora
Benguet, including Baguio City
Pangasinan
Iloilo
Cebu, including Cebu City
Davao City
In these areas, ECQ rules that have strictly been in effect since March 17 have not been modified in any way.
Under IATF Resolution No. 29, all other regions and provinces not mentioned under ECQ shall automatically fall under GCQ (General Community Quarantine).
There is, however, the possibility that GCQ in low-risk areas may actually be lifted after May 15 "should no deterioration in their risk level occur."
Meantime, the ECQ period for high-risk areas shall be subject to further evaluation before these areas can transition to GCQ.
Starting May 16, all decisions to impose, lift, or extend community quarantine shall rest with the Inter-Agency Task Force for the Management of Emerging Infectious Diseases (IATF-MEID).
WHAT HAPPENs UNDER GCQ?
In areas under GCQ, government offices, salons, and parts of shopping malls will reopen beginning May 1, 2020.
This is after government loosened quarantine protocols for regions and provinces considered low-risk and moderate-risk areas.
Under GCQ guidelines, there are individuals who will still not be allowed to leave their homes, curfew hours will still be enforced, and certain establishments will still remain closed.
WHO MAY GO OUT OF THEIR HOMES UNDER GCQ?
1. You may go out of your homes only to buy basic necessities. EXCEPT:
– persons 20 years old and below
– senior citizens
– people with high-risk health issues
2. You will be subjected to mandatory temperature checks, you have to wear a mask outside the house, and you many not consume alcohol in public places. Physical distancing will strictly be observed.
3. Local government units shall impose curfew for non-workers, from 8 p.m. to 5 a.m.
4. Checkpoints will remain in place. You are required to bring a valid I.D. wherever you go. You will still be questioned if you defy the GCQ rules.
PUBLIC TRANSPORTATION, GOVERNMENT OFFICES, OTHER ESTABLISHMENTS DURING GCQ
1. Public transportation may operate but at reduced capacity.
2. Airports and seaports may operate to allow the unhampered movement of goods.
3. All government offices will resume operations.
4. In shopping malls and commercial centers, only non-leisure stores (supermarkets, hardware stores, clothing shops) will be allowed to reopen. Malls will limit the entry of shoppers.
5. Diners are still prohibited from eating in restaurants. Food shops may only do take-out and delivery.
6. Barbershops, salons, spas, and other personal-care businesses will resume operations, subject to strict health standards.
7. Priority construction projects can resume.
8. Publishing activities, and movie, music, and television productions will also be allowed.
WHO ARE ALLOWED TO GO TO WORK DURING GCQ?
1. Selected workers in non-essential services are allowed:
– electronics
– exports
– manufacturing
– e-commerce
– delivery
– repair services
– maintenance
– housing
2. In certain sectors, half of the employees will be working from home, while the other 50 percent will work on site. These sectors include:
– finance
– business process outsourcing (BPO)
– non-leisure trade and service
ESTABLISHMENTS THAT REMAIN CLOSED under gcq
– schools
– amusement centers
– gyms, sports facilities
– gambling and betting activities
– libraries and museums
– tourism services
MASS GATHERINGS STILL PROHIBITED under gcq
– concerts and shows
– festivals
– trainings and workshops
– conferences
– conventions
– tournaments
– rallies and parades
BUSINESS SECTORS ALLOWED TO OPERATE
The Department of Trade and Industry (DTI) provided a list of business sectors allowed to operate under ECQ and GCQ.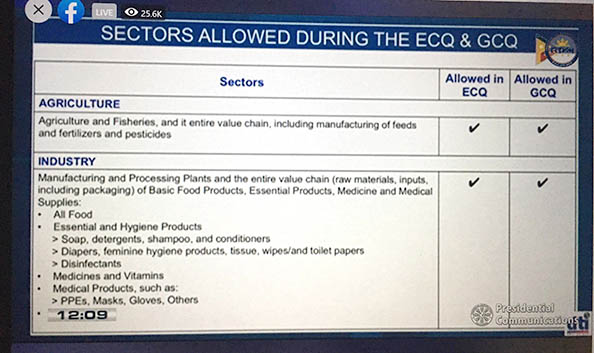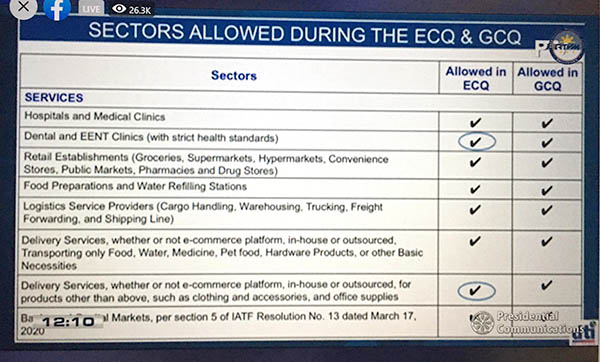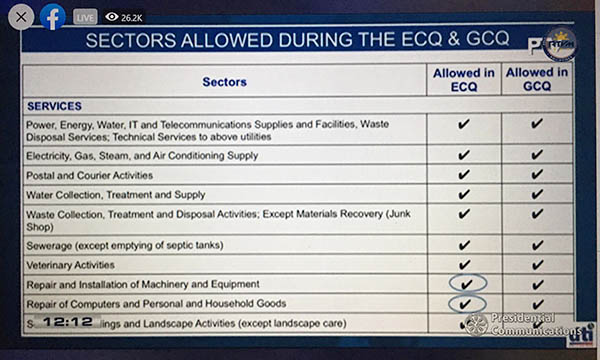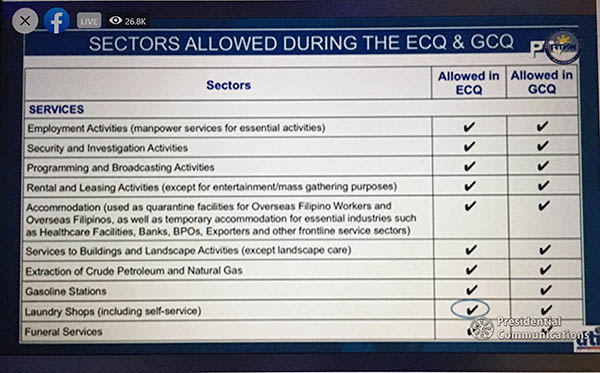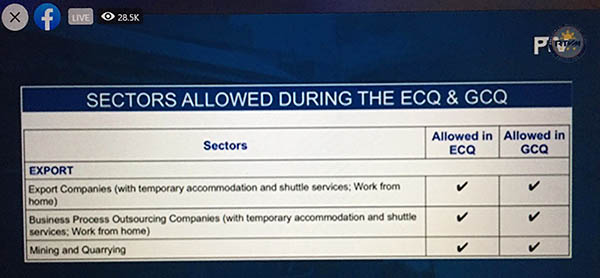 ESTABLISHMENTS THAT may REOPEN UNDER GCQ
The DTI also made a list of establishments NOT allowed to operate during ECQ, but are permitted to reopen under GCQ.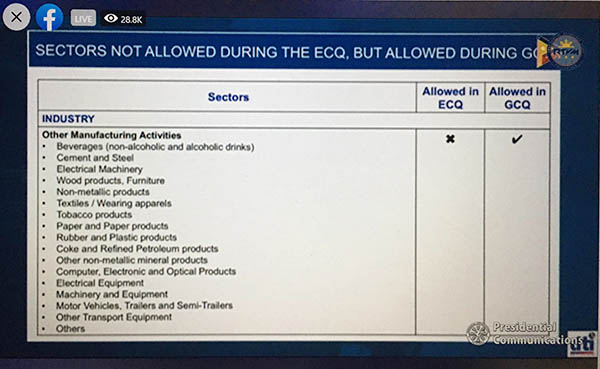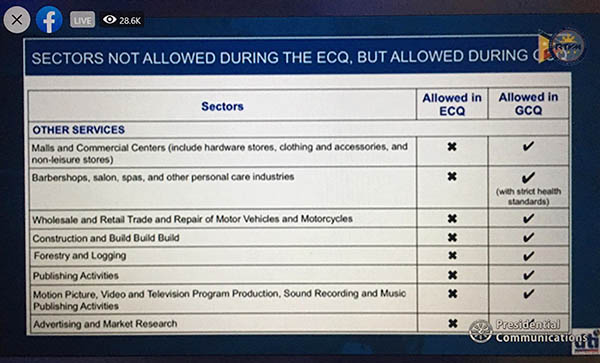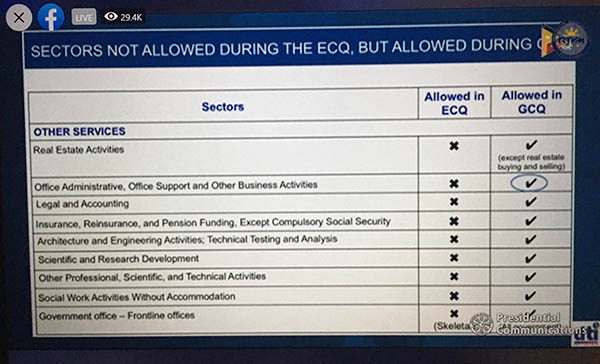 STILL CLOSED
The DTI identified sectors which have to remain closed for now.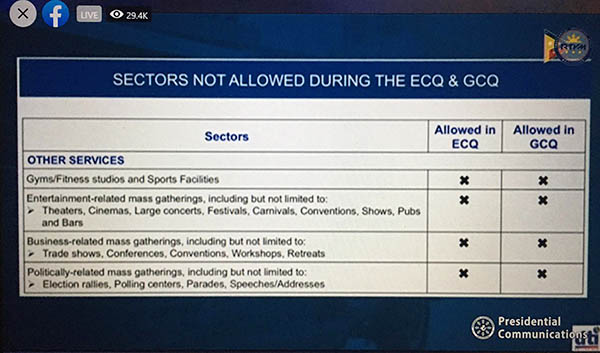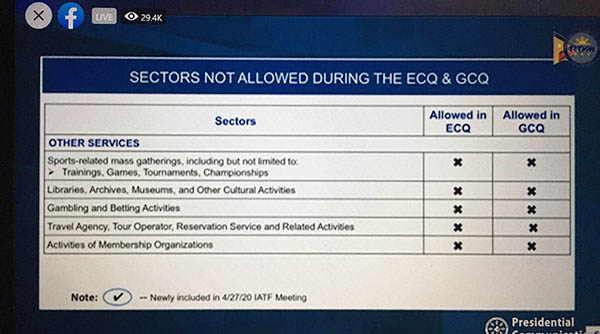 As of April 28, the Department of Health has recorded a total of 7,958 confirmed COVID-19 cases in the country, with 975 recoveries and 530 deaths.