Jinri Park is fed up with bashers targeting her non-showbiz husband, John.
The former Pinoy Big Brother housemate told off naysers in the caption of a recent Instagram post.
Published as is, she wrote: "If you ever comment something mean about my husband or say things like he must be rich I'll block you.
"Not that I have to explain to you but he the best partner for me who is an employee of a company where he works very hard for to earn a living.
"I love him for simply who he is.
"Maybe I'm not as shallow as the other people you judge me to be, going for looks, status, money or whatever shallow reason.
"He's an amazing husband and I will not tolerate anyone who judges him.
"You don't know anything about him."
In the comments section, Jinri didn't hesitate to express her frustration to her followers.
One person implied that the hate might be all in Jinri's head, as there didn't seem to be any comments against her husband.
But the celebrity vlogger clarified that the bashing did happen and she already deleted those "mean comments."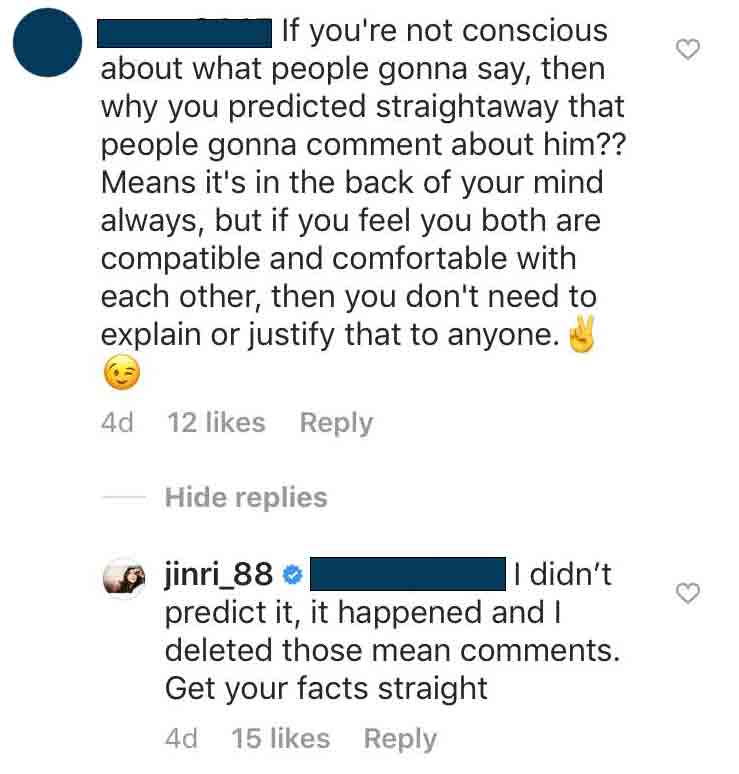 The person then told Jinri that she doesn't "need to give attention to those creeps, live life happily, that's it."
But Jinri seemed to think this was easier said than done, as she replied, "well maybe unlike you I can't stand it when people bash my loved ones.
"I would stand up from them anytime esp when they are saying something mean and hurtful"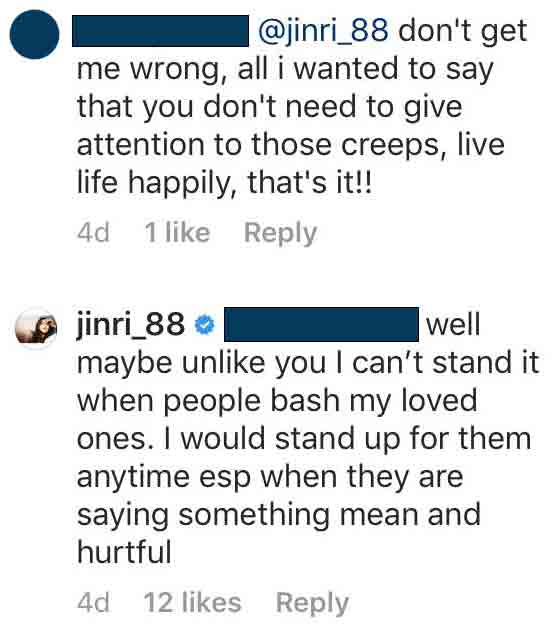 The commenter agreed with the celebrity DJ, but said that since Jinri is a celebrity, she should just block these bashers rather than speak up.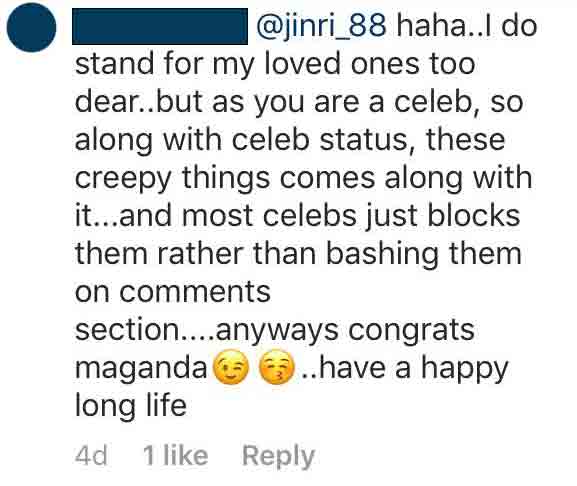 Jinri strongly disagreed.
She pointed out that her celebrity status doesn't mean she no longer has the right to speak her mind, especially when it comes to issues that affect her and her family.
"I'm fed up of people saying 'it's part of our job,'" part of her reply read.
Jinri had witnessed a lot of celebrities take their own lives because they were silenced.
Written as published, she continued: "I don't want to be a victim of that.
"I'll speak up when I have to, fight for the ones I love and be true to myself.
"My job doesn't define me nor does it acquire me to just shut up and take whatever is thrown at me.
"This is me.
"And I'm not taking shit from people anymore."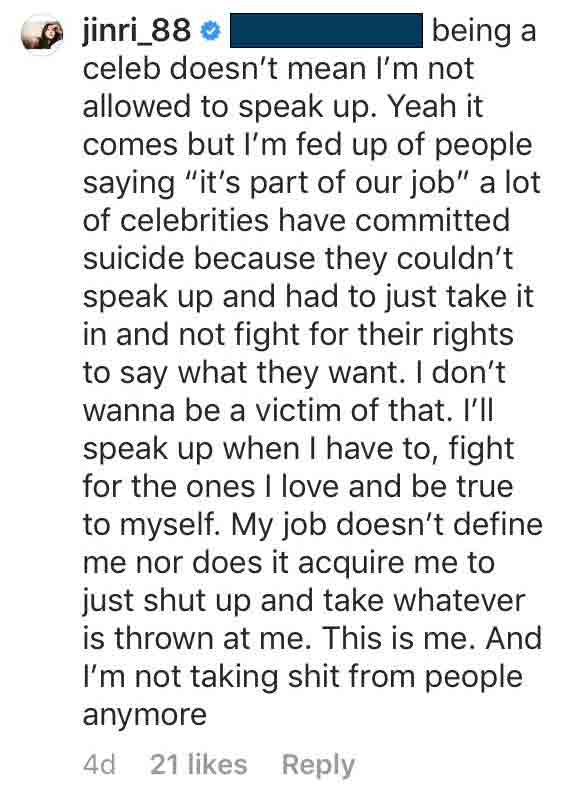 Jinri then clarified that she was explaining her side.
In a different reply, she said, "Maybe you don't know what it means to be bashed since you don't get it as much as I do online."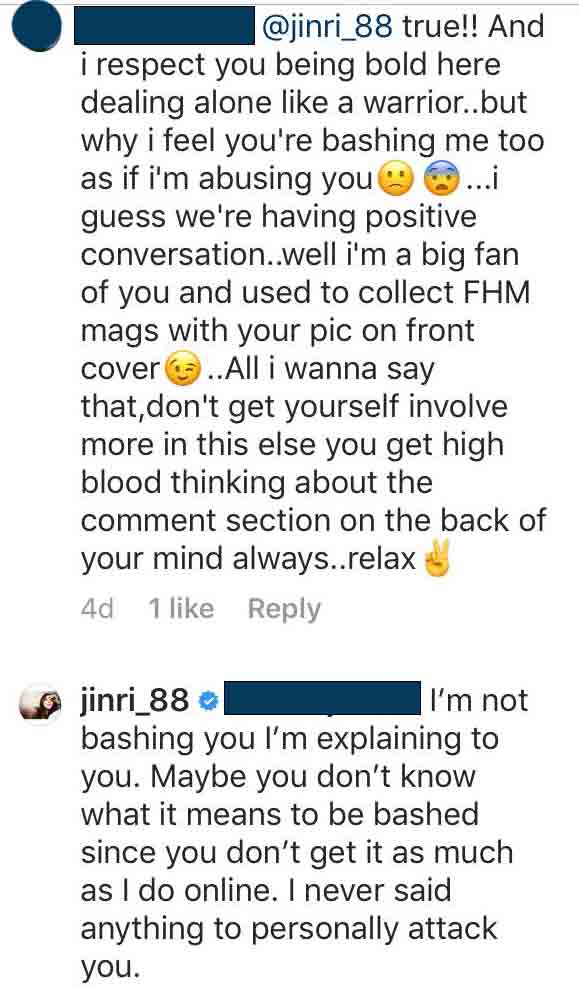 JINRI ON HUSBAND JOHN: "HE IS AMAZING."
Some were mean, others were curious.
One individual wrote: "How could you marry that guy, a woman like you should have someone better"
Jinri answered: "a man like him could have had someone better, I'm the lucky one."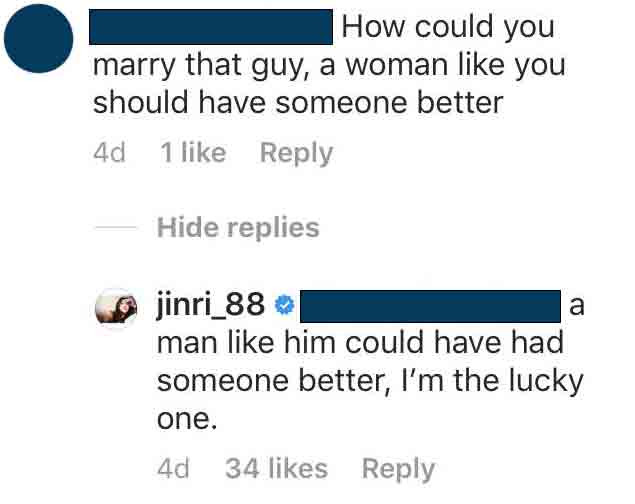 One comment read: "I like this pic. It gives me hope that normal men like us had a glimpse of a chance to marry a goddess."
But to Jinri, her husband is "more than normal."
John is "amazing."
She said, "Love is not based on physical attributes at least for me!
"And he's cute in my eyes [heart-shaped eyes emoji]"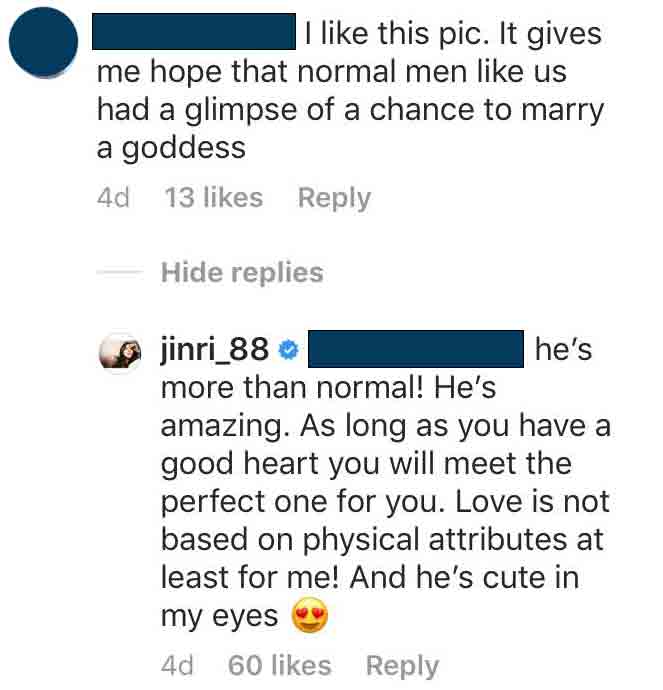 One of Jinri's female followers showed support for the celebrity DJ, saying that they should stop judging people's looks. Instead, they should focus on the happiness that Jinri has found.
Jinri announced her engagement to John in July 2019.
John, who is a full-blooded Filipino, is based in Australia.
The couple met when Jinri took a vacation in Sydney, and John served as their group's tour guide.
Five months after announcing their engagement, Jinri and John had a small wedding ceremony in South Korea with the bride's family.
Their "official" wedding was supposed to be held last March, but the couple was forced to postpone the event in light of the COVID-19 pandemic.
Still, Jinri and John had an intimate wedding in Sydney.
The couple still plans to hold a grand ceremony in Manila, so Jinri can finally celebrate her marriage with family and friends.
Gusto mo bang lagi kang una sa showbiz news at scoops? Subscribe to our Viber Chatbot here para lagi kang updated, and join our community for more pakulo!