"I also hope those couples like us who fear ridicule, shame, or hate, come to know that love always wins in the end..."
These are the words of Youtube star Mikey Bustos, who considers coming out about his relationship with longtime partner RJ Garcia a big "leap of faith."
Mikey is a Filipino-Canadian vlogger who rose to fame with his funny videos about what it's like being a Filipino in a foreign country.
RJ used to be Mikey's friend and neighbor in the Philippines, and later became the Youtube star's manager since 2012.
The couple have been together for six years before they decided to make public the real score between them on Easter Sunday of April 2019.
It was also the first time that Mikey acknowledged being a proud member of the LGBTQIA+ (lesbian, gay, bisexual, transgender, queer, intersex, asexual) community.
In June 2019, Mikey recalled that he and RJ went through a long process before they made their relationship official.
There were many nights before bedtime, Mikey says, when he would tell RJ of his "utopic idea" of them showing the world that there's nothing wrong with "two guys living as best as we can."
He wishes for them to set an example to "closeted LGBTQ couples everywhere that being #LGBTQ is awesome, and is totally NOT a hindrance to achieving goals."
Recalling a conversation with RJ from their pre-"big reveal" days, Mikey muses:
"Beh, imagine what it would be like if we came out and everybody knew... like, our family, friends, the #MabuhaySquad, and the whole world knew about us, and it was 100% okay.
"Like, I won't have to keep deliberately calling you 'RJ' in the vlogs, and I could show all the sweet things you do like cooking amazing meals.
"We wouldn't have to be so paranoid and edit parts out of our vlogs in fear of leaving unintentional clues.
"We could take couple photos, hold hands, even adopt a child (or two) one day."
RJ, however, would say at that time, "I don't want to talk about it."
That it took a long time for them to come out made the journey more meaningful for the couple.
Mikey, for his part, sees it as a big win.
Still based on his June 2019 Instagram post, Mikey elaborates:
"Coming out might sound like such a small thing if you aren't LGBTQ (and truth be told, you're probably sick of RJ and I posting about it non-stop lately -so sorry), but it's because for those of us who are LGBTQ, believe me, coming out is a huge thing!
"The very act of coming out transformed both of us so deeply, way down to the atomic level, and the change in the quality of our lives has been like night and day.
"There was a whole new world we didn't know we needed in being open about our love, and we want to let other closeted couples like us know about the new awesomeness we found after having taken that leap.
"We have everything we ever wanted now, including the freedom to be our best selves."
Since then, Mikey has been sharing how being free to express themselves has led to small and big triumphs in his and RJ's pursuit of happiness.
Here, PEP.ph (Philippine Entertainment Portal) rounds up the many times Mikey and RJ have given not just kilig but motivation to their followers that anything is possible with love.
1. they get to openly celebrate pride month.
On June 1, 2019, Mikey posted on Instagram that his heart is full because it's the first time for him to show his love for the LGBTQIA+ without inhibitions.
Then, later that month, he and RJ joined over 70,000 people for the annual Pride March at the Marikina Sports Center.
Mikey says it was an eye-opener because it struck him that the event was not just a "joyous celebration" but a "protest that homophobia should be a thing of our past."
That the LGBTQIA+ is taking a strong stand that "inclusion and equality should be standard" regardless of gender or social class.
The Youtube star adds, "So, it was not only mine and RJ's first Pride together; it was also our first social protest for something we believe in, and it was incredible to be part of that 70,000 people voice!
"Love won yesterday even vs. the weather!"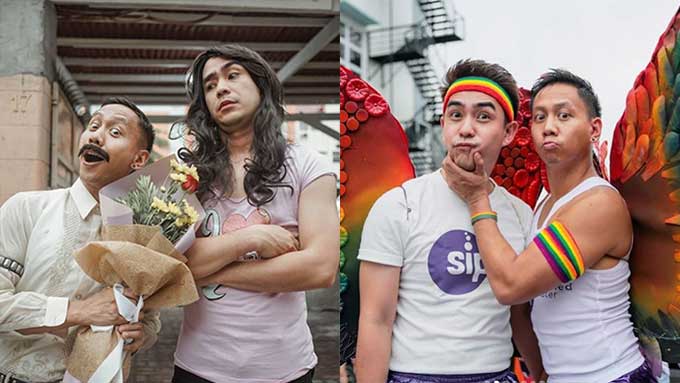 2. THEY CAN NOW HOLD HANDS IN PUBLIC.
Simple joys like holding hands is also a milestone for Mikey and RJ.
On August 1, 2019, Mikey wrote on Instagram that they used to be wary about being affectionate with each other in public places.
"This is how I fall asleep in planes.
"Now that we're out, we no longer have to do it under jackets or blankets.
"One of the many little BIG things that changed for us after coming out."
Seen on the right photo is another shot of them holding hands while inside Mikey's van on March 1, 2020.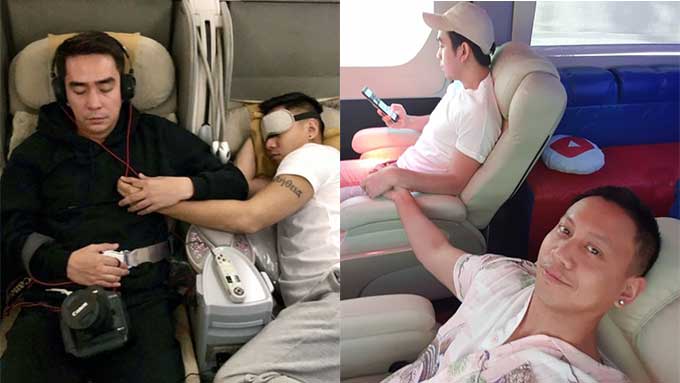 3. THEY ARE BUILDING THEIR DREAM FARM HOUSE.
In September 2019, the couple started building their future home in a 2,500-square-meter farm house property in Cavite.
What excites Mikey is that their two-storey house will also be the home of their beloved parrot Ligaya, and it will have its very own aviary on the first floor.
Mikey says they're also building a bahay-kubo that will "sit over a man-made pond for housing fish and aquatic plants in the yard."
They're also building a pool!
First thing that got constructed was the wall fencing the property which Mikey calls the "Wall of Positivity."
He says the outside wall will be painted with "over 50 positive affirmations" because he and RJ want to attract good vibes to their future home.
Filled with gratitude, Mikey muses:
"Exactly ten years ago I couldn't afford rent for a small studio apartment, and today somehow building a childhood dream farm house with someone I love.
"Like how the heck did that friggin' happen?! I take none of it for granted and am eternally grateful.
"Seriously, it's amazing how much life can change in just a decade!"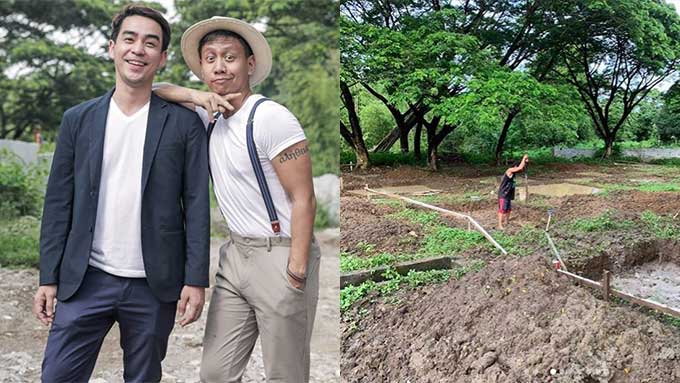 4. THEIR DREAMS GOT BIGGER AND THEY'RE ACHIEVING IT TOGETHER.
Mikey and RJ are taking on a big venture as they purchased 33 hectares of farm land in Iloilo.
He says the farm is currently run by Ilonggo farmers who either live there or in the areas surrounding the property.
Some of the fruits that they grow are pineapples, corn, sugar cane, dragon fruit, mangoes, jackfruit, moringga, rambutan, lanzones, guyabano, durian, guava, and pomelo.
Breaking the news via Instagram in November 2019, Mikey writes, "We have several plans already in the works, and realize we have much to learn from the farm manager who runs operations, but we will do our best to ameliorate using the resources we are able to bring to the table!"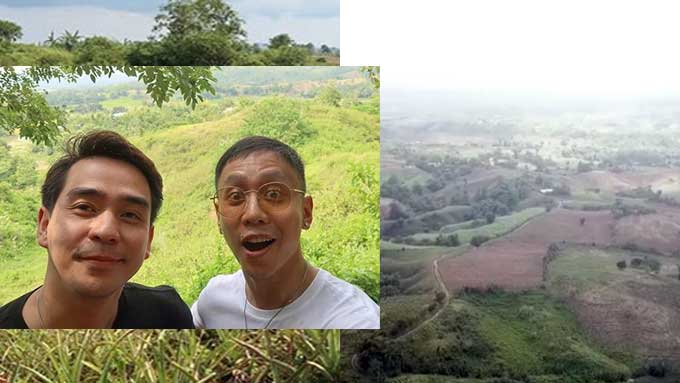 5. QUIET MOMENTS ARE MEANINGFUL, TOO.
While they are busy pursuing their dreams, these two also take time to rest.
They enjoy spending quiet moments together, like this afternoon tea time while they were in Japan for a vlogging stint.
Taken sometime in March 2019, Mikey and RJ seem at peace as they enjoy the view of Mt. Fuji and Lake Fujiwakaguchiko in Yamanashi Prefecture.
They were "still officially in the closet" when this trip happened, but Mikey eventually posted it on Instagram in August 2019.
Mikey's caption, "Sometimes the most precious moments don't require words, and can be entirely appreciated in silence."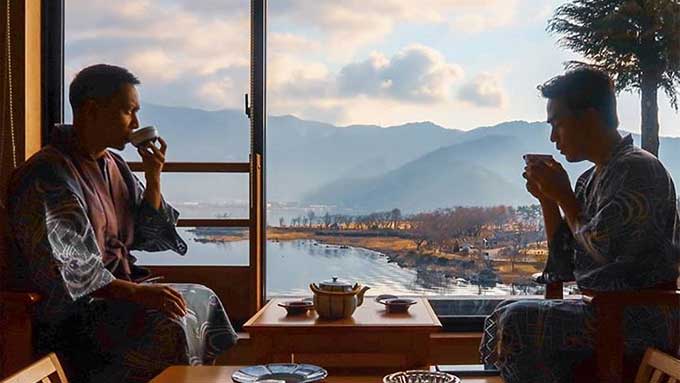 6. THEY HAVE EACH OTHER'S SHOULDER TO LEAN ON.
They are still super affectionate even after many years together.
Filled with love and contentment, Mikey shows a photo of him sleeping on RJ's shoulder during a = flight.
"I wish for everyone to find their best shoulder pillow in life," writes Mikey on Instagram in November 2019.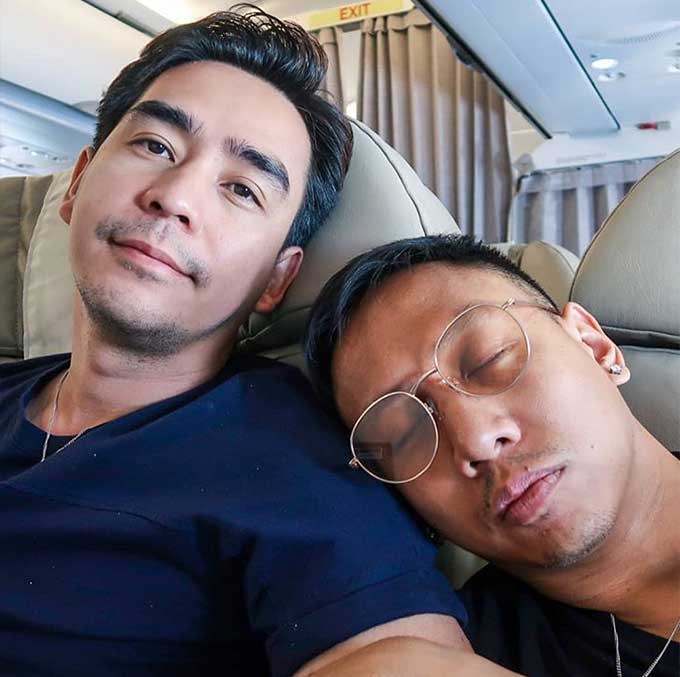 7. HOW SWEET IT IS TO SHARE A KISS IN PARIS!
For Mikey and RJ, their first Euro trip is one of the many "blessings" they received in 2019.

They visited Germany, Belgium, Netherlands, and France.
Just like other couples seeing the Eiffel Tower for the first time, the couple captures the moment with RJ kissing Mikey on the cheek.
Paris, France is truly the City of Love.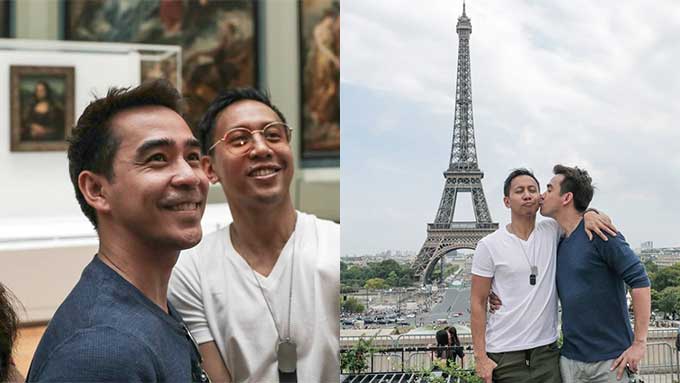 8. They enjoy giving each other romantic surprises.
On February 14, 2020, Mikey woke up and found a dozen of long-stemmed Ecuadorian roses awaiting him in the living room of his and RJ's condo unit.
Mikey was so moved by this romantic surprise from RJ as it was their "first Valentines Day being out."
Looking at how the roses tower above him, Mikey gushes, "Oh my gosh! They're so big! Aww... This is crazy! They're so long stemmed!"
Then he peppers RJ with sweet kisses on the cheek!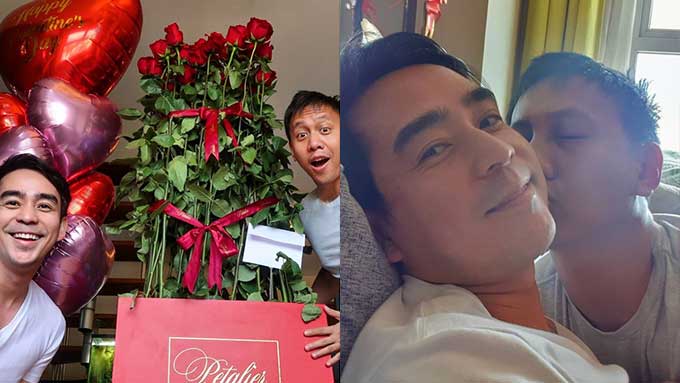 9. THAT MOMENT WHEN RJ THREW A YACHT PARTY FOR MIKEY.
For Mikey's 38th birthday last year, he showed how his partner RJ "went the extra mile" and surprised him with his "dream sunset yacht party."
Some of their closest friends and family partied with them.
The Youtube star describes it as the "best birthday I've ever had in my whole life!"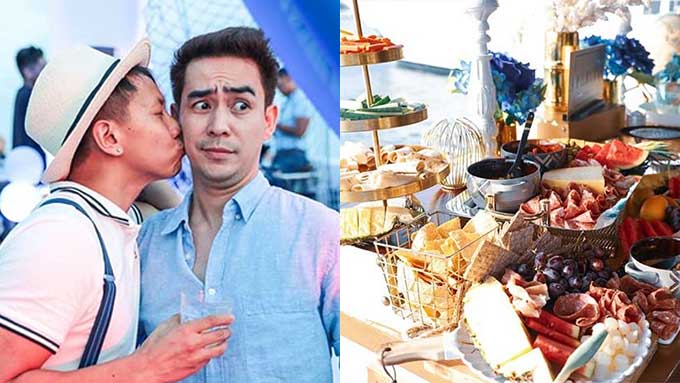 10. AND THEN IT WAS MIKEY'S TURN TO SURPRISE RJ.
Mikey also puts out all the stops to give RJ a memorable 35th birthday party.
On March 9, 2020, Mikey made RJ "prince for a night" for his royalty-themed party at the Grand Hyatt Manila hotel.
Prior to the dinner celebration, Mikey also treated RJ with these gorgeous pots of red and white roses.
RJ, for his part, says he was thrilled to celebrate his first birthday since the "big reveal" about him and Mikey being a couple.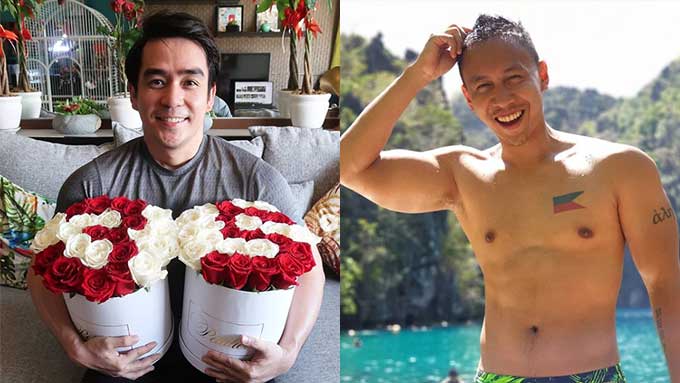 11. MIKEY SAYS RJ MAKES HIM FEEL SAFE.
The couple sets the bar for #relationshipgoals even with their simple yet kilig photos.
Back in January 2020, they welcomed the new year with a beach trip in Puerto Galera, and one of their activities was to explore an underwater cave.
With their arms around each other, Mikey and RJ were all smiles in the photo seen below.
"I'm always feeling safe," Mikey writes in the caption.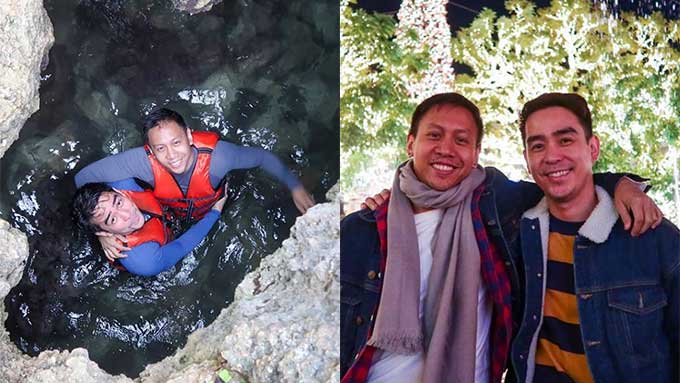 12. THEY DON'T FORGET TO ENJOY SIMPLE JOYS TOGETHER
In November 2019, the couple had the chance to take a vacation at a resort in Bolinao, Pangasinan.
Mikey says they took pleasure watching the sunset together.
"Don't forget to enjoy the little things. They all add up!"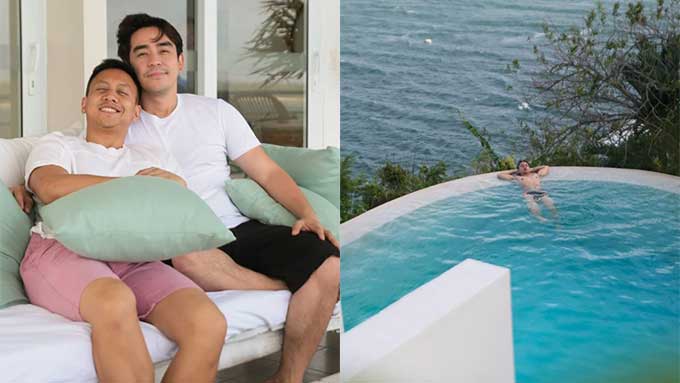 13. THEY ARE SURROUNDED WITH GOOD PEOPLE
What makes Mikey and RJ's relationship stronger is that they have a tribe of family and close friends who support them.
When they celebrated their seventh anniversary on December 22, 2019, Mikey came home to a surprise party straight from a long flight.
His partner RJ filled their home with roses, balloons, and a banner bearing the words "HAPPY ANNIVERSARY."
The surprise was made possible with the help of some their trusted friends.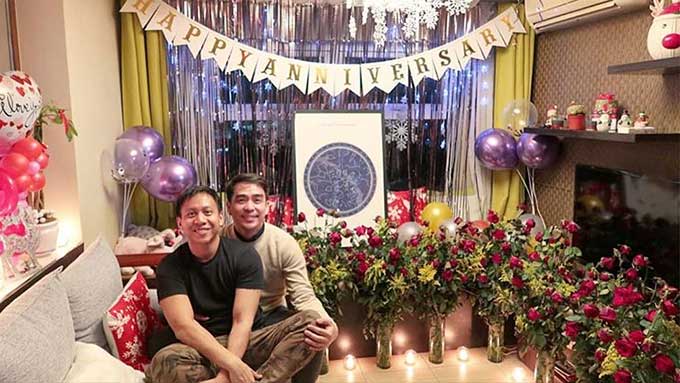 So PEPsters, have you also found the love of your life like Mikey did?
Isa ka bang showbiz fan na laging updated at naghahanap ng latest chika? Share what you know. Join here! https://bit.ly/PEPChika